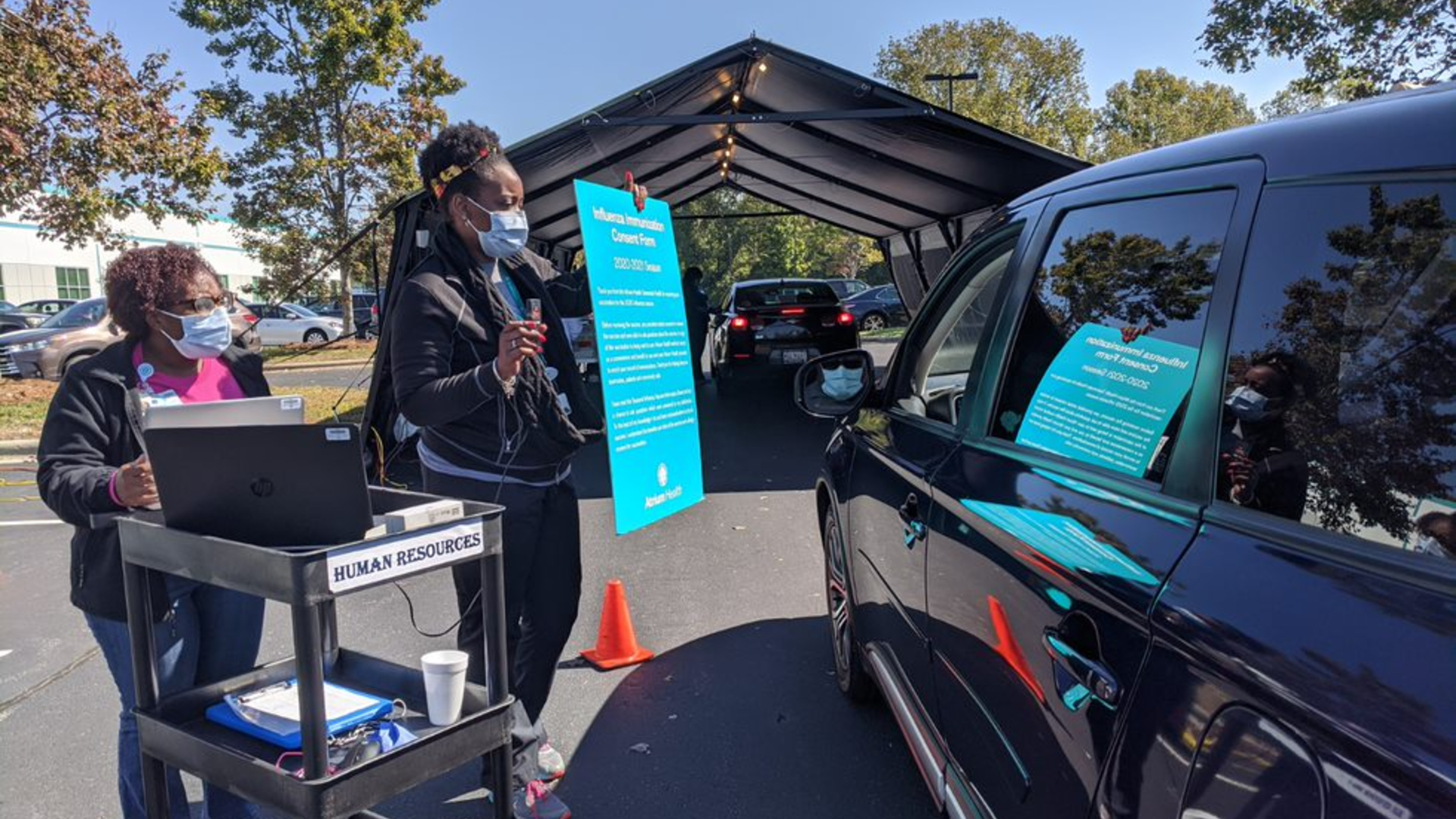 Atrium Health Offers Drive-Up Flu Vaccine Clinics in October
10.14.2020
Atrium Health News |
Primary Care
Getting the flu vaccine this year is more important than ever as the 2020-2021 flu season will collide with the COVID-19 pandemic. To help families have more convenient and safe options for everyone to get their flu vaccine together this year, Atrium Health will be holding drive-up vaccine clinics at 40+ primary care practice locations on two different dates in October. Individuals of all ages, from six months through adulthood, are eligible to be vaccinated.
Below is a list of participating office locations and addresses. Unless indicated otherwise, all locations will be offering drive-up flu vaccines on Saturday, October 17th and Saturday, October 24th from 9:00 a.m. – 1:00 p.m.
Appointments are recommended to be vaccinated, but you do not need to be an existing Atrium Health patient – anyone can call and make an appointment.
Most insurance companies cover the cost of the flu vaccine in full. Children who receive state vaccine and are under 19 years old, are self-pay or on Medicaid will need to receive their flu vaccine at their primary care provider's office. Specific questions regarding billing or eligibility can be asked when calling to make an appointment.
To make an appointment, call your primary care doctor or if you are a new patient call 704-468-8853.
---
University

101 E. W.T. Harris Blvd., Charlotte, NC 28262

Atrium Health One Health - University

Atrium Health Levine Children's University Pediatrics

Atrium Health North Charlotte Medical Specialists - University

Lincolnton

3970 W. Highway 27, Lincolnton, NC 28092

Atrium Health West Lincoln Family Medicine

447 McAlister Road, Lincolnton, NC 28092

Atrium Health Levine Children's Pediatric Medical Associates

Atrium Health Lincoln Family Practice

Kannapolis

4949 Professional Park Drive, Suite 101, Kannapolis, NC 28081

Atrium Health Cabarrus Family Medicine - Kannapolis

Albemarle

105 Yadkin St., Albemarle, NC 28001

Atrium Health Albemarle Medical Services

Atrium Health Levine Children's Stanly Pediatric Services

Charlotte

251 Eastway Drive, Charlotte, NC 28213

Atrium Health NorthPark, a facility of Carolinas Medical Center

4501 Cameron Valley Parkway, Charlotte, NC 28211

Atrium Health Charlotte Medical Clinic - SouthPark

Atrium Health Levine Children's Charlotte Pediatrics - SouthPark

Mt. Pleasant

8560 Cook St., Mt. Pleasant, NC 28124

Atrium Health Cabarrus Family Medicine - Mt. Pleasant

Concord

1085 N.E. Gateway Court, Concord, NC 28025

Atrium Health Ardsley Internal Medicine

Atrium Health Levine Children's Piedmont Pediatrics

Atrium Health Levine Children's Suburban Pediatrics

419 Medical Park Drive N.E., Concord, NC 28025

Parking Lot M, AH-Cabarrus (near the corner of Memorial Drive and Medical Park Drive)

Atrium Health Concord Internal Medicine

Atrium Health Carolina Internal Medicine

Atrium Health Levine Children's Cabarrus Pediatrics

Atrium Health NorthEast Internal & Integrative Medicine

270 Copperfield Blvd. N.E., Concord, NC 28025

Atrium Health Cabarrus Family Medicine - Concord

Atrium Health Christopherson Family Medicine

3020 Weddington Road, Concord, NC 28027

Atrium Health Weddington Internal Medicine & Pediatrics

Matthews

332 N. Trade St., Matthews, NC 28105

Atrium Health Levine Children's Charlotte Pediatric Clinic - Matthews

Atrium Health Mecklenburg Medical Group - Matthews

Midland

12925 Highway 601 S., Suite 300, Midland, NC 28107

Atrium Health Midland Family Medicine

Charlotte - Center

1350 Kings Drive, Charlotte, NC 28207

Atrium Health CMC - Myers Park Internal Medicine

Atrium Health Myers Park Pediatrics

1801 Rozzelles Ferry Road, Charlotte, NC 28208

Atrium Health Biddle Point Family Medicine

5801 Executive Center Drive, Suite 100, Charlotte, NC 28212

Atrium Health East Charlotte Family Physicians

3030 Randolph Road, Charlotte, NC 28211

Atrium Health Levine Children's Cotswold Pediatrics

Atrium Health CMC - Elizabeth Family Medicine

Teen Health Connection, a facility of Carolinas Medical Center

Charlotte - South

13640 Steelecroft Parkway, Charlotte, NC 28278

Atrium Health Levine Children's Charlotte Pediatric Clinic - Steele Creek

Atrium Health Mecklenburg Medical Group - Steele Creek

15110 John J Delaney Drive, Charlotte, NC 28277

Atrium Health Mecklenburg Medical Group - Ballantyne

Atrium Health Charlotte Pediatrics - Blakeney

Atrium Health Providence Pediatrics

Atrium Health Waxhaw Pediatrics

Mount Holly

215 S. Main St., Mount Holly, NC 28120

Atrium Health Riverbend Family Practice - Mt. Holly

Denver

1585 Forney Creek Parkway, Denver, NC 28037

Atrium Health East Lincoln Primary Care

Atrium Health Levine Children's Denver Pediatrics

7482 Waterside Crossing Blvd., Denver, NC 28037 (OCT. 17 ONLY)

Atrium Health One Health - Denver

Indian Trail

4503 Old Monroe Road, Indian Trail, NC 28079

Atrium Health Indian Trail Family Medicine

Atrium Health Union Primary Care

6030 Highway 74 W., Indian Trail, NC 28079

Atrium Health Indian Trail Pediatrics

Atrium Health Dove Internal Medicine

Richfield

243 Highway 49 N., Richfield, NC 28137

Atrium Health Richfield Medical Services

Mountain Island Lake

9908 Couloak Drive, Mountain Island, NC 28216

Atrium Health Riverbend Family Practice - Mountain Island

Atrium Health Levine Children's Mountain Island Pediatrics

Atrium Health One Health - Mountain Island

Harrisburg

5427 Highway 49 S, Harrisburg, NC 28075

Atrium Health Levine Children's Rocky River Pediatrics

Atrium Health Ardsley Internal Medicine - Harrisburg

Atrium Health Harrisburg Family Physicians

4315 Physicians Blvd., Harrisburg, NC 28075

Atrium Health Cabarrus Family Medicine - Harrisburg

Norwood

269 S. Main St., Norwood, NC 28128

Atrium Health Norwood Medical Services

Charlotte - North

5727 Prosperity Crossing Drive, Charlotte, NC 28269

Atrium Health Cabarrus Family Medicine - Prosperity Crossing

Atrium Health Levine Children's University Pediatrics - Prosperity Crossing

Troy

835 Albemarle Road, Troy, NC 27371

Atrium Health Troy Medical Services

Monroe

1423 E. Franklin St., Monroe, NC 28112

Atrium Health Levine Children's Union Pediatrics

Atrium Health Union Family Practice

Atrium Health Dove Internal Medicine - Monroe

Fort Mill

704 Gold Hill Road, Fort Mill, SC 29715

Atrium Health Shiland Family Medicine - Fort Mill

Atrium Health Rock Hill Pediatric Associates - Fort Mill

Atrium Health Medical Associates of Fort Mill

Mt. Gilead

202 N. Main St., Mt. Gilead, NC 27306

Atrium Health Mt. Gilead Medical Services

Rock Hill

1656 Riverchase Blvd., Rock Hill, SC 29732

Atrium Health Levine Children's Rock Hill Pediatric Associates

Atrium Health Shiland Family Medicine - Rock Hill

Davidson

705 Griffith St., Davidson, NC 28036 (OCT. 24 ONLY)

Atrium Health Davidson Clinic

Oakboro

112 E. 1st St, Oakboro, NC 28129

Atrium Health Oakboro Medical Services

Shelby

709 N. Dekalb St., Shelby, NC 28150 (OCT. 17 ONLY)

Atrium Health Levine Children's Shelby Children's Clinic

Atrium Health Shelby Family Practice

Locust

123 Professional Park Drive, Suite 100, Locust, NC 28097

Atrium Health Cabarrus Family Medicine - Locust

Pageland

301 N. Van Lingle Mungo Blvd., Pageland, SC 29728

Atrium Health Pageland Family Medicine

Gastonia

2544 Court Drive, Gastonia, NC 28054

Atrium Health Levine Children's Gastonia Children's Clinic

Atrium Health Eastridge Family Medicine

3715 Union Road, Gastonia, NC 28056

Atrium Health Riverwood Medical Associates

China Grove

2090 Highway 29 S., China Grove, NC 28023

Atrium Health Cabarrus Family Medicine - China Grove

Salisbury

340 Jake Alexander Blvd. W., Salisbury, NC 28147 (OCT. 24 ONLY)

Atrium Health SouthPoint Internal Medicine