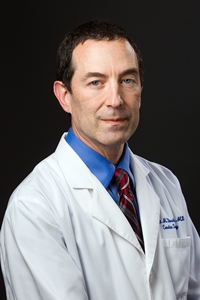 Dr. Kirshbom will oversee all congenital heart surgery on newborns, children and adults with congenital heart defects. He will also be responsible for building the congenital heart program, mentoring team members, and overseeing quality and research efforts.
Name: Paul Kirshbom, MD
Title: Chief of Pediatric Cardiovascular Surgery
Year joined Carolinas HealthCare System: 2016
Previous employment: Yale School of Medicine
What were your favorite subjects in school?
Math and science.
When you have an hour of free time, what do you like to do?
Reading, bee-keeping and playing video games with my son. He's 12, so it's his favorite activity!
Tell us about your family.
My wife, Teri, and I have been married for 23 years and our son's name is William.
Why did you choose to get into pediatric heart care?
The combination of the constant variety (congenital heart disease is incredibly varied, so you see something new all the time) and the fact that a successful operation will improve a child's health for their entire lifetime.
What are you most excited about in regards to moving to Charlotte?
I am very excited to work with the incredible group of physicians, nurses and administrators at Levine Children's Hospital. They seem like a great team, in a wonderful, growing city. I grew up in New Orleans, so moving here brings me closer to my comfort zone. New England is nice, but I did not grow to love northern winters.
About Dr. Kirshbom
Dr. Kirshbom has an extensive background in pediatric cardiac surgery. While at Yale School of Medicine, he was the first chief to hold the title at both Yale-New Haven Children's Hospital and Connecticut Children's Medical Center in Hartford. Dr. Kirshbom earned his Bachelors of Science in Biology at Johns Hopkins University in 1987, and received his Doctor of Medicine from John's Hopkins University in 1991. He completed his residency in general surgery at Duke University Medical Center and has completed fellowships in cardiothoracic surgery and pediatric cardiothoracic surgery at Duke University Medical Center and Children's Hospital of Philadelphia.