Most 17-year-olds spend their days getting homework done on time, hanging out with friends and family, preparing for college and dreaming of the future.
For Michael Brodie, that future included becoming a musician, producer and a songwriter in the music industry. But his plans came to a halt in September of 2012, when he woke up with a cold and had difficulty breathing. He went to the
Levine Children's Hospital emergency department
before school to get some medication to help him breath. But the medical team ran some tests and discovered Michael had a tumor the size of a baseball over his heart. "Then they did a biopsy and found that the tumor was Hodgkin's lymphoma," recalls Brodie. "I went straight into surgery and ended up having to stay at the hospital for three weeks." After that came four months of chemo. Instead of going to school and graduating with his classmates, Michael was limited to being at home or the hospital. "Because my immune system was so weak, I couldn't go anywhere without a mask," he says. "But, I only needed two more credits to graduate, so I did home school while I was getting chemo." After his chemo treatment, Michael's cancer went into remission and he was able to graduate. But his run with cancer wasn't over. Unfortunately, he had a second cancer nine months later. This time, it was leukemia.
Beating the Odds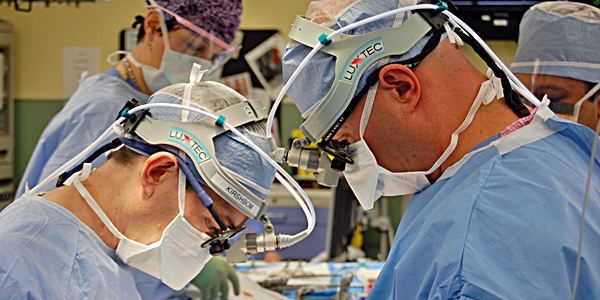 Dr. Javier Oesterheld
Patients who have a second cancer with leukemia have some of the lowest survival rates, making it a very challenging prognosis for patients and doctors. Enter
Javier Oesterheld, MD
. As the specialty medical director of pediatric hematology/oncology/BMT and palliative care at
Levine Children's Hospital
, he is no stranger to treating children like Michael, who are among the most difficult cases. Dr. Oesterheld is leading a multi-institutional study that is improving survival rates among patients with relapsed leukemia. He collaborated with
Dr. Jessica Hochberg
to create the study for people in New York and in Charlotte. "While the patient population for relapsed leukemia does not have a strong survival rate, the data collected in the study are showing that the combination of therapies provided to the patients are delivering an incredible response rate in their survival," says Dr. Oesterheld. "We are seeing 80 percent response rates, where normally the response rate is only 40 to 60 percent."
The Perfect Candidate
Dr. Oesterheld knew that Michael would be a perfect candidate for this clinical trial. He approached him and his family and they immediately agreed. "I was eager to get involved in the trial," says Brodie. "And yes, some may look at it as risky, but when you are fighting cancer, everything is risky. I was ready for it." The combination of medicines that Dr. Oesterheld and his team delivered to Michael worked and his leukemia was in remission and, for the second time, Brodie was a cancer survivor. For many patients with leukemia, a bone marrow transplant can offer the best possible chance of complete remission. That was the final step for Brodie. The
Bone Marrow Transplant
team found a perfect match out in California, and the transplant was a success. Now 21, Brodie's cancer remains in remission and he's well on his way to living out his dreams. He's working on earning a degree from
Central Piedmont Community College
, where he studies journalism. He plans to follow the music scene and write concert and album reviews, as well as cover other industry news. [youtube https://www.youtube.com/watch?v=JXK9FTWXp5U&w=560&h=315] "I have a totally different perspective on life now," says Michael. "Situations that seemed big before cancer, I don't even trip about anymore. As long as you wake up in the morning, eat, see family and friends and make it back home at night, that's a great day. Everything in between is how you make it."
Clinical Trial Goes National
Data from the clinical trial that Michael was enrolled in, known as the MITCL (Mitoxantrone and Clofarabine) was recently recognized by the
American Society of Pediatric Hematology and Oncology
. Out of hundreds of abstracts, the paper from Levine Children's Hospital was the number one choice from the society to be recognized in May at the conference in Minneapolis. Dr. Hochberg presented the data to the thousands in attendance and it was very well received. "We are now expanding this study nationally and expect to prove the point that this is a great combination of chemotherapy with promising results," says Dr. Oesterheld.
To date, the trial has treated over 20 patients between Charlotte and the Medical College of New York. For more information, please contact Dr. Oesterheld at 704-381-9900.