You've likely heard of superfoods, but have you ever heard of super fruits? Super fruits are fruits that are packed with antioxidants, fiber, vitamins and minerals, and other nutrients that are "super" for your health – and they've even been shown to prevent certain types of diseases.
"Strawberries, blueberries, blackberries, peaches and cantaloupes are my top five favorite super fruits, and they're all powerful with their combination of phytonutrients and antioxidants," says Stacy Kolbash, MS, RD, LDN, an instructor at Johnson & Wales University in Charlotte. "Phytonutrients are substances found only in certain plants. These chemicals have been linked to better health and prevention of specific diseases."
Similarly, antioxidants work to keep you healthy by preventing or slowing damage to cells in your body. Consuming foods rich in antioxidants has led to improved heart health and a lowered risk of infections and some cancers. While our bodies naturally produce antioxidants, super fruits – especially blueberries – are a great source for maintaining optimal antioxidant levels.
"When discussing antioxidants or phytonutrients, it's important to remember that super fruits don't all have the same health benefits," says Kolbash. "They're all unique and they all work differently in the body, so it's important to have a variety of fruits in your diet."
Eating locally grown fruits at the peak of their ripeness and season allows your body to absorb the most nutrients from that fruit. The longer you wait to eat the fruit – and the further it has to travel to get to you – the more it loses its super properties. "The more we process these fruits, the more we lose some of those nutrients," says Kolbash. For this reason, Kolbash recommends freezing fresh fruits as an alternative to buying processed fruits.
---
Adding super fruits to your plate is easy. Kolbash and Susan Batten, a senior instructor at Johnson & Wales University in Charlotte, created some simple and mouth-watering recipes using some of the super fruits available in our region. Enjoy during breakfast, lunch, as a snack or for dessert!
Recipes
:
Super Fruit Kebabs
Ingredients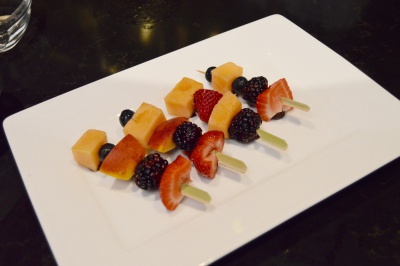 Peaches
Cantaloupe
Berries
Muscadine or scuppernong grapes
Skewer sticks
Directions
Rinse the fruit and chop it into half-inch pieces as needed.

Assemble the fruit on the skewers.
Sour Cream Chocolate Ganache (Optional Dessert Topping)
Ingredients
2 cups semisweet chocolate chips
2 cups sour cream (take out of refrigerator 1 hour before using)
1 Tbsp. orange zest
1 tsp. vanilla extract (optional)
Directions
1. Place the chocolate chips in a microwave-safe bowl. Heat on 50 percent power for approximately 45 seconds at a time until the chocolate is melted.
2. Remove the bowl and stir in the sour cream and orange zest.
3. Drizzle the chocolate ganache over the fruit skewers, to taste.
Note: An alternative way to melt chocolate chips is to put a heat-safe bowl over barely simmering water in a saucepan. Make sure the bowl fits comfortably and doesn't touch the water. Stir the chocolate chips until melted. Add sour cream, orange zest and optional vanilla into the chocolate mixture and stir until combined.
Homemade Vanilla Orange Granola with Fresh Local Summer Berries
Ingredients
3 cups quick oats
Blueberries, to taste
Blackberries, to taste
Strawberries, to taste
½ cup nuts of choice, toasted
¼ cup flaxseed meal
¼ cup wheat germ
¼ cup seeds – pumpkin, sunflower, sesame or a mixture
½ cup honey
2 tsp. orange zest
½ cup fresh orange juice
2 Tbsp. vegetable oil
½ tsp. vanilla extract
1 tsp. cinnamon
Pinch salt
½ cup unsweetened coconut flakes
Directions
Combine the oats, flaxseed meal, wheat germ, nuts and seeds in a large bowl.

Heat the honey, zest, juice, oil, vanilla, cinnamon and salt in a saucepan until heated through and blended.

Pour the honey mixture over the oat mixture, tossing to coat.

Spread the granola mixture onto a rimmed cooking sheet. Bake at 325 degrees Fahrenheit for 15 minutes.

Stir the granola mixture once more and sprinkle the coconut flakes on top of it. Bake for 10 to 15 more minutes, or until golden brown.

Cool and store in an airtight container for up to two weeks.

When ready to serve, mix with fresh fruit.
Summer Fruit Smoothie with Beet Greens
Ingredients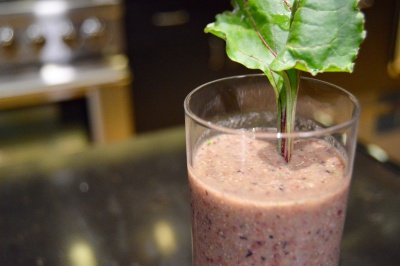 1 cup unsweetened almond milk
½ cup blueberries
½ cup blackberries
1 frozen banana
Flaxseed
Chia seeds
Beet greens
Directions
Add almond milk to the blender.
Add fruit, flaxseed, chia seeds and beet greens.
Blend and enjoy!