Notice of unauthorized access that may involve personal information | Learn more: English - Español
Child visitor restrictions now in place. Learn more.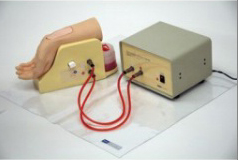 Radial artery puncture is a common approach for blood collection and artery catheterisation, and this simulator manufactured by Limbs & Things, provides realistic training in this skill.
Skills
Palpation of radial artery
Needle insertion
Blood collection
Features
Arterial pulse is palpable
Speed of pulse is variable
Soft tissue and artery wall provide realistic needle resistance
'Flash back' can be observed
Skin, pad and artery tube are replaceable
Puncture sites not visible after use
One-touch, leak free connectors
Easy clean up