Notice of unauthorized access that may involve personal information | Learn more: English - Español
Child visitor restrictions now in place. Learn more.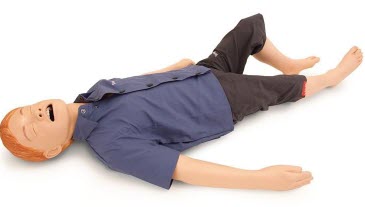 SimJunior® is an interactive pediatric simulator that represents a 6 year old patient. Manufactured by Laerdal Corporation and developed in partnership with the American Academy of Pediatrics, SimJunior® can aid in preparing healthcare providers for the challenges in pediatric care.
SimJunior's features include:
Bilateral carotid pulses
Interchangeable pupils
Oral and nasal intubation
Realistic airway
Tongue edema
Vocal Sounds
Spontaneous breathing with chest rise
Unilateral chest rise with right mainstem intubation
Variable respiratory rates (0-60 per minute)
Adjustable blood pressure (left arm)
Intraosseous access
IV arm
Palpable Brachial and Radial pulses (on left side only)
Pulse strength variable with BP
SimJunior supports the following skills:
Bag-valve-mask ventilation
LMA or ET insertion
Head tilt / Chin lift
Jaw Thrust
Nasotracheal intubation
Oropharyngeal and nasotracheal airway insertion
Pulse check
Pupillary assessment
12-lead ECG display
Auscultation of heart, lung, and bowel sounds
Chest compressions
Defibrillation (25 – 360 joules)
ECG rhythm monitoring – limb leads
Transcutaneous Pacing
Auscultation of blood pressure