Notice of unauthorized access that may involve personal information | Learn more: English - Español
Child visitor restrictions now in place. Learn more.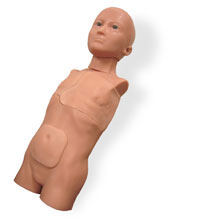 The TraumaChild® System, manufactured by Simulab Corporation and similar to TraumaMan®, is a high fidelity, soft tissue, surgical simulator designed to train advanced trauma surgical skills. This simulated five year old breathes, bleeds, and has replaceable tissues.
System Procedures:
Cricothyroidotomy
Percutaneous Tracheostomy
Needle Decompression
Pericardiocentesis
Chest Tube Insertion
Diagnostic Peritoneal Lavage
Features and Benefits:
Anatomically correct five year old body form with articulating head
Replaceable tissues bleed when cut
Airway system powered by internal ventilator; providing an airway response to the trachea, lungs & thoracic cavity
Anatomically and tactilely correct tissues are easy to replace