Notice of unauthorized access that may involve personal information | Learn more: English - Español
Child visitor restrictions now in place. Learn more.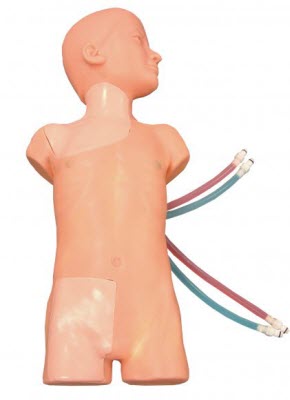 The VascularAccessChild®, manufactured by Simulab Corporation, is a high fidelity, soft tissue, pediatric simulator designed to train central line placement. This simulated five year old child includes three access sites, replaceable tissues, and ultrasound compatibility during catheter placement.
Access Sites:
Internal jugular
Subclavian
Femoral
Skill Development:
Vascular catheterization
Using ultrasound guidance during catheter placement
Identification and palpation of anatomic landmarks significant to the procedure
Features and Benefits:
Anatomically correct five year old with internal and external landmarks
Differentiates arterial and venous blood to show positive or negative results
Self-sealing veins and skin for multiple practices
Natural tissue resistance and flashback of blood
Replaceable tissue sets
Arterial pulse and proper landmarks are present to help avoid and detect errors
Easily adjustable venous pressure to simulate complications
Ultrasound compatible - responds to ultrasound for guidance during catheter placement
Hand pump that provides arterial pulse