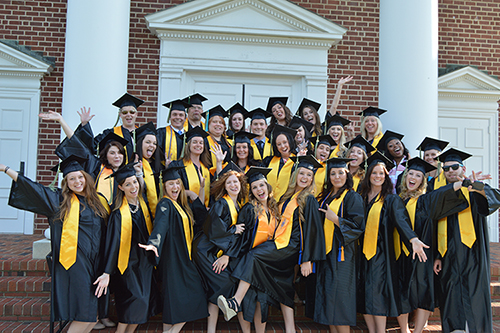 Message from President Cruickshank regarding May 2021 Commencement - March 4, 2021
Greetings from campus! I hope you are all safe and well. I am writing this afternoon to share some exciting news!

Executive Order 195, announced last week by Governor Cooper, relaxes the restrictions on large gatherings. Indoor gatherings are capped at 250 people, while outdoor gatherings are capped at 30% of the fire code seating capacity. As a consequence to this change in restrictions, I am pleased to inform you that Cabarrus College will hold an in-person, outdoor commencement ceremony this Spring.

Our May ceremony will be held on Saturday May 15, 2021 at 11:00 am at the Atrium Health Ballpark (Cannon Baller Stadium) in Kannapolis. Our speaker will be Eric Kirkendall, MD, MBI, FAAP, FAMIA, Deputy Director of the Wake Forest Center for Healthcare Innovation ( https://school.wakehealth.edu/Faculty/K/Eric-S-Kirkendall ).

The success we have experienced in keeping our campus and community safe is your accomplishment. It has been due to your persistence, doggedness, and the seriousness you have shown in adhering to our COVID-Safe policies during this public health crisis which makes this commencement possible. Rest assured, your health and safety, and that of every member of our community, will remain our top priority. As such, several protocols will be in place to keep all attendees safe. For those who may not feel comfortable attending, the ceremony will be live-streamed over Facebook. More specific details regarding the ceremony will be forthcoming (via your Cabarrus College email address) and will be posted on our website within the next several days.

While these plans are subject to change based on the public health outlook as May approaches, we are excited for the opportunity to celebrate with you in person and in a way consistent with Cabarrus College's COVID-Safe policies and practices. Thank you most sincerely for continuing to do your part to keep our campus community safe and healthy.
Graduation Day Information:
Date: Saturday, May 15, 2021 at 11:00 am
Location: Atrium Health Ballpark - 1 Cannon Baller Way, Kannapolis, NC 28081
All participants must be dressed in your academic regalia upon entering the stadium
Students, staff and faculty will enter the ballpark through gates 3 and 4 and will be directed to the line-up area. Participants must arrive NO LATER than 9:30 am
Gates 1 and 2 will be open for guests beginning at 10 am. We will not be issuing graduation tickets. However, students are asked to limit their guests to 10 to allow all graduates the opportunity to have family and friends participate
The ceremony will be live streamed over Facebook for those that are unable to attend in person
Mandatory Forms To Fill Out
Intent to Graduate Form: DUE March 13, 2021 for December 2021 graduates
Graduation Clearance Form: DUE April 19, 2021 for May 2021
Supplies To Order Through Herff Jones
All graduation supplies can be ordered through Herff Jones, our graduation vendor. Visit their website to place your orders.
Cap & Gown: Deadline ASAP
Each graduate is responsible for purchasing their own cap and gown. All students must place their order by the deadline above to receive your cap and gown in time for the commencement ceremony. Your cap and gown may be ordered here.
** Please note, bachelor's and master's degree graduates who need a hood: Hoods are made when ordered and CANNOT be ordered late. If these are ordered after the deadline, they will NOT arrive in time for graduation.
Pins: Deadline March 16, 2021
Some graduates choose to order pins. This is optional. You can order them here.You may submit the order form one of two ways: fax: 888-551-003 or email: graduation@4levelup.comHerff
Honors
Cabarrus College values high academic achievement. Undergraduate students who have a cumulative GPA of 3.50 or higher will receive a gold honors stole at the graduation rehearsal. Undergraduate students with a cumulative GPA of 3.75 or higher will also receive an Excellentia pin. There is no cost to the student for the stole or pin.
Undergraduate students with cumulative GPAs of 3.50-4.0 will receive a gold honor bar on their diploma and have their graduation honor status noted in the program. The honor ranges are as follows:
Cum Laude: 3.50-3.69
Magna Cum Laude: 3.70-3.89
Summa Cum Laude: 3.90-4.00
Tassel Colors
Each academic program is assigned a specific color for tassels and hoods. Please let Katie Mozeleski know if you receive a color that does not match the color below:
Interdisciplinary Health Studies: white tassel and hood
Medical Assistant (diploma & associate): black tassel
Medical Imaging: maroon tassel and hood
Nursing (associate): apricot tassel
Nursing (bachelor): apricot tassel and hood
Occupational Therapy (master): sage green tassel and hood
Occupational Therapy Assistant: sage green tassel
Pharmacy Technology: olive green tassel
Surgical Technology (diploma): black tassel
Surgical Technology (associate): forest green tassel
Not Participating In The Graduation Ceremony?
Please email Mary Elmore to let her know you are not participating in the ceremony. You can pick up your diploma the week following graduation. Look out for an email from Mary Elmore letting you know when it's ready!
Questions?
Please contact Mary Elmore (704-403-3218) or Melanie Gass (704-403-1613) with any questions.