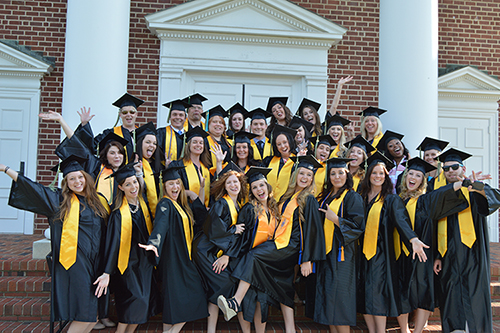 Message from President Cruickshank regarding the Novel Coronavirus Disease (COVID19) and May Commencement
Commencement means so much to our students, our community and our students' loved ones. Unfortunately, due to the health risks and the prohibition against large gatherings, the May Commencement Ceremony is cancelled. Students who are completing their degree requirements will be able to participate in the December Commencement Ceremony. This is perhaps one of the greatest disappointments resulting from the Coronavirus outbreak as we were all looking forward to celebrating the accomplishments of our graduates.
For more information, visit our Coronavirus Update page.
Congratulations on making it to your last semester! We are excited to help you celebrate your academic achievements. Please see the information below and check your Cabarrus College email accounts this semester to learn more about graduation.
Upcoming Graduation Ceremony Dates
Tuesday, December 15, at 6:00 p.m.
Location
Kannapolis Performing Arts Center at A.L. Brown High School
415 East 1

st

Street, Kannapolis, NC 28083
December 2020 Graduation Day Timeline
3 pm: Students who pre-ordered individual portraits will have their pictures taken
3:15 pm: All students must be at the venue for the graduation rehearsal
4:30 pm: We will take group and program pictures including the picture of your graduating class that will be on the alumni wall in the lobby!
5:30 pm: Graduates begin lining up
6 pm: The graduation ceremony begins! Graduation will start promptly at 6 p.m., so encourage your guests to arrive early!
** More details will be posted in September for December's ceremony.
Parking
Students and guests can park in any of the student parking lots surrounding KPAC.
Mandatory Forms To Fill Out
Intent to Graduate Form: DUE March 13, 2020 for December 2020 graduates and October 16, 2020 for May 2021 graduates
Graduation Clearance Form: DUE November 30, 2020 for December 2020 graduates.
Supplies To Order Through Herff Jones
All graduation supplies can be ordered through Herff Jones, our graduation vendor. Visit their website to place your orders.
Cap & Gown: Deadline November 21, 2020
Each graduate is responsible for purchasing their own cap and gown. All students must place their order by the deadline above to receive your cap and gown in time for the commencement ceremony.
** Please note, bachelor's and master's degree graduates who need a hood: Hoods are made when ordered and CANNOT be ordered late. If these are ordered after the deadline, they will NOT arrive in time for graduation.
Pins: Deadline October 30, 2020
Some graduates choose to order pins. This is optional. If you'd like to see pin options in person, please see Beth Carlton at the Front Desk.
Graduation Photography
Paige Alisa Photography will be available to take individual and group portraits before the ceremony. Turn in your order form and payments to the Business Office by Friday, December 11 at 12 p.m.
Paige will also take pictures of each graduate as they cross the stage to get their diploma. Graduates will receive an email several weeks after graduation with a link to view and order these pictures.
Honors
Cabarrus College values high academic achievement. Undergraduate students who have a cumulative GPA of 3.50 or higher will receive a gold honors stole at the graduation rehearsal. Undergraduate students with a cumulative GPA of 3.75 or higher will also receive an Excellentia pin. There is no cost to the student for the stole or pin.
Undergraduate students with cumulative GPAs of 3.50-4.0 will receive a gold honor bar on their diploma and have their graduation honor status noted in the program. The honor ranges are as follows:
Cum Laude: 3.50-3.69
Magna Cum Laude: 3.70-3.89
Summa Cum Laude: 3.90-4.00
Graduation Tickets
The Kannapolis Performing Arts Center is a large venue, so we will not be issuing graduation tickets. Please invite however many guests you would like to help you celebrate your huge accomplishment!
Tassel Colors
Each academic program is assigned a specific color for tassels and hoods. Please let Katie Mozeleski know if you receive a color that does not match the color below:
Interdisciplinary Health Studies: white tassel and hood
Medical Assistant (diploma & associate): black tassel
Medical Imaging: maroon tassel and hood
Nursing (associate): apricot tassel
Nursing (bachelor): apricot tassel and hood
Occupational Therapy (master): sage green tassel and hood
Occupational Therapy Assistant: sage green tassel
Pharmacy Technology: olive green tassel
Surgical Technology (diploma): black tassel
Surgical Technology (associate): forest green tassel
Not Participating In The Graduation Ceremony?
Please email Mary Elmore to let her know you are not participating in the ceremony. You can pick up your diploma the week following graduation. Look out for an email from Mary Elmore letting you know when it's ready!
Questions?
Please contact Mary Elmore (704-403-3218) or Katie Mozeleski (704-403-1614) with any questions.