Cabarrus College truly is a place where everyone knows your name. With a 7:1 student-to-faculty ratio and an average class size of 15, your instructors get to know you and are committed to helping you succeed, while you're here and after you graduate.
Although we are not a residential campus, opportunities abound to get involved, with programs, activities and services beyond the classroom. Some will enhance your education and future career, and some are just for fun.
Nearby, Concord's bustling downtown beckons with eclectic arts and dining options, and Charlotte, the region's most vibrant city, is just 30 minutes away.
To learn more about our programs, activities and services that enhance student life, email our Student Affairs office or call 704-403-1555.
Live Well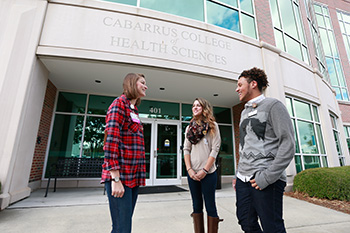 Living well during College can be a challenge with all the demands of school, life, home and work. However, we offer several opportunities for you to balance your multiple demands and stay healthy during your journey.
Alcohol and Drug Prevention
Alcohol and Drug Prevention
Cabarrus College and clinical and fieldwork affiliates must be free from alcohol, illegal drug use and other substances which may or may not adversely affect performance. During orientation, students are presented with information about the alcohol and drug prevention program which includes strict policies regarding drug and alcohol use and charges, convictions and sanctions all which may affect enrollment and future licensure status if violations are discovered.

Student Affairs ensures that an alcohol and drug prevention program is in place at Cabarrus College in accordance with the Drug-Free Workplace Act of 1988 (Public Law 101-690) and the Drug Free Schools and Communities Act (Public Law 101-226). As a condition of pre-enrollment, students must provide a negative drug screen from a certified lab (within 30 days) prior to the first day of the semester. Students enrolling in a clinical program will set up an appointment with Employee Health; as part of this appointment a drug screening will be completed. Non-clinical students will utilize other certified labs. Students may be subject to random drug screenings.

Any student who is charged with, or convicted of, a felony or any misdemeanor involving drugs or DWI shall immediately report such charge or conviction to the Provost.

Students are advised of the health risks associated with the use of drugs and alcohol and federal and state laws associated with usage. Students are required to sign the student acknowledgement form which indicates receipt and understanding of the policies related to a drug and alcohol free campus. The financial aid department also requires that all students sign a form which outlines the consequences of convictions, possession, and sale of illegal drugs in order to meet Federal Student Aid eligibility requirements.

More details are available by review the sections regarding the alcohol and drug prevention program and the North Carolina state laws.

If you need help coping with alcohol and drug problems, contact the Employee Assistance Program (EAP), available through Atrium Health for personal counseling.
To schedule an appointment speak with a counselor, please call 704-355-5021 or toll-free at 800-384-1097 24-hours a day, seven days a week.
Counseling Services
College is a time of transition - and being in a state of transition usually means change and opportunities for growth. Let's face it, being a student is challenging. Adjusting to the demands of the college environment often conflicts with other personal priorities and goals. Cabarrus College offers off-site professional counseling services to empower you to explore your strengths and develop better coping strategies for your concerns.

Counseling Services Off-Site with Atrium Health-EAP
Atrium Health Employee Assistance Program (EAP) is designed to help Cabarrus College students and members of their immediate family with many types of issues such as marital conflicts, financial problems, job stress, emotional strains, alcohol and drug problems, legal issues, difficulties with children, test anxiety and school stress. On a confidential basis, the EAP counselors offer help off-site when it is needed.
Fees
Cabarrus College students are able to visit an EAP counselor at no cost up to six times per calendar year. The services are provided in a casual and secure environment so that students can feel safe and confident in their decision to seek help. The counselor will help clarify concerns and offer treatment options.
Appointments
For EAP information or appointments, call the EAP office of Atrium Health 704-355.5021 or 800-384-1097 or visit the EAP website. All contacts are private and confidential. Eligibility is extended to immediate family members (including dependent children between the ages of eight and twenty-six) of any Cabarrus College student or employee.
Emergencies
EAP provides confidential access to information, referrals and crisis assistance 24 hours a day, days a week. All students and employees have access to EAP by calling 800-384-1097 or 704-355-5021 or visiting the EAP website.
Referrals
If counseling is required beyond the EAP benefits, referrals can be made to area treatment professionals whose services can often be billed to a student's insurer.
Locations
720 East Blvd.
Charlotte, NC 28203
380 Copperfield Blvd.
Concord, NC 28025
809 N. Lafayette St., Suite E
Shelby, NC 28150
2202-D W. Roosevelt Blvd.
Monroe, NC 28110
125 Doughty St., Suite 530
Charleston, SC 29403
Professional Staff Credential
EAP requires its counselors to meet strict credentialing requirements to maintain its ability to address the complex assortment of problems that may arise in today's workforce. EAP staff holds Certified Assistance Professional (CEAP) certification, Certified Substance Abuse Counselor (CSAC) certification, Substance Professional (SAP) certification, National Certified Counselor (NCC) certification and/or Licensed Professional Counselor (LPC) credentials.
Health Services
Cabarrus College offers a variety of activities, programs, and benefits to support your health, wellness and fitness needs.
Cabarrus College does not operate a campus Student Health Center. If you are in need of healthcare services, contact your private healthcare provider or consult with your insurance carrier for information regarding local providers.
Accidents, Injuries, and Exposure FAQ's
What should I do if I become sick or injured during my clinical or fieldwork experience?
Immediately inform your instructor or preceptor.

While in clinical, I was exposed to an infectious disease? What should I do?
Immediately notify your instructor or preceptor. They will direct you on what to do next.

I had emergency surgery and was unable to attend clinical on my assigned day. Will this affect my grade?
Consult your course syllabus and/or program handbook for your instructor's attendance policy; also call or email your instructor to explain your situation. You may be required to submit a release form from your healthcare provider before returning to class or clinical.

I have been told I cannot return to school until my doctor fills out the Physical and Emotional Health Assessment form. Where do I get this form?
Download the Physical and Emotional Health Assessment form. Return the completed form to the Coordinator, Student Success.
Emergency/Urgent Care
Students at Cabarrus College who need prompt medical attention that may not be met by their primary care physicians have 24-hour access to the Emergency Care Center at Atrium Health Cabarrus and to Cabarrus Urgent Care from 8 a.m. until 8 p.m., seven days per week except during major holidays. Cabarrus Urgent Care is located at 888 Church Street North in Concord, 704-786-6122. You are responsible for any fees or charges for medical care or ancillary services.
NorthEast Health & Fitness Institute
Students may utilize the NorthEast Health & Fitness Institute for no charge during their operating hours of 8:00am - 5:00pm. The Institute's dedicated team of health and fitness professionals offers clinical exercise programs, health education, behavior modification and counseling programs in a supportive and motivating environment. The Institute is located at 1090 NorthEast Gateway Court, NE Suite 102 and can be reached by calling 704-403-9250 or 704-403-9273.
Health Insurance
All students at Cabarrus College are required to have health insurance.

If you do not have health insurance, Cabarrus College offers the option to purchase affordable health insurance at a student group rate with various payment plans and coverage. To learn more, call E.J. Smith & Associates, Inc. at 847-564-3660 or view an online brochure which includes an enrollment form at www.ejSmith.com.
Immunizations
While a student at Cabarrus College, students are responsible for maintaining required immunizations. Please refer to the current College Catalog and Handbook for a full list of required immunizations.
Pharmacy Discount
As a student at Cabarrus College, you are eligible to receive employee discounts at Carolinas HealthCare System NorthEast's Gateway and Pavilion Pharmacies by requesting the discount and presenting your current ID badge.
Tobacco Free Campus
Cabarrus College prohibits the use of all tobacco products on the main college campus and the campuses of clinical and fieldwork affiliates. Students may contact Student Affairs for resources available to assist with cessation of tobacco usage.
Get Involved
Getting involved may mean more than you think, because the answer is as unique as you are. Cabarrus College of Health Sciences offers many opportunities for involvement through a wide range of events and activities, clubs and organizations, and programs. Involvement is a great way to get connected to campus, build leadership skills, meet people, begin networking within your profession and have fun!
Activities and Events
Convocation
Convocation ceremonies are held each fall at the conclusion of orientation activities. Led by students, College officials, and faculty, Convocation marks the beginning of your Cabarrus College experience. Pledge your dedication to the College's core values of caring, commitment, teamwork and integrity. Learn how you will gain the knowledge and skills toward becoming a culturally competent healthcare provider. Join us as we celebrate your new beginnings.
Ongoing Programs and Activities
Throughout the year, Student Affairs offers various programs, services, and activities which respond to the changing needs, interests, and greater welfare of our students.
Examples:
Fall Festival
Spring Picnic
Angel Tree Project
Blood Drives
Constitution Day
Open forums with the President, Dean and Provost
Craft and DIY events
Student lunches and coffee breaks
Personal development workshops (e.g. leadership skills, financial wellness, resume writing, etc.)
Student success workshops (e.g. time management, overcoming test anxiety, study skills, etc.)
Volunteer Community Service Projects
Clubs and Organizations
Cabarrus College's student organizations provide you with opportunities for social, moral, intellectual, cultural, and leadership development. Getting involved is a fun way to build strong relationships with fellow students and faculty, learn more about your intended profession, and to help others within the community. In addition to the clubs and organizations listed below, you may also wish to get involved by participating in a College task force or committee. For more information, contact the advisor of Student Government, Sherry Hamilton. Please contact the organization's advisor for the location and time of meetings.
Student Government Association (SGA)
SGA is the leadership umbrella over all student clubs and organizations. Membership is open to all Cabarrus College students. SGA promotes self-governance and provides students with a voice in the College's decision making process. SGA also allows students from all academic programs to come together to plan events and services for the college.

Club Highlights: SGA hosts monthly events including social, educational and community service activities. Past events have included the Fall Club Fair, a canned food drive, ice cream and coffee socials, craft activity events and a study tip activity. SGA also participates in our annual Angel Tree Service Project, Fall Festival and Spring Picnic.

Advisor: Sherry Hamilton
Advisor Phone: 704-403-1616
Professional Development - Clubs promoting professional development at the student level.
Cabarrus College Association of Nursing Students (CCANS)
CCANS is a local chapter of the National Organization of Student Nurses which strives to: - Aid in the development of student nurses as truly democratic citizens and future leaders of the nursing profession by broadening their horizons as individuals and as members of a group.
Promote professional and social unity among student nurses
Convey standards of professionalism, accountability, and ethical behavior within the nursing profession
Stimulate the understanding of and create an interest in graduate professional nursing organizations
Serve as a channel of communication between the student nurse organizations and the various units of the graduate professional nurses' organizations
Club Highlights: CCANS holds regularly scheduled monthly meetings and sponsors college student functions as well as fundraisers and service projects for our local community. Past service projects have supported CVAN (battered women's shelter), the College Angel Tree Project, and the Church of God Children's Home. Members are invited to attend the North Carolina Association of Nursing Students Annual Conference.
Related Links:
Advisor: Lori Brown
Advisor Phone: 704-403-3508
Medical Assistant Student Organization (MASO)
Getting involved with MASO will support and enhance your academic experience at Cabarrus College. Membership in MASO is open to all medical assisting students. MASO promotes the profession of medical assistant and seeks to continually improve the knowledge and skills of its members.

Club Highlights: MASO holds regularly scheduled monthly meetings during the academic year. The members' biggest focus is fundraising. In the fall semester, fundraising is done to raise money to participate in the College Angel Tree Project and various other benefits to the community. In the spring semester, fundraising is done through multiple efforts such as bake sales, silent auctions, Little Caesar Pizza Kit sales, etc. These fundraising efforts help the MASO members attend the State Medical Assisting Conference held in April each year. At each state conference, the MASO members participate in the College Quiz Bowl. We were champions in 2010. MASO also looks to give back to the community by participating in various volunteer opportunities such as the hospital health fairs, dermatology office skin checks, blood drives, etc.
Related Links:
Advisor: Rachel Houston
Advisor Phone: 704-403-1228
Student Occupational Therapy Association (SOTA)
The Student Occupational Therapy Association is open to all Occupational Therapy Assistant (OTA) and Occupational Therapy (OT) Program students, or current students who are interested in enrolling in the OTA program. The purpose of the organization is to promote the profession of occupational therapy and provide service to the community through student activities. Students are encouraged to influence current issues affecting the occupational therapy profession through their involvement in the Annual National Student Conclave and the annual North Carolina Occupational Therapy Association conferences and events. Membership in the American Occupational Therapy Association and the North Carolina Occupational Therapy Association are recommended.
Club Highlights: SOTA holds regularly scheduled meetings both during the week and on weekends to accommodate the needs of the Occupational Therapy Program students. Informative guest speakers and events are scheduled at least once a semester for both the Occupational Therapy Assistant and Occupational Therapy master's level students. Members are active in the North Carolina Occupational Therapy Association and participate in fundraisers and promotion of the profession.
Advisor:
Nancy Green
Advisor Phone:
704-403-3599
Surgical Technologist Students Association (STSA)
Membership in STSA is open to all surgical technology students. STSA was developed to foster interest in the field of surgical technology. The purpose of this organization is to promote the profession by encouraging participation at the State and National level.

Club Highlights: STSA meetings feature guest speakers, equipment demonstrations, and programs concerning new advances in surgical technology. Members are invited to attend AST State Conference as well as AST National Conference. The group also participates in community service activities such as providing Christmas for local underprivileged children and Walk From Obesity.

Related Links:
Advisor: Michelle Gay
Advisor Phone: 704-403-1758
Honor Societies - Encouraging the pursuit of academic interests.
Phi Theta Kappa International Honor Society(ΦΘΚ)
The Beta Delta Chi Chapter recognizes leadership, scholarship, and service among two-year college students. Students who have completed at least 12 semester hours in a degree program at Cabarrus College of Health Sciences, a facility of Atrium Health Cabarrus and have a cumulative GPA of 3.25 or higher are eligible to join. Members must maintain a cumulative 3.00 GPA or higher and submit membership dues in order to remain in good standing. Graduates who are in good standing (that is, have maintained the academic requirements and are current with society dues) are eligible to wear a ΦΘΚ honor cord as part of the graduation regalia.
Club Highlights: New members are formally inducted into Phi Theta Kappa during our Spring Induction Ceremony. Members are encouraged to participate in various community service projects such as Hats for Hope, Project Graduation, and our Big Sister & Big Brother mentoring program.
Related Links:
Advisor(s):
Tiffany Brunson
and
Zinat Hassanpour
Advisor Phone:
Tiffany:
704-403-3503
- Zinat:
704-403-1698
Lambda Nu National Honor Society (ΛΝ)
Lambda Nu, the National Honor Society for Radiologic and Imaging Sciences chartered a local North Carolina Gamma Chapter at Cabarrus College to recognize academic achievement within the Medical Imaging discipline. This chapter is open to students and alums with a cumulative GPA of 3.0 after completing 12 credit hours in the program. For verification of eligibility, contact the advisor. Members in good standing will be eligible to display the green and maroon ΛΝ honor cords as part of the graduation regalia.

Club Highlights: New members are formally inducted into Lambda Nu during our Induction Ceremony. Club members are also involved in various Breast Cancer Awareness Month activities.
Related Links:
Advisor:
Rhonda Weaver
Advisor Phone:
704-403-1756
Sigma Theta Tau Honor Society of Nursing (Sigma)
The local Sigma Theta Tau Chapter recently amended its charter in April 2018, when Wingate University joined with Cabarrus College to become the Upsilon Mu at-Large Chapter. The chapter strives to uphold the mission of Sigma: "developing nurse leaders anywhere to improve healthcare everywhere." Sigma supports this through its numerous professional development products and services that focus on the core areas of education, leadership, career development, evidence-based nursing, research, and scholarship. These products and services advance the learning and professional development of members and all nurses who strive to improve the health of the world's people. Membership to the Upsilon Mu at-Large Chapter is by invitation to baccalaureate nursing students who: demonstrate excellence in scholarship (cumulative GPA 3.00 or higher); have completed at least half of the baccalaureate nursing program curriculum; and rank in the highest 35 percent of the BSN graduating class. Nurse leader membership is offered to RNs in the community who hold a baccalaureate degree or higher in nursing or other disciplines and demonstrate achievement in nursing.
Club Highlights: Upsilon Mu sponsors the Fall Nursing Research Institute and the Spring Research Forum, both held annually.
Related Links:
Advisor:
Jill Carey
Advisor Phone:
704-403-4389
Service and Interests - Promoting group interests and community service.
Rotaract
This organization is a Rotary-sponsored service club for college-enrolled students. Sponsored by the Rotary Club of Cabarrus County, Rotaract is a true "partner in service" and a key member of the Rotary family.

Club Highlights: Rotaract members supplement their leadership, knowledge, and skills while addressing the physical and social needs of our community. The Club's main project is its adopted Head Start class at Long Preschool. Club members make regular visits to the classroom and participate in various activities with the students. They go on holiday visits, make crafts, throw an annual Christmas party (with gifts for all the children), read books to the children, and sometimes just play! Several fundraisers are held each year to fund the activities at Long Preschool, as well as, the annual College Halloween Party and College Angel Tree Project. Rotaract is well-regarded for its Cake and Dessert Silent Auctions. Rotaract also sponsors blood drives. If you're interested in doing community service, while having a great time, then Rotaract is the club for you. Stop in at the next meeting to learn more.
Related Links:
Advisor:
Cristine Eudy
Advisor Phone:
704-403-4571
Christian Student Union (CSU)
This organization is nondenominational and provides spiritual guidance and fellowship opportunities for all interested students.
Club Highlights: CSU activities include fundraising efforts to finance club projects, such as Operation Christmas Child. Members also volunteer their time and participate in various community service projects.
Advisor(s): Jamie Cochran and Lisa Lunsford
Advisor Phone: Jamie: 704-403-3202 - Lisa:704-403-3209
Volunteer Activities
Throughout our College's history, we have endeavored to develop caring and compassionate healthcare professionals. Today's 21st century healthcare provider must be prepared to understand the attitudes, beliefs, and health behaviors of diverse populations, and appropriately respond with culturally competent patient-centered care.
Your journey toward cultural competence begins during your first semester through volunteer and classroom activities designed to help you develop an awareness and knowledge of other cultures. During successive semesters, your volunteer activities combined with classroom instruction will help you build your cultural knowledge and skills, preparing you to practice your cultural competence skills during an immersed service learning experience.
Volunteer requirements may vary depending on your program and the degree you are seeking. Please consult the newest edition of the Volunteer Handbook and the Approved Volunteer Community Service Agencies List for the requirements you will be expected to meet.
Throughout the year, information on specific volunteer projects will be made available via email. Many of these projects are sponsored by Cabarrus College clubs and student organizations.
College Volunteer Opportunities
All associate degree, baccalaureate and diploma programs have a volunteer community service requirement. A
new
Volunteer Program
was implemented in the Fall of 2010 for new students beginning a program at that time. Students enrolled before Fall 2010 who are graduating in May 2011 and all ADN students graduating in December 2011 will follow the
previous
Volunteer Program
.
Clubs and Organizations that offer Volunteer Opportunities
Many of the clubs and organizations offered at Cabarrus College provide opportunities to meet this volunteer requirement.
Cabarrus College Association of Nursing Students (CCANS)
Medical Assistant Student Organization (MASO)
Student Occupational Therapy Assistant (SOTA)
Surgical Technologist Students Association (STSA)
Rotaract
Christian Student Union (CSU)
Phi Theta Kappa International Honor Society (ΦΘΚ)
Lambda Nu National Honor Society (ΛΝ)
How to Volunteer and Track Hours
Select an agency listed in the Volunteer Handbook (see Appendix A - Approved Volunteer Community Service Agencies). You must select an agency from this list unless otherwise stated by your instructor. If you are enrolled in an online program and do not live within the College's service area, consult with your program chair to identify comparable agencies within your community.
Seek approval from instructor. Some academic programs and/or courses may have specific volunteer requirements for their students. Please reach out to your instructor before signing up for a volunteer opportunity to ensure that the site will meet your program's requirements.
Call the agency to volunteer. Whenever you contact an agency, identify yourself as a Cabarrus College student. While on site, keep in mind that you are serving and representing the good works of the College, and must act in accordance with the Student Code of Conduct.
Complete the Volunteer Community Service Verification Form. Each semester, complete the Volunteer Community Service Verification form and return it to your instructor no later than Monday of week 15 (see Form A in the Handbook). This form must be filled out completely and include a signature of an agency representative. Your grade will not be finalized and you will not be able to progress to the next program course until this form has been submitted and verified.
Create "Pro Bono Record" in SonisWeb.
To create a "Pro Bono Record" in SonisWeb, please take the following steps once you are logged in:


Click on the "Pro Bono" icon located at the top of the screen.
Click on the "Add" button.
Enter "Organization" and "Supervisor" names.
Enter the number of Volunteer Community Service Hours completed at this location. If you did not complete all 5 of your Volunteer Community Service Hours for the same organization, you will need to add an additional experience.
Hours should represent the number of hours provided.
Start date should indicate the date you began your experience.
Stop date should indicate the date you completed the hours of your experience. You can have the same "Start" and "Stop" date.
Click the "Submit" button to record your experience.
The final step in the process is to accept the terms and conditions by clicking the check box and "Submit" at the bottom of the page. Today's date now appears next to the checkbox.
Safety and Security
Atrium Health Cabarrus Security Services supports a safe campus environment in which all students and employees can learn, teach, and work. Available 24 hours a day, Atrium Health Cabarrus security officers respond to potential criminal incidents, requests for assistance, and emergency situations. Although not sworn police officers, they work closely with the City of Concord Police and Fire Departments, and other state officials to maintain a safe and secure environment. City of Concord Police staffs one officer on the campus of Atrium Health Cabarrus and is available to assist Atrium Health Cabarrus security as needed.

If you need emergency assistance on campus, call:
Atrium Health Cabarrus Security Services: 704-403-1192 or extension 6.6595 (from a college phone)
Atrium Health Cabarrus telephone operator: 704-403-3000
Lift the receiver at any emergency phone for immediate assistance. Emergency phone locations at the college include:

Front entrance
Side exit stairwell adjacent to the patio
Parking lot M (east and west sides)
Throughout parking areas of Atrium Health Cabarrus campus
Building Access
The College building is opened at 6 a.m. and locked at 7 p.m. Monday thru Friday. The College remains locked on weekends, holidays and designated "closed" days.
The front entrance to the building, when locked, does remain accessible via card swipe access to individuals having a valid photo identification badge. Students with a valid badge will have access to the building when locked, from 6:00AM to 10:00PM daily including weekends and holidays. Employees having a valid badge will have access to the building when locked, 24-hours per day, seven days per week.
NOTE: The College utilizes the Opening Up America guidelines provided by the Federal Government and Center for Disease Control to facilitate a procedure for teammates and students to return to teaching, learning, and service to one another during the COVID 19 pandemic. As such building access may be adjusted and entrants into the facility may be subjected to screening, be required to wear a mask, follow social distancing practices or other mitigating measures.
Clery Act Information
Cabarrus College of Health Sciences, a facility of Atrium Health Cabarrus and Atrium Health Cabarrus Security Services, prepared this report in compliance with the Jeanne Clery Disclosure of Campus Security Policy and Campus Crime Statistics Act and the Violence Against Women Reauthorization Act of 2013. This report includes statistics for the previous three years concerning reported crimes that occurred on campus or property owned or controlled by Atrium Health/Atrium Health Cabarrus; and on public property, including thoroughfares, streets, sidewalks, and parking facilities, that are within the campus, or immediately adjacent to and accessible from the campus. The Safety and Security report also includes institutional policies concerning campus security, such as policies concerning alcohol and drug use, crime prevention, the reporting of crimes, sexual misconduct, and other matters. Each entity provides updated information on its educational efforts and programs. Campus disciplinary, crime, arrest and referral statistics include those reported to designated campus security officials, and local law enforcement agencies. To access the full report click on the 2020 Campus Safety and Security Report.
Safety is one of the core values and standards of all members of the campus community at Cabarrus College of Health Sciences. The Cabarrus College Campus Safety and Security Report is published and distributed each year to students and employees of the College in compliance with the Higher Education Opportunity Act (Public Law 110-315) (HEOA). The report can be accessed at http://ope.ed.gov/security (click on the far left box titled "Get Data for One School", then go to the institution field and enter Cabarrus College of Health Sciences). To review or inquire about the comprehensive report, please contact Student Affairs at 704-403-1638.
Emergency Alert Notifications
Cabarrus College provides several ways in which employees and students can be notified in the event of an emergency situation. These are in addition to website postings and media outlets used primarily in the case of inclement weather notifications.
Contact Now is an automated messaging system used in the event of a College emergency. This system uses voice messages to land and cell phones to provide information to students and employees. Student and employee telephone numbers are entered into the SonisWeb database.
Overhead Audible Paging is available throughout the College building and is activated by Security Services or administration as necessary.
Recorded Messages are available by dialing the College's primary telephone line 704-403-1555.
Emergency Preparedness
In order to ensure the safety and wellbeing of students, employees and visitors, Cabarrus College has an emergency preparedness plan in place. For more information about the plan, please see policy 07-04 Emergency Preparedness and Safety.

Facility Safety
The College building is open to employees and students from 7 a.m. to 6:30 p.m., Monday through Friday when classes are in session. During the times the College is closed, which includes Saturday, Sunday, holidays and designated "closed days", the College is accessible to employees and students having a valid identification badge via card swipe access.

Employees and students are encouraged to maintain a secure building by not propping exterior doors open. Offices, classrooms, and laboratories are secured by key locks. Keys are prohibited from being duplicated and employees are responsible for securing their offices when unoccupied.

Atrium Health Cabarrus Security Services monitors the building perimeter, front entrance, and parking lot through surveillance cameras 24 hours per day. Additionally, security officers provide vehicle patrol of the parking lot and walking patrol of the building twice a day.

The College's security systems (fire alarms, electronic card access, emergency telephone systems, and Contact Now) are tested by Atrium Health Cabarrus Facilities Management Services, the Concord Fire Department, Atrium Health Cabarrus Security Services, and others.

Reporting Criminal Actions or Other Activities
Individuals should immediately report criminal activity, suspicious activity, and emergency situations to Atrium Health Cabarrus Security Services (704-403-1192 or extension 6.6595 from a College phone). Security Services can also be contacted through the Atrium Health Cabarrus telephone operator at 704-403-3000.

Special Alerts
Special alerts may be posted around the College building in the event of an incident that might pose a threat to the College community.

A daily crime log is available for review at the Atrium Health Cabarrus Security Services office, from 8 a.m. to 5 p.m., Monday thru Friday, excluding holidays. The information in the crime log typically includes the nature, time, location and disposition of the criminal activity.
Parking
Each student, faculty and staff member of the College, as well as visitors who wish to park a vehicle on College property will be required to obtain a parking decal or temporary pass in the case of visitors. Cars must have a properly displayed parking decal, and park within marked spaces in areas designated only for the decal issued.

Registration
Students and employees can submit a completed form to the receptionist in the front lobby.

Visitors to the College must obtain a temporary parking pass from the Receptionist in the front lobby. Temporary parking passes are not necessary Monday thru Friday after 6 p.m. or on weekends.

Campus Parking Policies
Parking is available to faculty, staff, students, and visitors of the College. Parking spaces in front of and to the left of the College building (when entering from Medical Park Drive) are available to faculty, staff and visitors. Parking spaces to the right are available to students. Overflow parking is available to any person in upper Lot M located to the far left of the College and separately accessed from Medical Park Drive (campus map). For more information about the College parking policy see Parking Policy 07-08.

Students participating in clinical/fieldwork at Atrium Health Cabarrus must park in the designated Cabarrus College student parking lot.

Students, when working as Atrium Health Cabarrus employees, must park in the designated employee lot of Atrium Health Cabarrus and must display the appropriate decal for the area. For more information on Atrium Health Cabarrus parking policies see Atrium Health Cabarrus Parking Policy 2.25.

Handicapped Spaces
Handicapped spaces are available on the College campus as well as on the campus of Atrium Health Cabarrus. Spaces are governed by state law and space use is enforced by safety and security officers. Neither the offices of Atrium Health Cabarrus Security Services or offices at the College can issue handicap permits for these spaces, but they can provide information on how to obtain handicap permits.

Parking Violations
Faculty, staff, and students found to be in violation of the parking policies will be issued citations by Atrium Health Cabarrus Security Services and/or College Administration.
Possession of Weapons
The College is committed to providing a safe environment for students, staff and guests. Weapons, firearms, explosives, fireworks, or other dangerous items or substances, concealed or otherwise, are not permitted on the campuses of the College (including inside vehicles parked on the premises) or any affiliates with the exception of weapons carried by law enforcement officers. Private security officers are not considered to be law enforcement officers and therefore, should not carry weapons on Cabarrus College or Atrium Health Cabarrus property. If a student or an employee of Atrium Health Cabarrus observes someone bringing a weapon or firearm on the premises; finds a weapon or firearm on the premises or believes someone has a weapon or firearm on their person or in their belongings (this includes vehicles), the employee or student should immediately notify Atrium Health Cabarrus Security Services at 704-403-6595. A detailed description of the person, location or direction of travel, and a description of the weapon should be reported. Security Services will respond immediately to investigate the situation. In the event a weapon or firearm is found, Security will take possession of the weapon until determining the appropriate lawful course of action. Violators of this prohibition will be subject to arrest and prosecution and disciplinary action, up to and including dismissal.
Services
Escort Services
Escort services are provided by Atrium Health Cabarrus Security Services upon request from dusk to dawn for anyone leaving the building alone. A security officer can be summoned by calling Security Services (704-403-1192 or extension 6.6595 from a college phone) or the Atrium Health Cabarrus telephone operator (704-403-3000).

Emergency Telephones
Emergency telephones are available throughout the College campus and at Atrium Health Cabarrus. Phones are situated in parking lots and high traffic pedestrian areas. They can be easily located and identified by the yellow box which houses the phone.

Emergency telephones are also located at the front entrance of the College, the stairwell that exits on the west side of the building adjacent to Lake Concord Road, and in all classrooms and laboratories.

Motor Assistance
If you experience a non-emergent vehicle accident or need motor assistance while on the campus of the College or Atrium Health Cabarrus, contact Security Services (704-403-1192 or extension 6.6595 from a College phone) or the Atrium Health Cabarrus telephone operator (704-403-3000).

Educational Programs
Educational programs are offered throughout the year to educate employees and students about College safety and security procedures and practices. Programs are offered on campus by Atrium Health Cabarrus Safety and Security officers, the Coordinator, Campus and Community Outreach, and others in an effort to increase safety awareness, reduce risk, and prevent crime. Presentations include:
Rape and sexual assault prevention
Crime prevention
Personal safety
Domestic violence and intimate partner violence awareness
Other timely issues as they arise
Lost and Found
All items lost and found on the College campus will be kept in a secure location in the Student Support Center (Office 133). Having a central location helps with lost items so they may be returned to owners in a timely and efficient manner.

If you suspect personal property is stolen, or if you lost personal property on the campus of Atrium Health Cabarrus, contact Security Services (704-403-1192 or extension 6.6595 from a College phone) as soon as you notice the missing property to file a report. For more information see policy 08-03 Lost and Found Property.
Severe Weather
In our southern location, snow, tornados or other inclement weather gives rise to questions regarding the College closings or delays particularly since the College is a commuter campus. Weather monitoring alerts are issued from Carolinas HealthCare System NorthEast, a facility of Carolinas HealthCare System NorthEast and through the NOAA weather alert radio located in the Administrative Suite. In the event a decision to alter the operating status of the College becomes necessary due to inclement weather, the decision will be made by the President or the President's designee.
As soon as a decision is made regarding a change in the College's operating status, employees and students will be alerted of such by way of the following as applicable:
Automated messaging system (Contact Now)
Overhead audible paging system
Local television stations including WBTV (3), WSOC (9), and WCNC (36)
College's primary telephone line (704-403-1555)
College website
For more information on inclement weather see College policy Inclement Weather and Other Short Term Emergencies 07-10.
Sexual Assault and Harassment
Cabarrus College endeavors to promptly investigate any compliant regarding discrimination based on its programs and activities or based on any sexual harassment or violence. The Title IX Coordinator (Sandra Harvey, Dean for Administrative and Financial Services), is responsible for coordinating an immediate investigation of any complaint and ensures prompt resolution of student and/or employee complaints alleging any action related to sexual discrimination, harassment or violence. In case of a conflict or absence of the Title IX Coordinator, the Dean, Student Affairs and Enrollment Management will serve as the designee. The Title IX Coordinator's office is located in the Administration Suite 208 and can be reached at 704-403-3202 or sandra.harvey@cabarruscollege.edu and by calling Security at 704-403-1192 after hours.
The Federal Campus Sex Crimes Prevention Act, enacted in 2000, requires institutions of higher education to issue a statement advising the campus community where law enforcement information provided by state registered sex offenders may be obtained. It also requires sex offenders already required to register in a state to provide notice, under state law, to each institution of higher education in that state at which the person is employed, carries on a vocation, volunteers services, or is a student. Law enforcement information concerning registered sex offenders may be obtained from the Cabarrus County Sherriff's Office, 30 Corban Avenue, Concord, NC 28025; phone: 704-920-3000 or on the statewide database NC Sex Offender Registry.