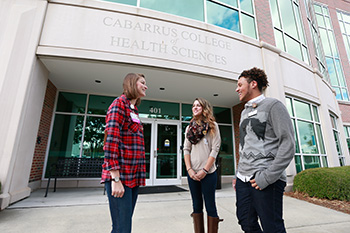 Living well during College can be a challenge with all the demands of school, life, home and work. Cabarrus College offers services to help you balance multiple demands and stay healthy throughout your college journey.
Health Services
Emergency/Urgent Care
Students at Cabarrus College who need prompt medical attention that may not be met by their primary care physicians have 24-hour access to the Emergency Care Center at Atrium Health Cabarrus and to Atrium Health Urgent Care Cabarrus or Atrium Health Urgent Care Concord Mills from 8 a.m. until 8 p.m., seven days per week. You are responsible for any fees or charges for medical care or ancillary services.
Non-emergent healthcare
If you need routine or non-emergent healthcare services, contact your private healthcare provider or consult with your insurance carrier for information regarding local providers.
Health & Fitness Institute
Students may utilize the Health & Fitness Institute from 8:00am - 5:00pm. The Institute's dedicated team of health and fitness professionals offers clinical exercise programs, health education, behavior modification and counseling programs in a supportive and motivating environment. The Institute is located at 1090 NorthEast Gateway Court, NE Suite 102 and can be reached by calling 704-403-9250.
Health Insurance
All students at Cabarrus College are required to have health insurance.

If you do not have health insurance, Cabarrus College offers the option to purchase affordable health insurance at a student group rate with various payment plans and coverage. To learn more, call E.J. Smith & Associates, Inc. at 847-564-3660 or view an online brochure which includes an enrollment form at www.ejSmith.com.
Immunizations
While a student at Cabarrus College, students are responsible for maintaining required immunizations. Please refer to the current College Catalog and Handbook for a full list of required immunizations.
Accidents, Injuries and Exposure FAQ
What should I do if I become sick or injured during my clinical or fieldwork experience?
Immediately inform your instructor or preceptor.

While in clinical, I was exposed to an infectious disease? What should I do?
Immediately notify your instructor or preceptor, who will provide instructions on what to do next.

I had emergency surgery and was unable to attend clinical on my assigned day. Will this affect my grade?
Consult your course syllabus and/or program handbook for your instructor's attendance policy; also call or email your instructor to explain your situation. You may be required to submit a release form from your healthcare provider before returning to class or clinical.

I have been told I cannot return to school until my doctor fills out the Physical and Emotional Health Assessment form. Where do I get this form?
Download the Physical and Emotional Health Assessment form. Return the completed form to the Coordinator, Student Success.
Counseling Services
College is a time of transition, and being in a state of transition usually means change and opportunities for growth. Let's face it, being a student is challenging. Adjusting to the demands of the college environment often conflicts with other personal priorities and goals. Cabarrus College offers off-site professional counseling services to empower you to explore your strengths and develop coping strategies.

Counseling Services Off-Site with Atrium Health-EAP
The Atrium Health Employee Assistance Program (EAP) is designed to help Cabarrus College students and members of their immediate family with many types of issues such as marital conflicts, financial problems, job stress, emotional strains, alcohol and drug problems, legal issues, difficulties with children, test anxiety and school stress. On a confidential basis, the EAP counselors offer help off-site when it is needed.
Fees
Cabarrus College students may visit an EAP counselor at no cost up to six times per calendar year. The services are provided in a casual and secure environment so that students feel safe and confident in their decision to seek help. The counselor will help clarify concerns and offer treatment options.
Appointments
For EAP information or appointments, call the EAP office at 800-384-1097 or visit Atrium Health Employee Assistance Program (EAP) . All contacts are private and confidential. Eligibility is extended to immediate family members (including dependent children between the ages of 8 and 26) of any Cabarrus College student or employee.
Emergencies
EAP provides confidential access to information, referrals and crisis assistance 24 hours a day, seven days a week. All students and employees have access to EAP by calling 800-384-1097 or visiting the Atrium Health Employee Assistant Program.
Referrals
If counseling is required beyond the EAP benefits, referrals can be made to area treatment professionals whose services can often be billed to a student's insurer.
Professional Staff Credential
With more than 75 years of combined experience in behavioral health, Atrium Health's licensed and full-time counselors are solely dedicated to EAP clients. All our EAP providers hold master's or doctorate degrees. Some have additional credentials including:
Certified Employee Assistance Professional
Licensed Employee Assistance Professional
Certified Substance Abuse Counselor
National Certified Counselor
Licensed Professional Counselor
Licensed Marriage and Family Therapist
Tobacco Free Campus
Cabarrus College prohibits the use of all tobacco and vaping products on the main college campus and the campuses of clinical and fieldwork affiliates. Students may contact Student Affairs for resources available to assist with cessation of nicotine use.
Alcohol and Drug Prevention
Cabarrus College students and clinical and fieldwork affiliates must be free from alcohol, illegal drug use and other substances which may adversely affect performance. During orientation, students are presented with information about the college's alcohol and drug prevention program, which includes strict policies regarding drug and alcohol use and charges, convictions and sanctions that may affect enrollment and future licensure status if violations are discovered.

Student Affairs ensures that an alcohol and drug prevention program is in place at Cabarrus College in accordance with the Drug-Free Workplace Act of 1988 (Public Law 101-690) and the Drug Free Schools and Communities Act (Public Law 101-226). As a condition of pre-enrollment, students must provide a negative drug screen from a certified lab (within 30 days) prior to the first day of the semester. Students enrolling in a clinical program will set up an appointment with Employee Health; as part of this appointment a drug screening will be completed. Non-clinical students will utilize other certified labs. Students may be subject to random drug screenings.

Any student who is charged with, or convicted of, a felony or any misdemeanor involving drugs or DWI shall immediately report such charge or conviction to the provost.

Students are advised of the health risks associated with the use of drugs and alcohol and federal and state laws associated with usage. Students are required to sign the student acknowledgement form that indicates receipt and understanding of the college's policies related to a drug- and alcohol-free campus. The financial aid department also requires that all students sign a form that outlines the consequences of convictions, possession and sale of illegal drugs in order to meet Federal Student Aid eligibility requirements.

If you need help coping with alcohol and drug problems, contact the Employee Assistance Program (EAP), available through Atrium Health for personal counseling. To schedule an appointment with a counselor, please call 800-384-1097 24-hours a day, seven days a week or visit Atrium Health Employee Assistance Program.