Cabarrus College Students Bring Lavender Friday to Carolinas HealthCare System NorthEast
September 2016
Lavender Friday happens on the first Friday of each month. Cabarrus College teams up with Carolinas HealthCare System NorthEast Clergy and Nursing staff to promote "Compassion Care" to our teammates.
Occupational Therapy Assistant (OTA) student Jonesha Wallace wrote a powerful story titled "More Than a Hand to Hold" about her experience participating in Lavender Friday.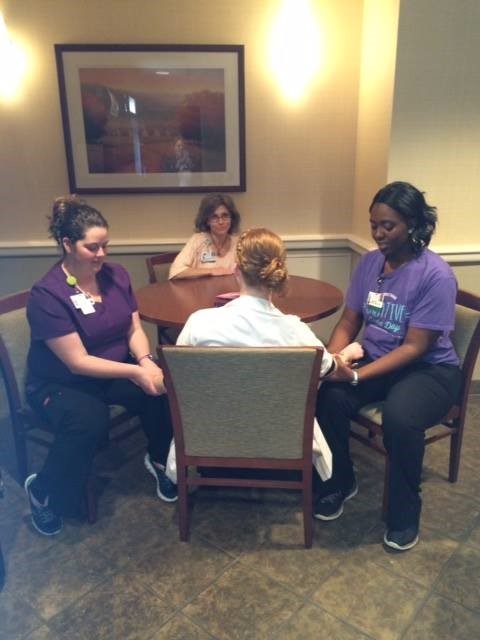 "On the first Friday of July 2016, we encountered something we would never forget. We made our way up to the fourth floor of the hospital and generously offered hand massages. We got turned down by a hand full of staff but it was expected due to the busy morning routine. Without giving up, we began to walk down the other hall. We sat down at the nurse's station and a petite lady with a troubled face walked up to get copies off of the printer. We stopped her and asked if she had just five minutes to spare. With little hesitation she sat down and closed her eyes without being prompted to. One grabbed a hold of her hand while the other focused on her upper body. Few words were exchanged and the only sound was that of another nurse typing on her keyboard. As it got close to the five minute mark, we began to wrap things up. Looking up from the hand that finally got the attention it needed, and at the face of this generous lady who spends most of her day working in a lab. Her cheeks were red, her eyes shut tight, and tears streaming down her face. She grabbed the hands of those who had worked on her for the past five minutes and whispered, 'Thank you, thank you so much.' She stood from the chair and hugged us with a slight kiss on the cheek. After sitting back down she explained why this meant so much to her. Before walking to the printer, she had just gotten off the phone with her doctor's office. She was in extreme pain and her head was throbbing from the worst headache she had ever had. Her blood pressure was abnormally high and she did not feel like herself. We asked her how she felt now, following the five minute session. 'It's gone, it's completely gone.' She said as more tears filled her eyes. We walked away knowing that we had made a difference, we were way more than just a hand to hold."
If any students would like to sign up to be a part of Lavender Fridays, please email Nancy Green.