After graduating from the nursing program at Carolinas College of Health Sciences, Caitlin Vitulli, RN, began her career at Atrium Health's Levine Cancer Institute (LCI). "Starting any new job is a little unnerving." Vitulli says.
For Vitulli – and many other nurses – entering specialty fields can be particularly challenging. That's why a group of veteran oncology nurses at LCI designed a program to give new oncology nurses additional time, resources and training to add to the skills they developed in nursing school, and to help them make the transition from general nursing to oncology. The result is better trained, more confident nurses, which ultimately results in better patient care.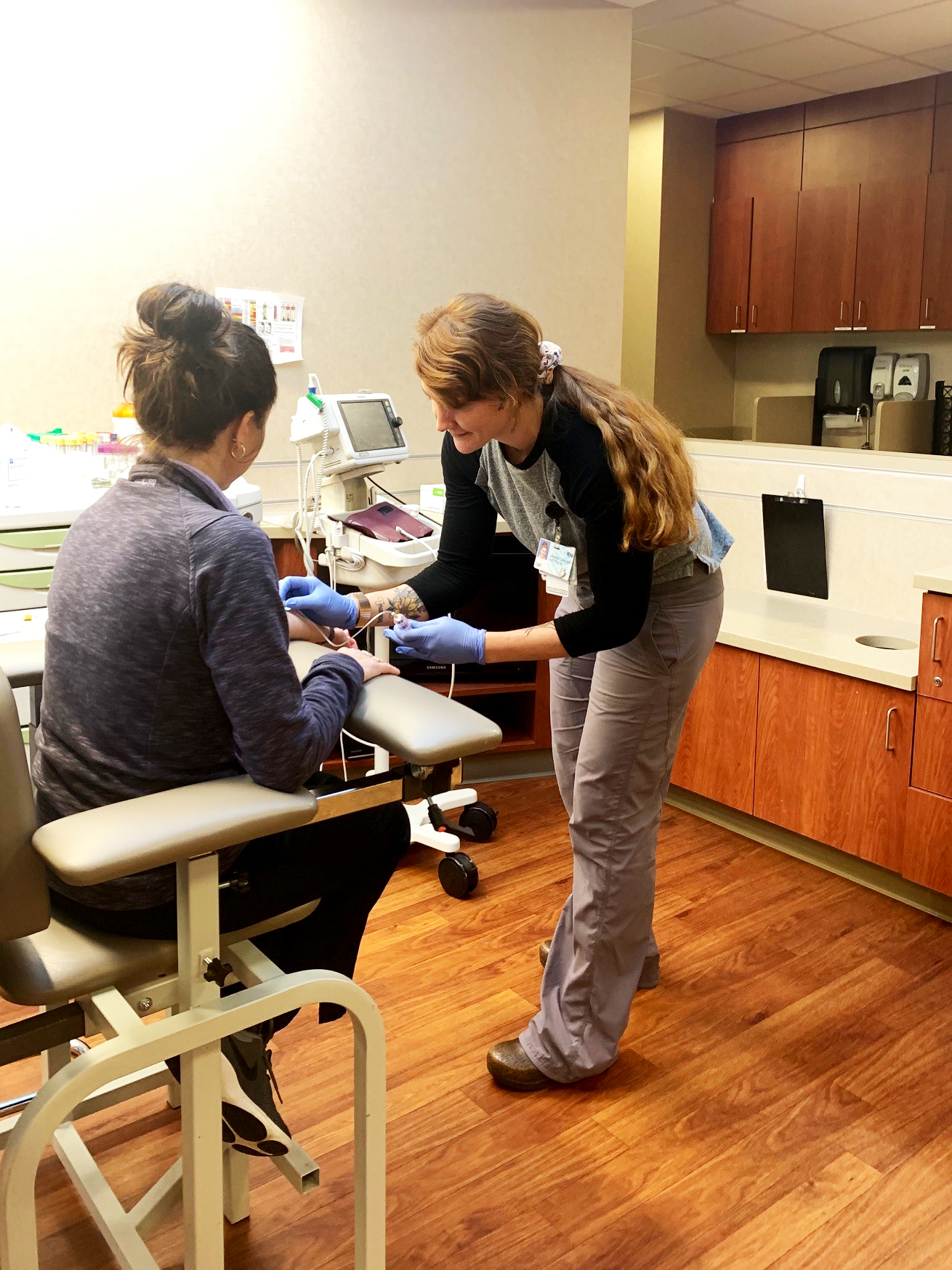 Carolinas College alumna Caitlin Vitulli is a nurse at Atrium Health's Levine Cancer Institute.
The program is part of Atrium Health's Transition to Practice program. Nurses choose a track – like oncology – and go through 14 weeks of orientation and training in their specialty. That's on top of the core 9-month new nurse residency program.
Angela Hosking, MBA, MSN, RN, OCN, NE-BC, administrative director, Central Operations; and LCI Nursing teammates Emily Bellard, MSN, RN, AOCNS, OCN; Jessica Garmon, MSN, RN, ONC; and Courtney Capotosta, MSN, RN, OCN, from inpatient Oncology, were the driving forces behind turning this idea into reality. They partnered with Atrium Health's Transition to Practice Program leadership team to create this oncology-specific experience.
"Specialty training is critical to oncology nursing," says Bellard, oncology clinical nurse specialist at LCI. "Even the most seasoned nurses need specialized training to learn how to manage care for cancer patients. We created this program to prepare our nurses earlier on. They are even chemotherapy-certified before their orientation is complete."
The program includes a unique mix of outpatient training at LCI and inpatient training at Carolinas Medical Center, covering topics like hematology, solid tumors and bone marrow transplantation. In addition to classroom lectures, nurses participate in professional practice sessions, getting hands-on training through simulation sessions specific to oncology treatment.
The Oncology track is one of Atrium Health's many New Graduate Nurse Residency Programs, which recently received accreditation with distinction by the American Nurses Credentialing Center (ANCC). An integral part of the new graduate nurse experience, all RNs with less than 6 months of professional nursing experience complete the Nurse Residency Program, which supports new RNs in the transition from academia to a complex practice environment.
"The facilitators are great, and they want to see us succeed," says Vitulli. "They won't put you on the floor without making sure you feel 100 percent confident. There's peace of mind with that, because chemotherapy can be very dangerous. It can get pretty complicated, and nobody wants to get it wrong."
The oncology track of the Nurse Residency Transition to Practice accepts nurses twice a year following summer and winter graduations. The number of participants continues to rise, with the latest cohort reaching 36 – more than double the initial cohort.
"The nurses get what they need to care for cancer patients," says Bellard. "I wish I had something like this in my time! The classes help them become seasoned nurses, faster."