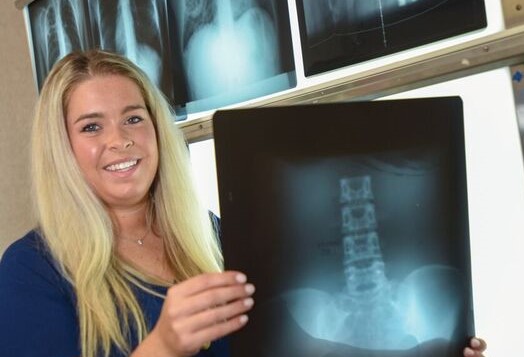 Nicole Cockerham decided in middle school on a career in nursing. She kept to that plan through her sophomore year at East Carolina University. It was June 2015
and Nicole was busy with summer school when she learned her younger brother, Tyler, received a diagnosis of acute myeloid leukemia at Atrium Health's Levine Children's Hospital. He was 17 years old, a high school sophomore and wrestling champion.
Nicole canceled her fall semester and moved home to be with her family in Charlotte.
"When I was home I decided to apply to Carolinas College for the general studies program," says Nicole. "I thought I could go into their nursing program and still be there for Tyler while he was going through his treatments."
She applied to Carolinas College in early fall 2015 for the spring 2016 semester. She doesn't recall if she was wait-listed or accepted. Before she could make a decision, Tyler passed away in December 2015.
Tyler mentioned something before he died that stays with her.
"He told me, 'You know, the nurses are great, but do you know what gets me perked up and in a good mood even as sick as I am? It's going over to radiology for X-rays. You need to be one of them. Radiology is where they make people feel good!' So I completely changed my mind about nursing," says Nicole.
Nicole took some time and thought about her brother's suggestion.
"It's crazy how in the worst of times, realizations happen. I thought I would graduate in nursing and work in a hospital. I didn't plan to come back to Charlotte," says Nicole.
There's irony in Nicole's choice to pursue radiological technology. She grew up accident-prone and spent a lot of time in X-ray rooms. "I never thought of it as a profession until Tyler said, 'That's what you need to go into!' and I was like 'Okay! Yes, sir! Whatever you tell me!'" says Nicole.
The change in Nicole's education and career path allowed her to be herself and not worry about getting from point A to point B. Her determination empowered her to earn her associate degree in General Studies in spring 2018, as well as a spot in the radiologic technology program.
"I know I'm going to get there. I'm determined that nothing is going to stop me from getting through this," says Nicole.
For the first time in her life, Nicole enjoys going to school. "At Carolinas College, they know me by name. At night, I look at the schedule for the next day and say, 'Yes! I'm going to do this, this and this,'" says Nicole. "Every time I'm with my instructor, or a Carolinas Medical Center tech, they point out different ways to approach things, and they're all correct! Then, I pick the approach that's best for me. It's a very individualistic experience."
Nicole is in her second year as a Radiologic Technology student, and she enjoys the patient interaction. She sees between 20 and 30 people a day. "You get them, you take care of them, you do what you can and then you send them on," says Nicole. "I hope the pictures I've taken help them in some way, whether it's diagnoses or clearance. In radiology, we are the doctors' eyes. I love it!"
"Even though it seems like nothing can come from a bad situation, there is a better outcome ahead. It's the light at the end of the tunnel," says Nicole.
For more stories of navigating major life changes, read the latest edition of the Carolinas College magazine.