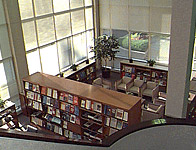 The library is an important part of any college experience. Below is a list of the resources and services available to you at the library. Take advantage of everything we have to offer and to ask if there is something more we can do for you.
Copies of all current textbooks and course syllabi are available for review.
Medical Education Building
1000 Blythe Blvd
Charlotte, NC 28203-5812
Hours
Monday - Friday, 8 a.m. to 5 p.m.
Quiet Study (2nd Floor) Rooms are available 24/7.
Resources
General Information
Resources