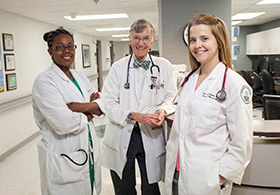 A popular one-month externship/acting internship is offered to students from within or outside the University of North Carolina system.
Fourth-year students have the opportunity to experience family medicine in the inpatient and outpatient settings. For those fourth-year students interested in ambulatory electives, we offer opportunities in various clinics including procedures, geriatrics, occupational medicine, integrative medicine, research, urban and rural medicine. It is an excellent opportunity to learn more about this program and its faculty and residents on a first-hand basis.
At Carolinas Medical Center, residents are actively involved in the education of the third- and fourth-year medical students, primarily from UNC-CH, but also from other medical schools across the country as they rotate through the pediatrics, internal medicine, OB/GYN, emergency medicine and surgery services.
Wingate pharmacy students also rotate through our clinic and on our inpatient service.
For information, call 704-304-7117 and ask for the Medical Student Coordinator and visit the UNC Department of Family Medicine website.