Carolinas Medical Center Division of Medical Education Resident Financial Support and Benefits July 1, 2017 – June 30, 2018.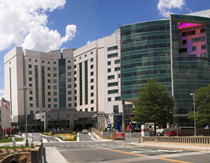 During the academic year 2017-2018, salaries for House Staff in the Graduate Medical Education Programs at Carolinas Medical Center (CMC), part of Carolinas HealthCare System, will be as follows:
| | |
| --- | --- |
| PGY Level | 2017-18 Salary |
| PGY-1 | $52,764 |
| PGY-2 | $54,443 |
| PGY-3 | $56,215 |
| PGY-4 | $58,967 |
| PGY-5 | $60,691 |
| PGY-6 | $63,531 |
| PGY-7 | $64,430 |
| PGY-8 | $66,684 |
Benefits
CMC provides (at no charge to the House Staff) medical coverage under the CHS LiveWELL Health Plan, prescription drug coverage with CarolinaCARE/OPTUM and dental coverage with DELTA Dental Plan for House Staff and their family members. Professional liability, life, and disability insurances are provided for House Staff only. Vision plan and other voluntary benefits are available with premiums being payroll deducted.
Premiums for medical and dental insurance are paid for House Staff and their families for the CHS LiveWELL Health Plan. House staff will be responsible for deductibles and co-pays for office visits, prescription and dental expenses.
Vacation
House Staff receive the equivalent of two week's vacation each academic year with one additional week during their third year. In addition, House Staff receive five days off on Christmas or New Year's holiday.
Continuing Education
An additional five days per academic year is allowed for an educational trip for which tuition and expenses up to $1,900 are provided.
Parking
Free parking is provided in a designated area.
Meals
Meals are provided in the CMC Cafeteria for on-call and in the MEB Cafe for noontime educational conferences.