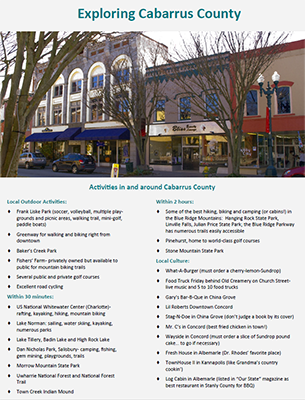 Cabarrus County is a dynamic place to live and work. Home to Concord Mills, #1 tourist destination in the state, as well as Charlotte Motor Speedway, Reed Gold Mine and beautiful parks and athletic facilities, Cabarrus County is well-known throughout the region as an attractive and growing community. Located just north of Charlotte, NC, the county offers the charm and convenience of a mid-size community with easy access to all the activities of a large metropolitan area. The four family medicine clinics are located in four communities in Cabarrus County.
Concord is a city of 80,000 located within 20 minutes of downtown Charlotte. It is home to Concord Mills, the number one tourist attraction in NC, and the Charlotte Motor Speedway.
Kannapolis, a city of 40,000, boasts the new NC Research Campus, a $1.5 billion life sciences/biotech hub that is home to eight universities. Kannapolis is home to the Kannapolis Intimidators, a minor league baseball team.
Mt. Pleasant, located in the less developed eastern part of our county, has a population of 1,600 people. It is a model example of small town America. Mt. Pleasant is just a few miles from Reed Gold Mine.
Harrisburg, with a population of 6,000-7,000, is a small community just adjacent to Charlotte, NC. It is less than five miles from UNC-Charlotte, a university with seven professional colleges and over 24,000 students.
Within the county, there are exemplary public and private schools. The public school system ranks among the top in the state.
There are also many colleges and universities within a 25-mile radius.
There are numerous parks and recreational activities in the area. Several area lakes provide nearby opportunities for boating, fishing and other water activities. Cabarrus County is ideally located for weekend getaways: the SC beaches are about 3 1/2 hours away and the beautiful NC mountains are two hours away.
Charlotte has a great deal to offer including art/cultural events, music and theater, professional sports, luxury hotels, fine restaurants, and excellent shopping.