Unopposed Comprehensive Inpatient Training at CHS NorthEast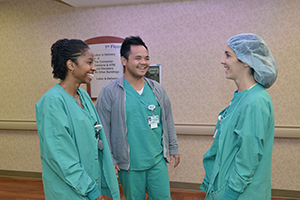 CHS NorthEast serves not only Cabarrus County but also accepts referrals from surrounding counties resulting in a wide variety of pathology and patient types.
Our Family Medicine Service (FMS) is true family medicine. In addition to complex ICU patients and routine adult medicine patients, residents will have maternity, newborn and pediatric patients on their patient list.
Residents take ownership of ther patients from admission to discharge. Residents follow their patients throughout their stay whether in the observation unit or intensive care (no handing off to another service).
Residents have direct access to learning opportunities including procedures
CHS NorthEast retains a warm and friendly atmosphere where residents are treated as colleagues by nurses and medical staff alike.
At CHS NorthEast, family medicine is highly respected. We have a family medicine designated unit and open access to ICU's. Hospital leaders work closely with our residency to ensure the best learning environment possible.