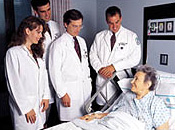 Dentistry originated as a subspecialty of medicine but evolved into a separate healthcare profession in the middle of the 19th century. The subsequent isolation from the profession of medicine has resulted in voids in the training of both physicians and dentists -- and has affected healthcare delivery in this country as well. The faculty of the Department of Oral Medicine feels that the discipline of oral medicine as we define it -- to include its role in dental education, practice and research -- is the primary interface of medicine and dentistry. As such, it is as challenging as any area of dental practice, requiring formal and extensive training in the hospital setting.
The general population in the United States includes an increasing number of people with medical conditions that require special consideration by the dental practitioner. Among these are patients receiving cancer chemotherapy and/or radiotherapy, heart valves or organ transplants and those taking a variety of medications.
Our hospital-based oral medicine residency stresses the interrelationship between oral disease and systemic health, the recognition and management of oral conditions and disease, and the dental management of medically compromised people. Our goal is to develop the resident's clinical competence, such that participants can manage patients with systemic implications for dental treatment, to include those who must be managed in nontraditional dental healthcare settings (e.g., operating room, bedside).