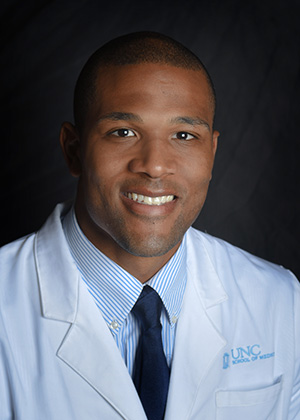 Former NFL lineman brings team mentality to UNC School of Medicine
Charlotte native Jeremy Thompson was living the dream.
Selected in the fourth round of the National Football League draft in 2008, Thompson joined the Green Bay Packers as a linebacker. The Wake Forest graduate played in 15 games and tallied nine sacks but a neck injury in his first season forced him into early retirement in 2010.
"I was never really interested in medicine until my own experience in sports medicine," says Thompson, a third-year medical student at the University of North Carolina School of Medicine Charlotte Campus. "I grew up playing football and all kinds of sports. From that, I had an interest in how the body works and science, but I never really wanted to be a doctor."
As Thompson spent time with medical professionals who helped with his neck injury in 2009, the increased exposure to sports medicine doctors made him view the profession differently. So, he decided to go back to school and begin pre-requisite classes for entry into medical school.
Thompson, who played football at Charlotte Christian School, lives in Charlotte with his wife, Adele, and their two children, Aria and Joah. The location of the Atrium Health campus of UNC School of Medicine will allow Thompson to stay close to home as he finishes his medical degree.
During the interview process with UNC School of Medicine, the emphasis on teamwork and leadership attracted Thompson to the program.
"Coming from athletics, I'm all about teams and working with different types of people to bring out strengths and working with others to minimize weaknesses," Thompson says. "You're working in teams in the first two years then we work one-on-one with educators," he adds. "In my opinion, it has made me more proactive in my future. We take initiative and see what we can do around the office or clinics and there are a lot of opportunities to get involved. We also have opportunities to start interest groups and offer free clinics."
During the summer after his first year of school, Thompson took part in the Atrium Health Summer Research Scholars Program, which lets students work closely with mentors who are performing original research in the clinics or laboratories of Atrium Health.
The research and experience solidified his interest in sports medicine.
During fall 2015, Thompson will take part in PATCH, which stands for Propelling Adolescents Towards Careers in Health. The program, developed by current and former students of the UNC School of Medicine, matches inner-city Charlotte high school students with the various healthcare professionals to offer mentorships and career development experiences.
When he graduates from the UNC School of Medicine, Thompson hopes to land an orthopedic residency.
"I'm really interested in youth sports and trying to give back to the community in any way I can," he says. "And my education will help me do that."