UNC School of Medicine Charlotte Campus
The need to train more physicians is great. Join the University of North Carolina (UNC) School of Medicine Charlotte Campus in educating the next generation of physicians.
Join Us
Affiliation with a leading public medical school – a defining element of your career. The UNC School of Medicine has a national reputation for excellence in education.
Ensure the future of quality patient care – According to the North Carolina Institute of Medicine, a 20 percent increase in physician supply will be needed over the next 25 years.
Established education program – Atrium Health in collaboration with AHEC has provided clinical education for more than 40 years. During the 2011-12 academic year, 221 third and fourth year medical students completed 424 student-months at the System.
As an educator, you can take pride that you're improving healthcare in North Carolina for generations to come.
Clinical Appointment Benefits
Clinical appointment with UNC School of Medicine
Certificate recognition for each physician
Library benefits, including full access to the online Chapel Hill and AHEC libraries with journals, databases and books including UpToDate, PubMEd, MD Consult and more
Consultation with AHEC librarian in your practice plus librarian assistance with literature searches
CME credit through the online libraries
Preferential access to Allied Health Learners "Pipeline for Long-Term Recruiting"
Support and enhancement of teaching skills through Center for Faculty Excellence (CFE)
CFE teaching awards and scholarship opportunities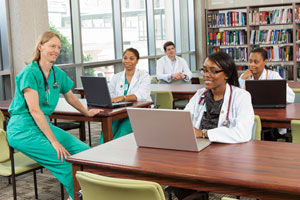 For more information:
Celeste C. Colcord, MBA
Director, Operations and Finance
UNC School of Medicine Charlotte Campus
Phone: 704-446-5556
Melody Jankowski
Administrative Assistant
Phone: 704-355-3147