Requirements for New Students
Visiting students and UNC SOM students, please contact the coordinator as soon as you're approved for a rotation to ask what information is needed.
Students will receive an email from Certiphi to complete a background check and an email from PeopleLink to complete safety modules. Please respond promptly before the link expires.
Students will have a drug test and fit-test to a respirator mask on their first day. Bring any prescriptions or medicine that might show up on the drug test.
Bring a lock for your locker.
Campus Map
Download the Carolinas Medical Center Area Map (PDF)
Parking
Students park for free during their rotation at Carolina HealthCare System. The coordinator will contact you about which parking decks you will have access to during your rotation. On your first day, the coordinator will give you a code to open the parking gate or instruct you to use the visitor entrance. Thereafter, your badge will open the gate.
CMC Campus Parking Map (PDF)
Housing
Operating Room Orientation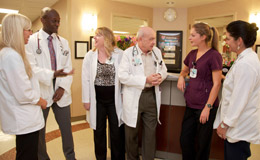 Operating Room Medical Student Orientation & Guidelines (PDF)
Helpful orientation information for 4th year students