Learning Environment Policy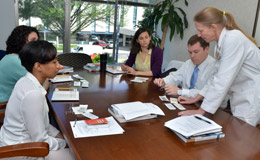 The purpose of this policy is to enhance the learning environment for students in the UNC School of Medicine, residents, fellows, attendings, hospital staff and other trainees. As our institution adapts to a rapidly changing health care environment, we must support an atmosphere in which learning is encouraged and the roles of all participants in the system are respected and valued. Institutionally, we have an ethical responsibility both to affirm our aspirations for a positive learning environment and to specify procedures in case of mistreatment of trainees. What follows is consistent with the UNCHCS Code of Conduct and existing UNC policy on the relationships of students and faculty.
Absence Policy
Students must obtain an administrative excuse for days missed by submitting a request via this electronic form. Students must also notify faculty, house staff preceptors and site coordinators of their absences as soon as possible. All absences will be made up at the discretion of the course directors. Students who miss more than 4 days in a 16-week course are at risk for receiving a grade of Incomplete based on the quality of their make-up work and level of competence. In the event of extended absences, students must consult with the course directors. Students can check the number of excused absences in One45 at any time by clicking on Vacation/Leave in the To-Do list.
Call Duty Policy
Duty hours include all in-house clinical and other required activities related to a rotation (patient care, charting, call, conferences, etc.). Duty hours do not include reading and preparation time spent away from the duty site. Duty hours should not exceed 80 hours per week, averaged over a complete rotation, inclusive of all scheduled in-house call activities. Continuous on-site duty, including required in-house call, should not exceed 24 consecutive hours. Students who take required in-house call may remain in-house up to 6 additional hours to participate in didactic activities or to transfer care of patients. Students should be provided 1 day in 7 free from all educational and clinical responsibilities, averaged over a 4-week period, inclusive of call. One day is defined as one continuous 24-hour period free from all scheduled clinical, educational and administrative activities. If students exceed these work hour guidelines, they should bring that to the attention of the Educational Resources Coordinator in the Dean of Students office.
Mistreatment Policy (Appropriate treatment of medical students)
Mistreatment of medical students is unacceptable in any UNC setting. Students with questions or concerns should contact the Associate Dean for Student Affairs, the Learning Environment Liaison or a college advisor. Students at campuses can contact their campus director or campus ombudsman. Visit the website on student mistreatment for more information.
Clinical Academic Resources
Clinical Academic Resources (CAR) is a program to help students improve clinical, communication, and professional skills. The current CAR Directors are Dr. Neva Howard and Dr. Candra Bass, who provide counseling, resources and remediation services for students in clinical course. Visit the CAR website for more information.
Accommodations
The School of Medicine collaborates with the Accessibility Resources & Service (ARS) Office in order to provide reasonable accommodations for medical students with disabilities, chronic medical conditions, a temporary disability or pregnancy complications resulting in difficulties with accessing learning opportunities. All accommodations are approved through ARS and although you already may be approved for testing accommodations, the nature of exams and assessments during your clinical course are different. Therefore, we ask that during the first week of each course students with approved accommodations please:
Review the list of exams and assessments on the course website/Sakai page.
If accommodations are requested, contact the appropriate person listed below and list the exams and assessments for which accommodations are requested.
Send this information to ARS accompanied by the specific request for accommodation. ARS will determine reasonable accommodations and will work with each of the contact people to ensure the accommodations are implemented appropriately.
Students with questions about qualifying for accommodations should contact the Accessibility Resources & Service Office. In the first instance please visit their website, call 919-962-8300 or email.
OSCE and CPX Exams
Julie Messina: 919 966-2707
Charlotte Campus Students
Celeste Colcord: 704 446-5556
Grade Appeal
If a student has a concern about a grade, he/she should first contact the site director of the block whose assessments are of concern. Students may not approach individual attendings or residents unless directed to do so by a Course Co-Director. If the issue cannot be resolved and the student would like to submit a formal grade appeal, he/she must initiate the grade appeal within 30 working days of the notification of the grade or evaluation. Submission of the formal grade appeal is done through One45 after a course coordinator releases the form to the student. Course Committees will discuss the grade appeal and its merits to render a final decision. If the student is still not satisfied the appeal can be elevated. If there are questions about the grade appeal policy and processes, they can contact Dr. Dent, Associate Dean for Student Affairs.
Adverse Weather Protocol
UNC SOM students in all phases of the curriculum follow the University Weather Policy. Although third- and fourth-year students are involved in patient care, they are not considered critical personal by the UNC Health Care System, or by the various AHECs, and should not be encouraged to come in if conditions are hazardous.
If adverse weather changes the healthcare system operating status, campus communications will occur via email or text. Students are asked to make personal safety a priority. Individual questions or concerns can be addressed directly with Campus Director, Heather Tarantino or Student Affairs Liaison, Celeste Colcord by calling 704-446-5556.
Needle Stick and Policy Procedures
Blood and body fluids can be infected with Hepatitis or HIV. If you are exposed due to a needle stick or mucous membrane splash or splatter during the course of your clinical rotation, follow the steps below:
Immediately clean the affected area. If you are splashed in the eye, rinse your eye out with water. If you are stuck with a sharp, clean the site with soap and water.
Immediately notify your supervisor. Report the exposure to your clinical instructor/supervisor to document the incident.
Obtain source patient information (patient name, medical record number and patient location).
Call the Charlotte 24/7 Injury Hotline at 704-355-7233.
After paperwork is complete contact your Home Institution. UNC students should call UNC Student Health at 919-966-6573.