Charlotte Medical Clinic
Carolinas Mobile App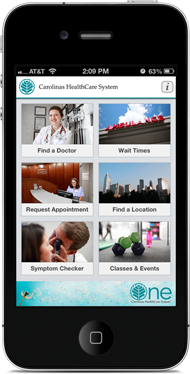 The Carolinas Mobile App gives you easy access to: Find a doctor, ER or urgent care, driving directions and more.
Download Now At:
App Store | Google Play
Charlotte Medical Clinic has offered to serve as medical home and primary care health care provider for the University of North Carolina School of Medicine-Charlotte Campus students. The clinic is also available to rotating UNC medical students.
Charlotte Medical Clinic was established in 1955, offers six locations (including the Medical Center Plaza location on the CMC campus), and 23 primary care providers. Charlotte Medical Clinic also offers numerous specialty and sub-specialty services including gastroenterology (GI), dermatology, pulmonology and allergy/immunology.
Contact Charlotte Medical Clinic and please identify yourself as a UNC medical student.
Urgent Cares
Carolinas HealthCare System Urgent Care
UNC-Charlotte
UNC-Charlotte Student Health Clinic has a full array of services designed for students, including access to primary care, psychiatric care and psychological counseling.


UNC Students on the UNC student health plan who have designated Charlotte as their "home" campus will have the full benefits of the student clinic.
Students with other insurance plans or UNC students who have the Central Campus as their home base will have to pay out of pocket and submit a claim with their insurance company.
Location:
UNC Charlotte Student Health Center
9201 University City Blvd.
Charlotte, NC 28223
704-687-7400 (option 4)
Office hours
Summer, Between Semesters & Spring Break Office Hours:
Monday – Friday 8:00 a.m. to 5:00 p.m.
Fall and Spring Semesters
Monday – Thursday 8:00 a.m. to 6:30 p.m.
Friday 8:00 a.m. to 5:00 p.m.
PLEASE NOTE: The office stops seeing patients 1 hour before closing.
STUDENTS PLEASE NOTE: When checking in at the front desk, be sure to let them know you are a Charlotte student so you are not charged any co-pay.
Stress Management/Counseling Services