Visitor Restrictions Update:
We're continuing to ease some of the visitor restrictions, while ensuring COVID-Safe standards are in place.
Learn more
.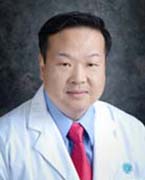 Chair of the Department of Solid Tumor Oncology
Levine Cancer Institute
Recognized for his work in molecular prognostication for lung cancer, Dr. Kim is a national leader in the field of oncology. Before coming to Levine Cancer Institute, Dr. Kim served in many leadership positions in the Department of Thoracic/Head and Neck Medical Oncology at the University of Texas MD Anderson Cancer Center. He has been named a U.S. News and World Report Top Doctor specializing in thoracic cancer and cancers of the head and neck.
As part of his commitment to ongoing research in the field of oncology, Dr. Kim has written several journal editorials; served as principal and co-principal investigator on numerous studies, abstracts and protocols; and has published many articles in top-tier, peer-reviewed research journals such as The Lancet, Journal of the National Cancer Institute and Clinical Cancer Research.
EDUCATION
Medical school
Northwestern University, Honors Program in Medical Education
Residency
Baylor College of Medicine
Fellowship
University of Texas MD Anderson Cancer Center
Other education
Internship
Baylor College of Medicine
BOARD CERTIFICATIONS
American Board of Internal Medicine
American Board of Internal Medicine – Medical Oncology