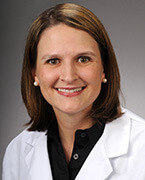 Interim Division Director, Pediatric Neurology
Levine Children's Hospital and Jeff Gordon Children's Hospital
A pediatric neurologist, Dr. Brockway leads our child neurology division in her dual roles as clinician and interim division director. She's held a variety of leadership positions and currently serves on our Epilepsy Executive Council. Dr. Brockway is an active member of the pediatric medical community and is involved in professional organizations, including the American Academy of Neurology, Child Neurology Society and North Carolina Medical Society. In addition to her experience in pediatric neurology, Dr. Brockway serves her community through participation in local efforts and spends one week every summer as a staff volunteer at a camp for children with significant disabilities.