To pre-register for surgery at Atrium Health University City, please call 704-512-2000.
Please bring only one other adult with you. Children may be accompanied by both parents. We request that only the child scheduled for surgery be present. Due to limited space in the waiting areas, the maximum visitors allowed are two.
Parents must remain in the facility at all times. Additionally, when siblings are having surgery, at least two responsible adults must remain at facility.
For late arrivals or surgery cancellations, call Atrium Health University City's day-of-surgery pre-op area at 704-863-6150.
Tours of the outpatient surgery department can be scheduled for pediatric patients and their families by calling the Pre-Op Screening Clinic at 704-863-5591. Hours are Monday - Friday, 8 a.m. - 4:30 p.m.
Presurgical Call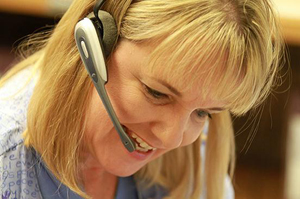 Every surgical patient at Atrium Health University City will receive a confidential phone call from one of our nurses prior to surgery. If a presurgical visit is indicated, one will be scheduled for you. If a presurgical visit is not indicated, you will receive any necessary instructions. However, if you wish to come on a day prior to surgery, an appointment can be scheduled. If you are coming from out of town and plan to stay in Charlotte overnight - either before or after surgery—you may call 704-863-5591 for information about accommodations near Atrium Health University City.
If you have any additional questions or have not been contacted by the Pre-Op Screening Clinic within two days of your scheduled surgery, call 704-863-5591. Your care and comfort are our highest priorities.
Presurgical Visit
If a presurgical visit is indicated, plan to arrive 15 minutes before the time of your scheduled visit, please report to the Main Entrance of the hospital. Please bring your insurance information, photo ID and a list of your current medications with dosages. If the patient is under the age of 18, they must have a parent or guardian accompany them to sign the necessary forms.
Necessary tests will be conducted during your visit and a nurse will explain what you should do to prepare for surgery. The nurse will also tell you what to expect during and after surgery as well as answer any questions.
During your visit, an anesthesiologist, if needed or indicated by medical history, will discuss with you the best type of anesthesia for your procedure.
Types of anesthesia include:
General anesthesia. You are asleep during surgery.
Conduction anesthesia. A nerve block numbs only the appropriate area of the body.
Local anesthesia. Anesthetic is injected into the specific area.
Local anesthesia with sedation. Anesthesia is injected into the surgery area only and a sedative is provided intravenously.
If you need to cancel your surgery appointment, please call your doctor as soon as possible. If you are going to receive any sedation or anesthesia other than local, you must have an adult at least 18 years of age drive you home after surgery. Even if you take a taxi, an adult must accompany you.
The Night Before Surgery
Adults:
Should have their last solid foods and liquid six hours before arrival time.
Should have their last clear liquids (water, apple juice, ginger ale, Sprite®, 7-Up®, Pedialyte®, Kool-Aid®, or Gatorade® two hours before arrival time. Please, no red or grape drinks.
Some physicians request that their patients ingest "nothing by mouth" after midnight prior to day of surgery. This will be relayed to you by the physician's office or during presurgical phone call.
Should avoid alcoholic beverages and nonprescription drugs 24 hours before arrival time.
If you have been instructed to take any medicine, do so with a small sip of water.
Children (six months and older):
Should have their last milk, formula, breast milk or food six hours before arrival time.
Should have their last clear liquids (water, apple juice, ginger ale, Sprite®, 7-Up®, Pedialyte®, Kool-Aid®, or Gatorade® two hours before arrival time. Please, no red or grape drinks.
Infants (birth to six months):
Should have their solid food, formula or breast milk four hours before arrival
Should have their last clear liquids (water, apple juice or Pedialyte®, two hours before arrival time.
It is very important to follow these instructions in order to avoid delay or cancellation of surgery.
Day of Surgery
Arriving on time is very important. Please give yourself plenty of time to allow for heavy traffic. Please report to the Outpatient Surgery Entrance.
Wear loose, comfortable clothing and flat shoes. Jogging suits or sweat clothes work very well. Please do not wear makeup or contact lenses. Jewelry, body piercings and valuables including cell phones should be left at home. We will be glad to keep your dentures, glasses, wigs and hairpieces in a safe place for you while you are in surgery. You may brush your teeth but should not swallow toothpaste or water.
Please bring any records or forms your doctor has given you concerning your surgery or postsurgical care. Children may bring a favorite toy or blanket. If you forget and eat or drink something, tell your nurse immediately upon arrival at the Outpatient Surgery Department. Discuss current medications with your doctor for directions on taking them the day of surgery.
Surgery Preparation
Before your surgery, you may receive medication that will make you drowsy. Please do not try to stand or walk without help after taking this medication. For sanitation purposes, a nurse may need to shave the area of your body where the operation will take place. A nurse will take you to the operating room and show your family to the waiting area. A waiting room attendant is available to assist family members. Your doctor will talk with them after surgery and our staff will keep them informed of your progress.
After Surgery
After your operation, you will be taken to the recovery room at Atrium Health University City where you will receive constant nursing care. Small children may have sippie cups/bottles of juice in the recovery room. Upon awakening, you will be moved to the step-down unit. At this time, you will be given something to drink. Your family will be allowed to visit and assist you in getting dressed. The length of stay after surgery is between one and four hours. A recovery nurse will help you prepare to return home. You will receive prescriptions for any necessary medication and written instructions to follow at home.
What to Expect at Home
Activity: If you receive anesthesia or sedation, you may feel tired. This is normal and should pass within 24 hours. Plan to stay at home and rest for the remainder of the day. Do not drive a car, operate machines or dangerous appliances or make important decisions for 24 hours. For adult patients, a person over the age of 18 should remain with the patient for 12 hours following surgery. In the case of children, an adult should remain with the child for 24 hours following surgery. .
Diet: When you get home, do not try to eat immediately. Start with sips of clear liquids; when you are ready, increase your fluids and add small amounts of solid food. Work your way up to a regular diet slowly and eat small amounts of food often. Avoid alcoholic beverages for 24 hours.
Medication: Bring a list of all medicine you are taking. You will receive instructions regarding your medications upon discharge.
Progress
You will receive a post-operative call after surgery to see how you are doing and to answer your questions. Due to patient privacy issues, a generic message may be left on your answering machine.
Thank you for the privilege of allowing us to care for you. We wish you a speedy recovery and continued good health.