We know you're doing everything you can to stay safe during the coronavirus disease 2019 (COVID-19) outbreak – and at Atrium Health, that's our top priority too.
While our doctors, nurses and healthcare workers fight COVID-19 on the front lines, we're doing everything we can to keep you healthy and informed. From sharing what you can do to protect yourself and others, to providing free and low-cost virtual care 24/7, we're here to help guide you through this difficult time.
Looking for information about visitor restrictions, location closings or hour changes? Get the latest updates here.
How to protect yourself
---
At Atrium Health, we're taking strong action to prevent the spread of the virus and protect our community. But to have the best outcome, we're counting on you to take action, too.
Here's what you can do to protect yourself and others:
Wash your hands often with soap and water.
Stay home as much as possible.
Wear a cloth face covering (or mask) if you have to go out in public.
Practice physical distancing by staying at least 6 feet away from anyone that doesn't live in your home.
Avoid touching your eyes, nose and mouth with unwashed hands.
Avoid close contact with someone who's sick.
Cover your mouth and nose with a tissue or your sleeve when coughing or sneezing.
Clean and disinfect surfaces and objects people frequently touch.
Be aware that you and others around you can have COVID-19 without ever showing symptoms.
If you have a chronic medical condition, you may need to take other steps to protect yourself and keep your condition well-controlled. Call your doctor for advice specific to your condition and see other helpful resources for patients here.
Symptoms of COVID-19
---
As we see more cases of COVID-19, we're learning more about how the virus affects people. Some people infected with the virus will have no symptoms. When COVID-19 does cause symptoms, they typically appear within 2 to 14 days of exposure to the virus and may be similar to symptoms of a cold or the flu.
Common symptoms of COVID-19 include:

Fever

Cough
Shortness
of breath

Loss of smell
and/or taste
For most people, the symptoms are mild and don't cause serious health problems. But sometimes, COVID-19 causes more severe symptoms, like difficulty breathing, persistent pain or pressure in the chest, confusion or inability to wake up, and bluish lips or face.
If your symptoms are life-threatening, call 911 immediately.
Seeking care for COVID-19
---
If you start feeling sick, try not to panic. Most people who get COVID-19 have mild illness and can safely recover at home. And if you need care, our experts are here to help you 24/7.
When to seek care
If your symptoms are mild, like loss of taste or smell, stay home and isolate yourself from others as much as possible. Be extra sure to wash your hands and wear a cloth face covering if you need to be close to other people.
If you're worried about your symptoms, you can get virtual care from the comfort of home at little or no cost to you. If you have emergency warning signs of COVID-19 like difficulty breathing, or any other life-threatening symptoms, call 911 right away.
How to seek care
You don't need to go to your doctor's office, emergency room or urgent care, unless you're having severe symptoms like difficulty breathing. For more mild symptoms, you can get medical care from the comfort of home. Step by step, here's what to expect.
Step 1: Take a free risk assessment.

Answer a few questions online or call 704-468-8888 to get next steps for care. You can start your assessment anytime – day or night.

Step 2: Visit with a healthcare provider.

If needed, you'll be referred to visit with a healthcare provider, either by email or video chat.

Step 3: Get tested, if necessary.

Depending on your symptoms, you might be told to rest up at home, but if you need to get tested, we'll schedule your test and let you know where to go. We have testing sites throughout the area where your safety is our highest priority.

Step 4: Get what you need to get well soon.

We're here for you 24/7 to make sure you're getting everything you need to get well soon. This might include regular check-ins, delivering prescriptions to your house and guiding you to next steps for medical care.
If you have any symptoms you're worried about, take our free assessment to find out what to do. To see all of our care options, visit AtriumHealth.org/GetCareNow. If your symptoms are life-threatening, call 911 immediately.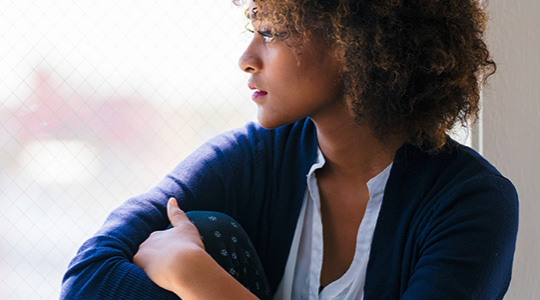 Mental health care
Coping with COVID-19 has been challenging for everyone. And as you take steps to protect your physical health, remember to take care of your mental health, too.
If you're feeling down or anxious and need someone to talk to, we're here for you. Please call our 24/7 Behavioral Health Help Line at 704-444-2400 to speak to a licensed professional.
Call 24/7 Help Line
Advice for specific groups
---
Although coronavirus can infect anyone, certain people need to take extra precautions, including older adults and people of any age with a pre-existing medical condition. We know many parents are also concerned about what they can do to keep their children safe.
Our experts are here to provide the information and care you need to stay healthy. Learn more about how COVID-19 may affect specific groups and how we're providing support.
Helpful resources
---
For more helpful, easy-to-share information about prevention and care, check out our infographic library below. To open an infographic as a PDF, click the arrow icon next to its title.
Press ctrl+click (or cmd+click on a Mac) to open in a new tab.
The CDC offers comprehensive resources to help you and your loved ones stay safe at home, including: