Athletic trainers play a key role in protecting the health and safety of student-athletes on and off the field. They work with the coaching staff, school nurses, physical therapists, athletic administrators, parents and Atrium Health sports medicine specialists to provide expert-level care to student-athletes.
But athletic trainers also do much more. The time they spend with student-athletes on a daily basis means they have many opportunities to help guide their development as young adults. This relationship makes it easier for athletic trainers to know how to provide personalized treatment when injuries occur.
As part of one of the largest sports medicine programs in the nation, Atrium Health, Atrium Health Floyd and Atrium Health Wake Forest Baptist are proud to serve as the official sports medicine provider for hundreds of high schools, colleges and professional teams in North Carolina, South Carolina and Georgia.
Here are some of the services provided by our certified athletic trainers:
Design and implement injury prevention programs
Offer acute, emergency and on-field care
Evaluate, treat and rehabilitate injuries and athletic-related illnesses
Recognize and evaluate head injuries and concussions
Provide advice on how nutrition can help injuries and illnesses
Prepare athletes for practices and games
Monitor field, environmental and weather conditions (e.g., heat index and lightning)
Attend all home athletic events, matches and games (including practices)
Communicate with physicians, parents and coaches about injuries
Develop return-to-play programs for injured athletes
Develop emergency action plans for schools
Get to know our athletic trainers across the region:
Jim Bazluki, manager of athletic training
Atrium Health Musculoskeletal Institute
Combine Academy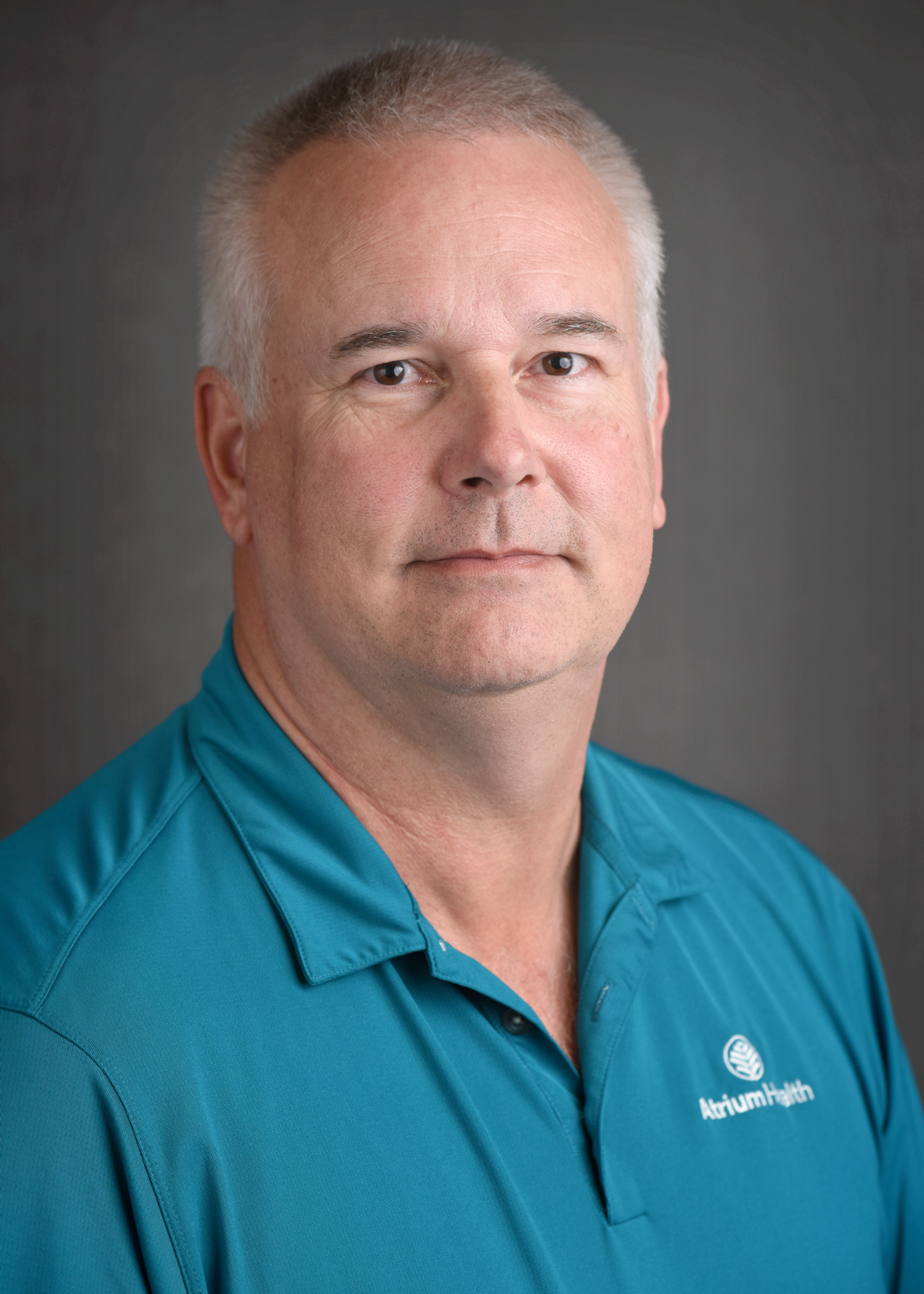 When Jim Bazluki was young, his father was a football coach, which meant that Bazluki was always around the team. But the school his father coached at didn't have an athletic trainer.
"I was always the kind of person who was looking to fill a need and help someone," he says. "I developed an interest in sports medicine and in the health and safety of athletes. That interest guided my path in college and led me to pursue an athletic training career. I've been an athletic trainer for more than 35 years."
Bazluki enjoys working at Combine Academy, an academic international boarding school and Professional Sports Performance Center with a patient population that spans 50 countries. In addition to caring for student-athletes, he builds relationships with the students and learns about their interests and culture.
He loves being able to work with international students throughout the full spectrum of care – from injury prevention to return to play. Having health care on-site saves athletes travel time and prevents them from missing classes or work. Students can get evaluated and treated with minimal disruption to their academic life.
Last year, Bazluki treated a basketball player with heart issues. Because of his connections with Atrium Health's cardiology experts, he was able to help get the patient seen and diagnosed quickly. The student had a surgical procedure to repair his heart condition and was able to pursue his college basketball career.
"We have many opportunities to get to know the person and not just the injury, which increases the athlete's comfort level with the provider. When they start seeing you as a part of their team, they're more willing to share information. Because our athletes are from other countries, their support systems are far away and in different time zones. Sometimes we have to fill that support role a bit differently than we would with local students."
Zachary Brown, head athletic trainer and manager of athletic training
Atrium Health Musculoskeletal Institute
Queens University of Charlotte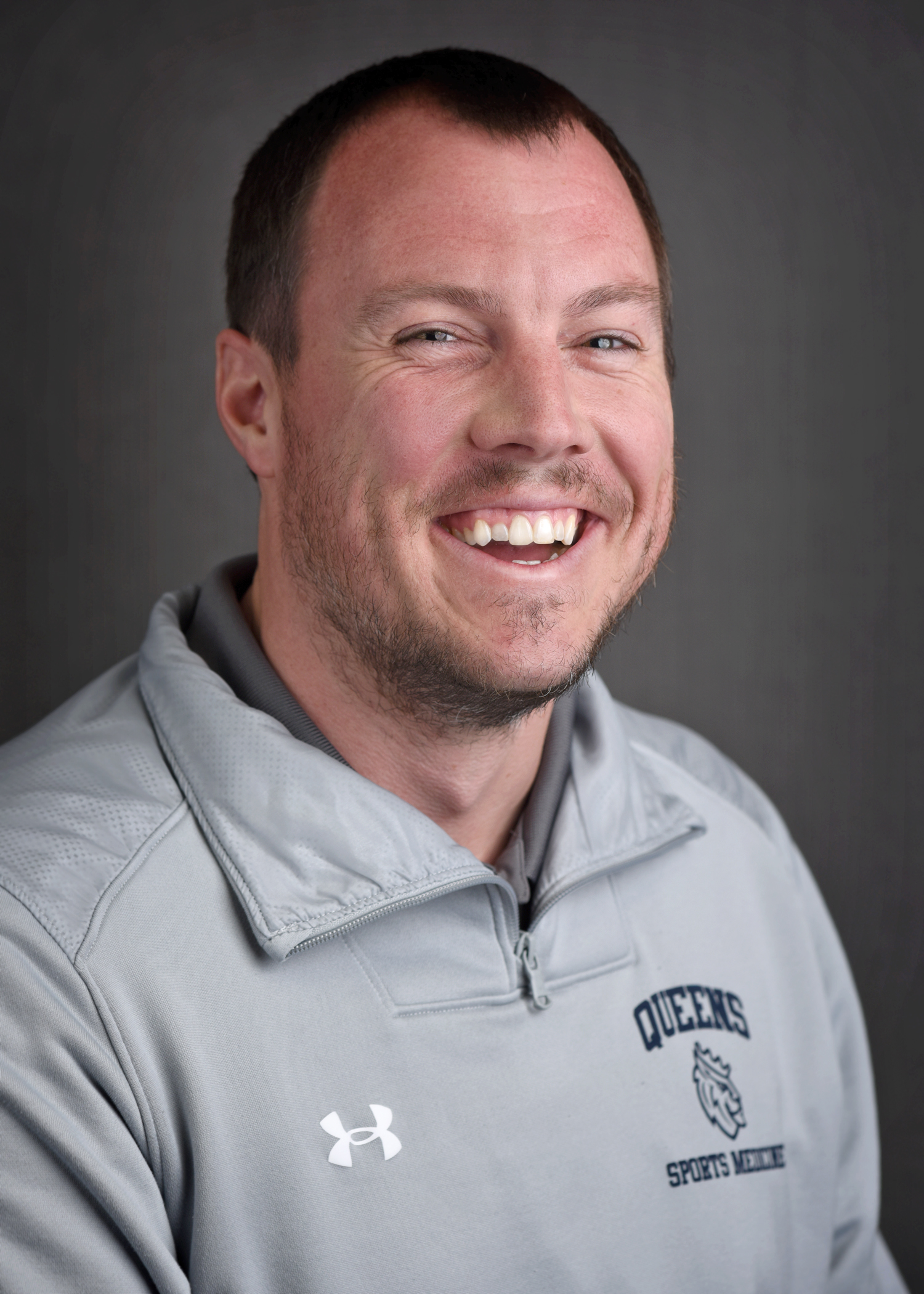 Zach Brown entered the world of athletic training 20 years ago when he tore his ACL while playing football at Purdue University. After his surgery, he completed his ACL rehab with all the football staff and became much more familiar with athletic training.
As the manager and head athletic trainer at Queens University, Brown works with the men's basketball and dance teams. Since the dancers perform at the basketball games during halftime, it's convenient to provide treatment if one of them gets injured.
Brown loves seeing athletes return to their sport after overcoming an injury or a setback and watching them accomplish their goals.
"I love my job as an athletic trainer because every day presents a different situation, a new challenge," he says. "As a lifelong learner, I look at each day as an opportunity to figure out how I can improve or use our resources in a better way."
"We're like the boots on the ground for our athletes because we're with them for every practice, every strength session and every game we travel. We're one of the first confidants they have. I pride myself on being able to relate to our athletes and communicate openly with them. We can quickly modify or dictate their care if they need follow-up care with a specialist."
A couple of years ago, Brown worked with an athlete who went on to win an Olympic silver medal. It was rewarding for him to see this athlete overcome a lot of adversity and compete successfully in the Olympics.
Alex Nucerino, certified athletic trainer
Atrium Health Musculoskeletal Institute
Charlotte Football Club Academy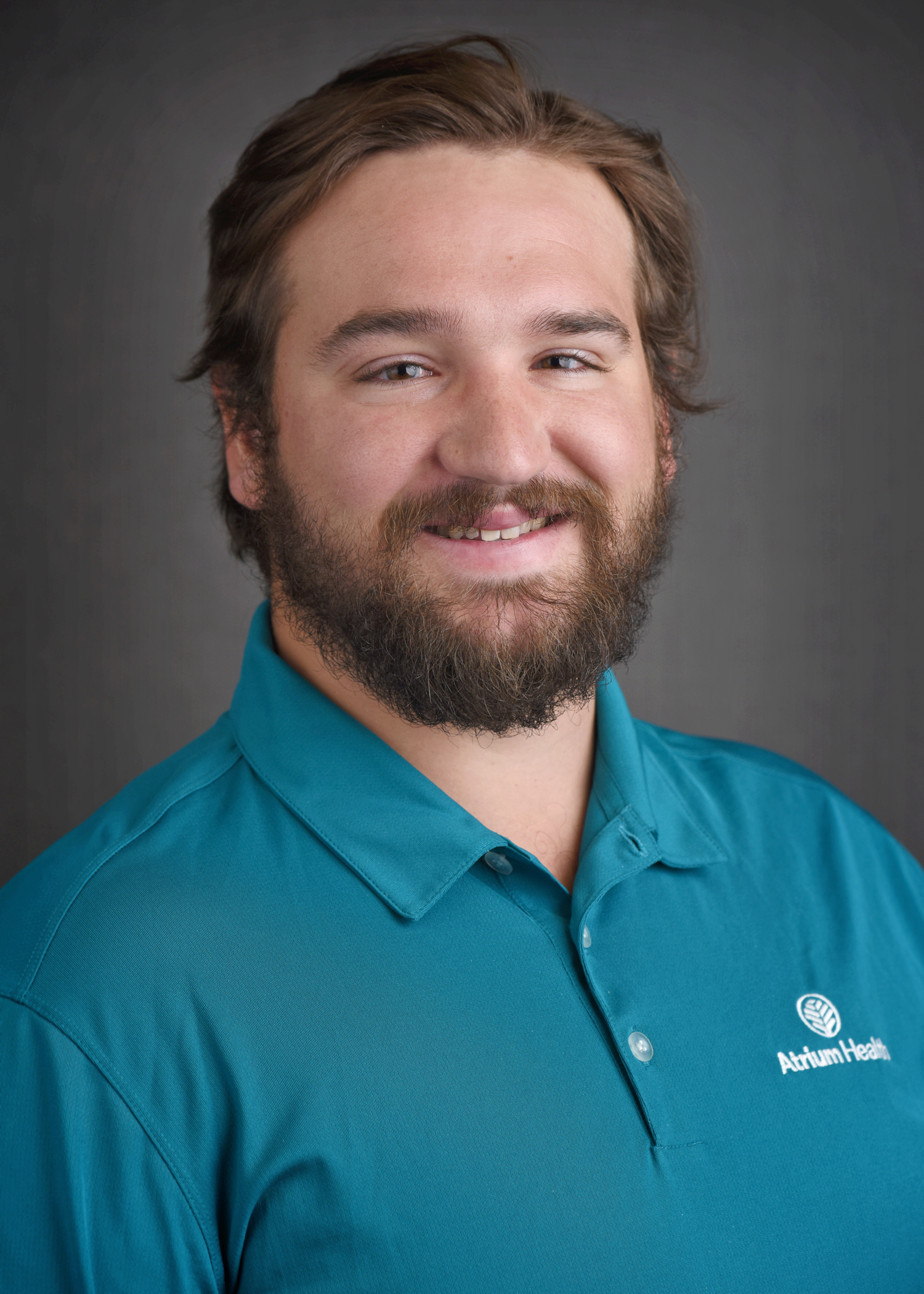 Alex Nucerino chose to pursue a career in athletic training because he always wanted to work in sports. During his undergraduate work at John Carroll University, he explored multiple careers in sports medicine. In his senior year, he worked as a student athletic trainer with the school, helping out all the sports teams sponsored by the school.
"I fell in love with it," he says. "I was able to create rehabilitation plans, and I also got to fill the emergency role as a first responder."
As a certified athletic trainer, Nucerino works with the Charlotte Football Club Academy and the Major League Soccer (MLS) NEXT Pro, the League's youth development soccer league. He's focused on helping young athletes become professional soccer players and preparing them for "the next step." He loves joining them in the celebration of their triumphs and supporting them when they're struggling or injured. Nucerino also enjoys traveling all over the country and meeting new people on and off the field.
"Having an athletic trainer at all the practices and matches gives everyone around me peace of mind, including the players, coaches and fans," he says. "When the athletes know that someone's going to be there on a daily basis, you can really build a rapport with them. They can come to you with anything that they might need, and they trust you'll be there to help them. This allows them to focus on the game."
"I love the excitement of working in the MLS. It's as close as I can get to the professional sports setting. It's great to work with these athletes, seeing the passion and drive they bring to everything they do. I live vicariously through them as a former athlete. Seeing their development and helping them reach their full potential really drives me as an athletic trainer."
Jordan Byrd, athletic trainer
Atrium Health Floyd
Shorter University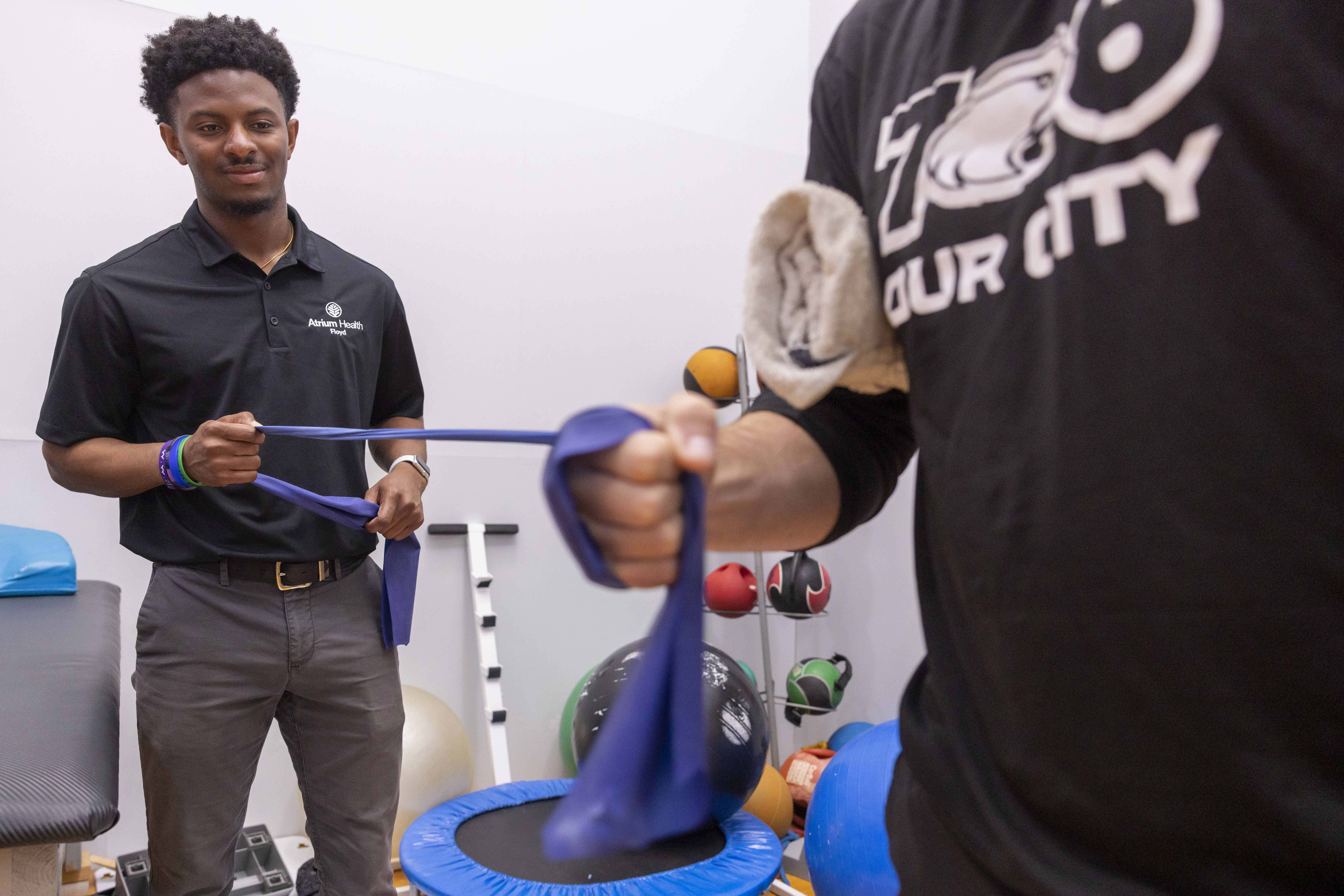 Jordan Byrd chose athletic training as his career path while in high school. During his sophomore year, he tore his ACL and developed a relationship with his athletic trainer. "I asked a bunch of questions and was very interested in the body," he says. "He told me that I should look into the profession and that I would be a successful athletic trainer one day."
According to Byrd, having an athletic trainer on-site at Shorter University not only impacts athletes but also their friends and families. "They know if something serious happens, someone they can trust and depend on will be there to assist with any medical emergency," he explains.
The first major injury Byrd saw in his career involved a football player who went down on the field after kickoff. Byrd and his teammates evaluated the athlete and sent him to have X-rays. He was diagnosed with a distal tibia-fibula (lower leg) fracture that required surgery.
"I love the constant change in scenery, sports and ages that athletic training brings. Regardless of my years of experience, I love the opportunity to learn something new every day. I also love educating athletes on how to take care of their bodies, whether it's offering tips on technique, nutrition or protective equipment."
Anna Guin, athletic trainer
Atrium Health Floyd
Shorter University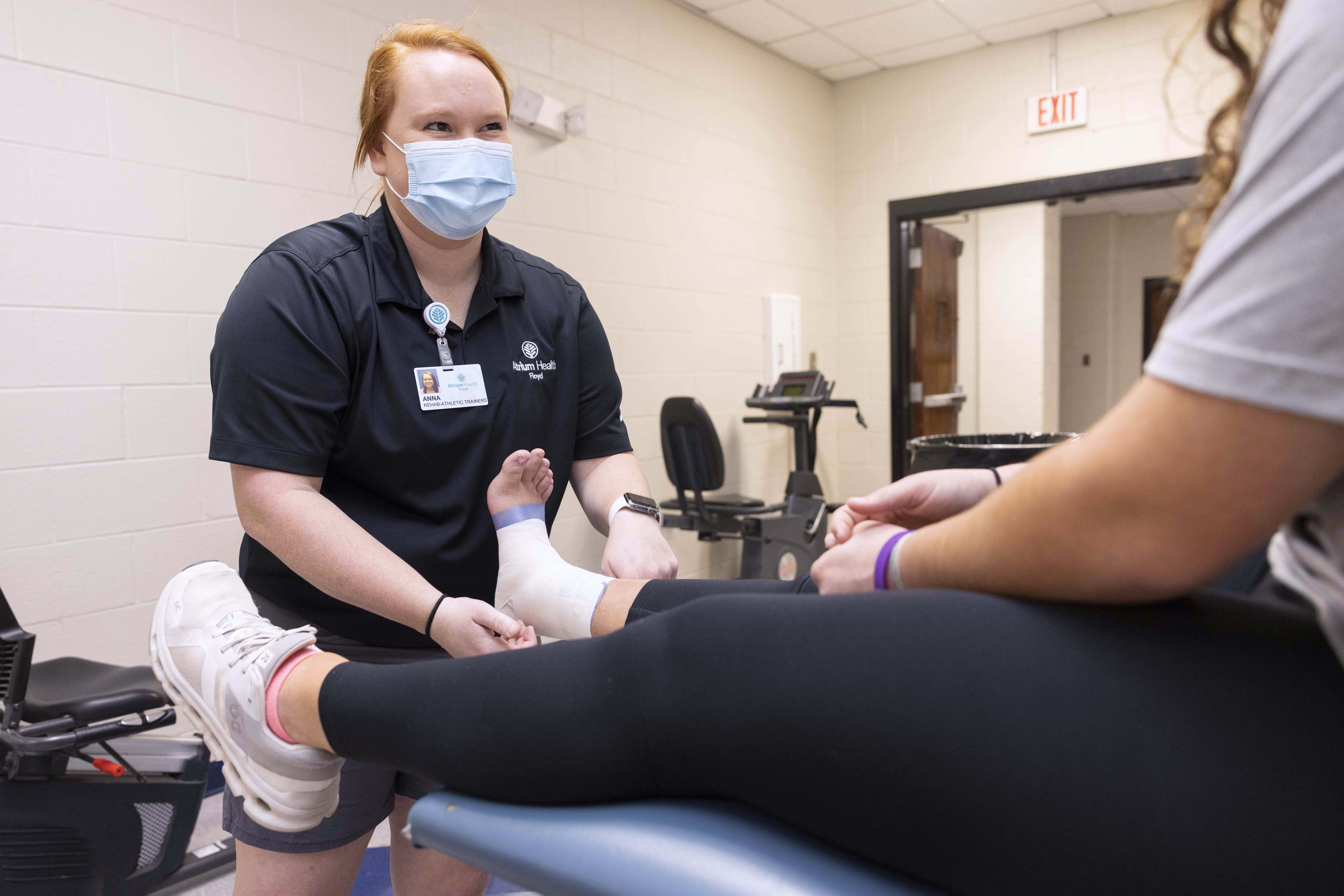 Anna Guin chose athletic training as a career because she loved the sports environment and wanted to work in the medical field. She appreciates the crucial role athletic trainers play as licensed medical professionals and first responders who provide acute emergency care.
Guin's work as an athletic trainer at Shorter University has allowed her to form bonds with student-athletes and coaches and return many athletes to the field after being injured.
"I enjoy being an athletic trainer because it gives me an opportunity to educate athletes on how to properly care for their bodies in order to prevent injuries," she says. "It's such an amazing experience to care for student-athletes and support their mental health while dealing with an injury."
"I'll always remember when one of my softball players got hit in the hand while batting and ended up having a displaced fifth metacarpal fracture. I was there for her every step of the way, from taking her to get X-rays to going to her orthopedic appointments and doing sports-specific rehab. It was the most rewarding feeling when I saw her take the field for the first time after her injury."
Jessica Herman Groulx, manager of athletic training services
Atrium Health Wake Forest Baptist
Winston-Salem/Forsyth County Schools and Yadkin County Schools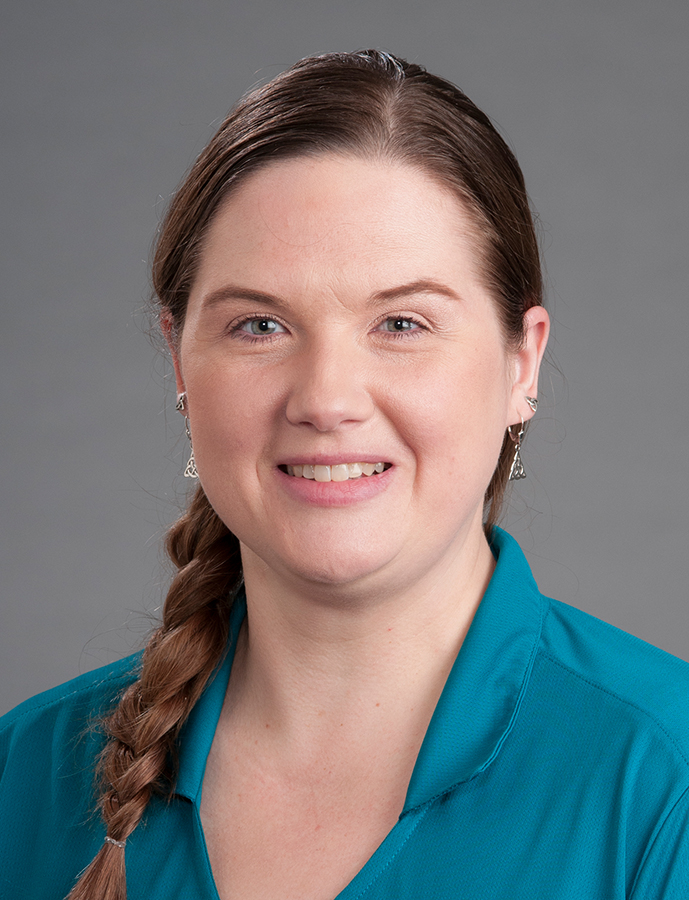 Before taking on a management role, Jessica Groulx, a former student-athlete, enjoyed her work as an athletic trainer. While she still spends time on the field, she's now able to serve as a mentor to other athletic trainers and find ways to solve problems in their work environment.
Groulx decided to pursue an athletic training career for two reasons. First, she was inspired by her cousin and the physical therapy he received for his cerebral palsy. Second, she met an athletic trainer in high school who got her excited about the idea of combining sports and medical care.
"As athletic trainers, we're not just there to tape ankles or work on the sidelines at the football games," she explains. "We really get to know the athletes and their families, so we know what's normal and what's not. Having someone on the sidelines who knows the athlete personally brings a lot of value over someone who just offers game coverage."
This assistance extends beyond the athletes' physical health. Her team has several athletic trainers who are able to meet with athletes and discuss any problems or concerns they have. Providing emotional support helps create an environment where they can thrive.
"One of the things I like best about working with high school students is that you have kids who are still impressionable and need leadership and guidance. I love having the opportunity to help mold a student into a better human being."
Groulx's team of athletic trainers offers high-quality medical expertise to all students – regardless of their background. "Whether they need help from our athletic trainers or follow-up care, we can help save them time and money," she explains. "Through our connections with Wake Forest Baptist, we act as the liaison to ensure that athletes get the care they need as quickly as possible."
Kenya Smith, head athletic trainer
Atrium Health Wake Forest Baptist
North Forsyth High School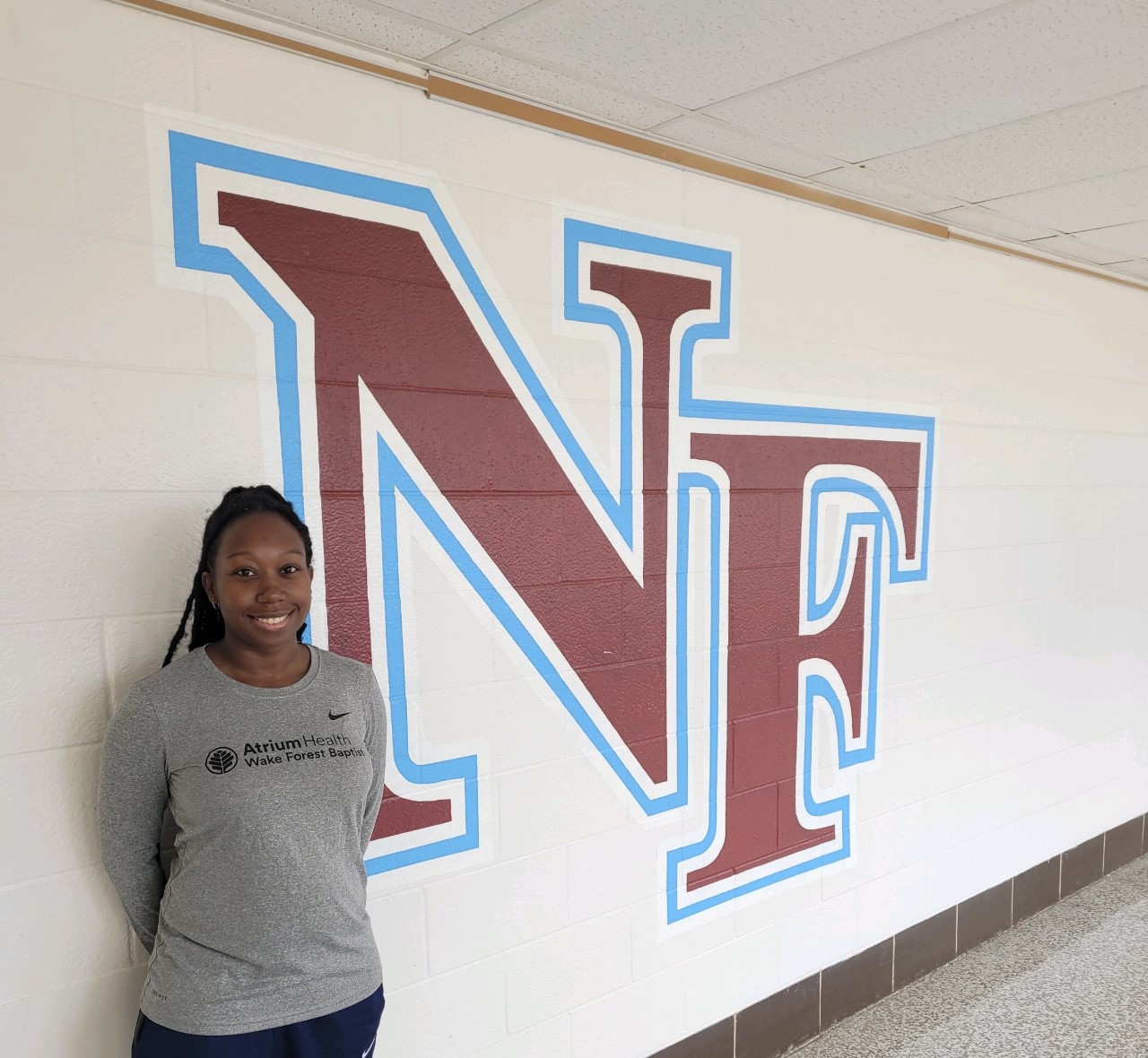 Kenya Smith played soccer in high school but didn't encounter her first athletic trainer until her junior year, when she injured her knee. That athletic trainer educated her during her recovery, which inspired her to pursue a career in athletic training. This proved to be a unique way to combine her passion for helping others and her love of sports.
As an athletic trainer at North Forsyth High School, Smith is available to help student-athletes during school hours and at all practices and games. Her goal is to make them feel safe and cared for – no matter how minor or serious the situation. If an injury does occur, she works to stabilize the injury and get the athlete the care they need. She also helps athletes with sports-specific rehab exercises during recovery.
Shortly after starting her position at Wake Forest Baptist, Smith took the initiative to improve the warm-up routine for the sports teams. She incorporated more dynamic movements to prevent muscle strains and cramps.
Outside of caring for student-athletes, Smith meets with all the athletic trainers in Forsyth County once a month to discuss upcoming conferences and new developments in high school sports, including rule and regulation changes. As head of the social committee, she schedules time for the athletic trainers to relax and socialize.
"As I enter my third year of athletic training, I'm glad I've been able to build strong relationships with the students. Now that they know me, they may come to see me between classes. I can provide a listening ear if they need it. Plus, they have a respect for me and my role in their sport."
To learn more about our expert orthopedic and sports medicine team, visit: