Everybody wants to be healthier. Courtney Perkins, RD, LDN, a registered dietitian with Teen Health Connection, a partner of Atrium Health, offers up three healthy habits you can start right now to be more healthy.
1. Start your day with a good breakfast
Breakfast gives you necessary energy to start the day! Think of breakfast as "breaking the fast" – replenishing the body with energy to rev up your metabolism for the day. Skipping breakfast may increase the likelihood of excessive snacking during the day, because the body has missed necessary calories to function and regulate appetite.
2. Fill up on fruits and veggies
Fruits and vegetables are an excellent way to add color, flavor and texture with the added bonus of vitamins, minerals and fiber. By filling half your plate with fruits and veggies, you are working toward the recommended goal of two cups of fruit and two-and-a-half cups of vegetables each day. Fruits and veggies do more than just help you keep a healthy weight. Strong bones? Energy from good iron levels? Regulating blood pressure? Fighting infections? Bathroom regularity? Check, check, check! The vitamins, minerals and fiber found in these foods provide so many benefits to our bodies. And, because they are low calorie, we can fill up on them before enjoying higher calorie treats.
3. Find creative ways to increase your number of steps per day
Have fun while being active. Walking 30 minutes or more a day is a good goal for most people. Here are simple, safe ways to walk for almost anyone at any age:
Take the stairs, not the elevator
Make your coffee break a walking break
Walk back and forth when you are on the phone
Park your car a few blocks away from where you are going and walk the rest of the way
Get off the bus or train before your usual stop and walk. Don't forget your headphones to make it more enjoyable!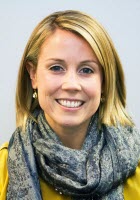 Teens: Want to make an appointment with Courtney Perkins? Call 704-381-8375.