Dean Otto was on a Saturday morning bike ride in Charlotte, NC, when he suddenly felt the force of a huge mass crash into him. The 52 year old was hit from behind by a truck. He instantly knew this was a serious accident and that his life was in grave danger.
When the truck driver rushed to his side, Dean recalls saying, "Stop. Don't touch me. I can't feel anything below my waist. I think I'm paralyzed."
Dean was whisked by ambulance to Carolinas HealthCare System's Carolinas Medical Center, where he was diagnosed with no motor function (inability to move) and minimal sensory function below the waist, and a CT scan revealed that his spinal column was crushed inward. From there, things moved quickly, and Dean was in surgery only five hours after the accident. Neurosurgeons with Carolinas HealthCare System Neurosciences Institute successfully performed a complex procedure to re- align and rebuild his spinal column.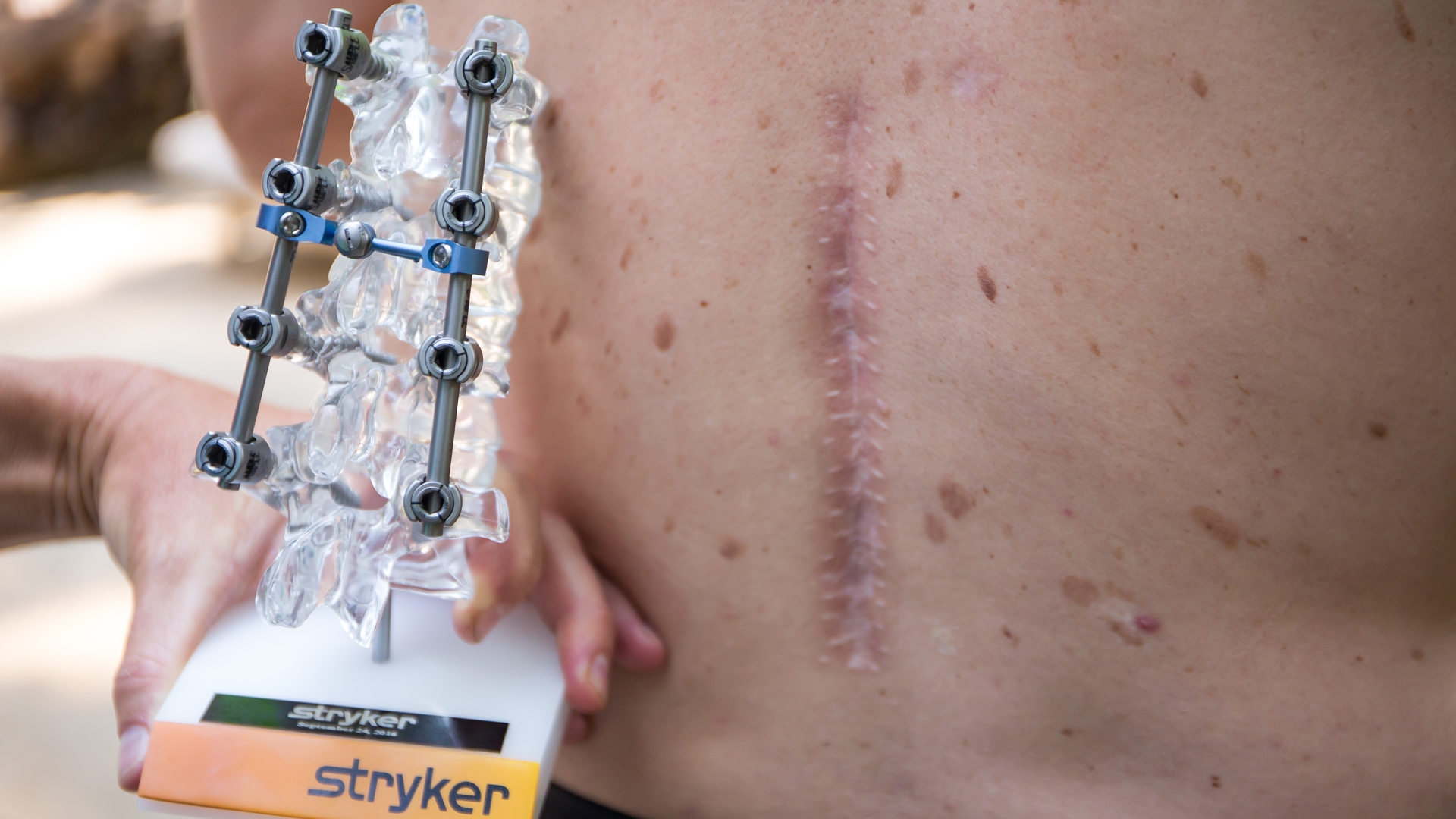 "Timing in most trauma cases can mean the difference between life or death – walking or paralysis," says neurosurgeon Matthew McGirt, MD. "Given Dean's injury, if we hadn't been able to get him into surgery for 12 hours (instead of five) – I am certain he would have spent the rest of his life with far greater neurological impairment."
In most cases like Dean's, such a rapid and successful surgery is not the norm. "Our coordinated efforts that go into treating patients like Dean worked perfectly," adds Dr. McGirt, who, along with his colleagues, performs dozens of complex spinal surgeries for acute spinal cord injury every year. "Cases like Dean's occasionally come along, and they remind you why you spent your life training and studying and doing these things."
From Toe Wiggling to Walking
Just one day after surgery, Dean, who has always held a fierce optimism throughout his ordeal and recovery, asked Dr. McGirt if he cared to strike a bet. The stakes? If Dean could wiggle his big toe, which would be a first after surgery, then Dr. McGirt would have to run a half marathon alongside him.
Impressed by Dean's spirit and good humor, Dr. McGirt agreed, and Dean wiggled his big toe with as much gusto as he could manage. The pair will run together this September – exactly one year after the accident. Of course, before marathon training could begin, Dean had to learn how to walk again.
For two weeks Dean stayed at Carolinas Rehabilitation, part of Carolinas HealthCare System, for therapy. There he was cared for by LaTanya Lofton, MD, director of the spinal cord injury program. "From the very first encounter that I had with Dean, he was very positive and upbeat. He felt fortunate to have the opportunity to be in rehab, and he was convinced that he would walk again," says Dr. Lofton.
Eager to make good on his wager with Dr. McGirt, Dean had his work cut out for him at rehab. "They really challenged me right out of the gate," says Dean. "Literally five minutes after I got into the rehab facility, I was climbing stairs. I was astonished."
Forgiving the Driver Who Hit Him
Along with Dean's desire to repair his physical health, he wanted to heal emotionally as well. That meant coming face to face with 27-year-old Will Huffman, the truck driver who accidentally hit Dean while he was cycling. "I forgave him. He was there by my side – there to aid me. He didn't run off and hide. He did the honorable thing," says Dean.
"Throughout the days and months following the accident, I knew I had Dean's forgiveness," shares Will. "It takes a lot to forgive, but it takes even more to form a friendship. Dean hasn't just forgiven me and moved on, he's gone a step further to really get to know me. He's been able to see past what happened and look forward to how we can work together to help others."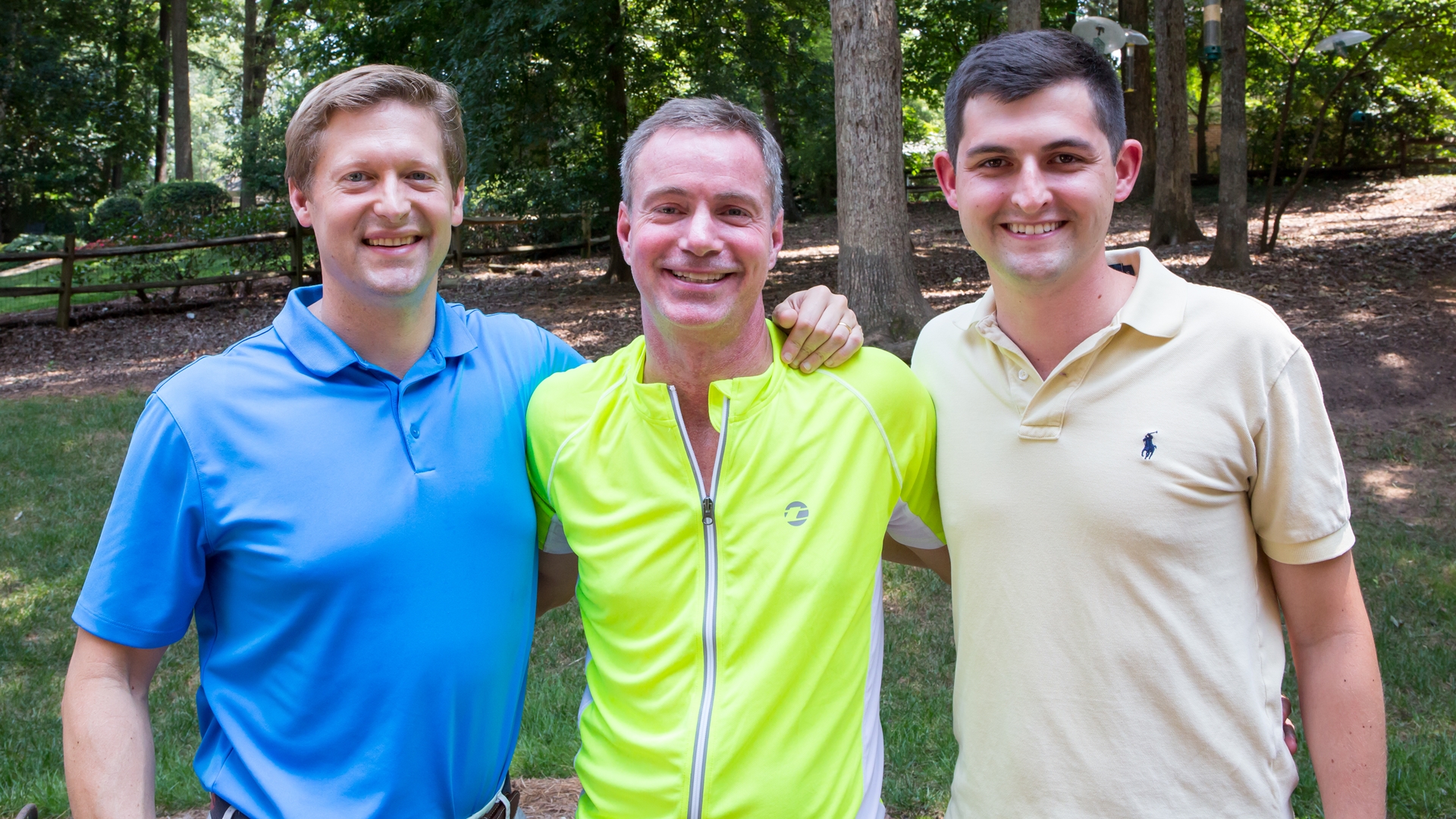 Dean's ability to forgive has had a profound effect on Will, who has decided to join Dean and Dr. McGirt for the half marathon. In September of 2017, Dean will run 13 miles alongside the driver who hit him and the doctor who helped save his life.
Grateful for his care team, Dean is now helping to raise money for the LIFE (Living Fit and Engaged) Program at Carolinas Rehabilitation, an innovative program to assist patients with spinal cord injury. To learn more about Dean's inspiring story, visit deanosback.com.
Dean Otto's Story from The B2Group on Vimeo.