Food deserts – defined as neighborhoods and communities that lack access to fresh fruits, vegetables and other healthful foods – are prevalent throughout the Carolinas and in our own communities, with over 165,000 people living with food insecurity in Mecklenburg County. But through Atrium Health's partnership with the North Carolina Summer Food Service Program (SFSP), we're working to make sure children and families in one Charlotte neighborhood are getting the full, balanced, healthy meals they need during the critical summer months.
Through its new Kids Eat Free program, Carolinas HealthCare System - University is the first hospital in the state to offer free meals to children over the summer. The hospital is giving free meals to children under 18 years old during weekdays from now through Friday, August 24; the first day of school for Charlotte-Mecklenburg Schools is Monday, August 27. Breakfast is served from 7 a.m. to 9 a.m. and lunch is served between 11 a.m. and 1 p.m.
So, what do kids need to do to participate? Nothing – there's no registration or sign-up required. They can just walk into the hospital cafeteria and enjoy a hot, healthy meal!
One Step Closer to Ending Childhood Hunger
"Currently, 22.6 percent of children in North Carolina under the age of 18 have lived in homes experiencing food insecurity. And in Mecklenburg County alone, there's an 18 percent food insecurity rate, which is roughly 45,370 children," says Elaine Jones, RDN, LDN, clinical nutrition manager at Atrium Health.
Jones helped kick-start the pilot program last year to address food access and hunger issues within the community. What started out as a weekly class that taught nutrition basics, gardening skills and the importance of physical activity eventually paved the way for the Kids Eat Free program as Atrium Health employees sought a way to offer more than a once-a-week program.
"This program is designed to prevent children from experiencing hunger during the summer months when schools are closed," says Jones. During the school year, many children receive meals thanks to free or reduced school meals. When summer arrives, these meals are no longer available, making it hard for families who aren't able to provide healthy meals for their children. And while well-balanced meals are important for optimal learning in the classroom during the school year, it's equally important for kids to maintain healthy eating habits during the summer months as well.
"Good, balanced nutrition is a key factor in the brain's ability to grow, expand connections, process information and learn new tasks," says Jones. "With a supported habit of three meals daily, children will consume the adequate macro and micro nutrients to build strong brain connections and promote productive, healthy and balanced thought patterns. This ultimately has a positive impact on educational success and self-confidence."
By the end of the summer, Atrium Health hopes to provide more than 2,500 meals at Carolinas HealthCare System University.
"Kids Eat Free is one of the ways Atrium Health is working to address food insecurity," says Alisahah Cole, MD, vice president and system medical director for Community Health at Atrium Health. "By working with community and state partners to ensure kids have access to well-balanced, nutritious meals during the summer, we are extending an opportunity to better more lives, and bring health, hope and healing for all."
Providing Nutritional and Educational Enrichment
Cooked and served by Sodexo employees, the meals follow USDA guidelines which include a protein, grain, milk option and fresh fruit for breakfast. Lunch consists of two hot entrée options and a choice of vegetables, grains, fresh fruit, and milk or water.
"Kids need five servings of fruits and vegetables per day, but this can be hard for families on a fixed income or living in areas with a lack of fresh food options," says Jones. "When you think about all the chronic health issues in this world that we struggle to address, the solution for hunger is clear. We understand the cure is food and we are stepping up to accept the challenge of providing the cure."
But healthy meals are only part of the Kids Eat Free summer program. Partners such as the YMCA of Greater Charlotte, North Carolina Department of Public Instruction, North Carolina School Nutrition Services, Charlotte Mecklenburg Library and the Charlotte-Mecklenburg Police Department are enriching children with various activities that include:
Hand-deliver "Get Well" cards to patients at CHS University with CMPD officers

Learning how to grow and harvest fruits and vegetables in the hospital garden

Activities focused on literacy and STEM on Tuesdays and Wednesdays with the Charlotte Mecklenburg Library

Games and crafts arranged by the YMCA of Greater Charlotte and Atrium Health Sports Nutrition team
Reading exercises with the Charlotte-Mecklenburg Police Department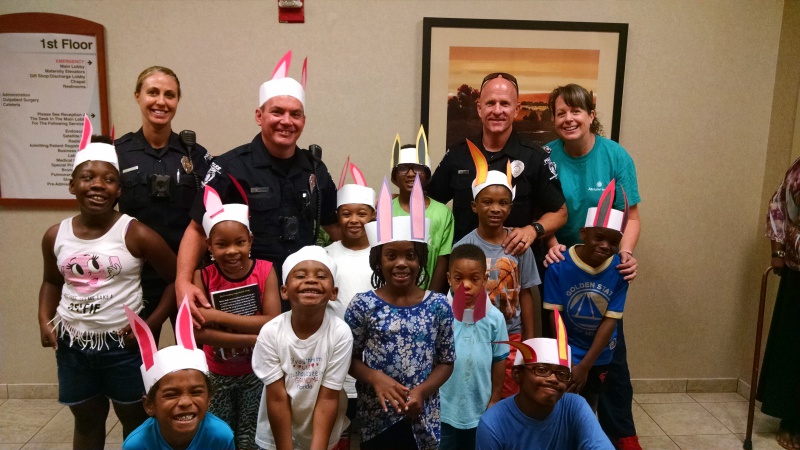 "What makes Kids Eat Free so unique is that it really focuses on trying to eliminate or alleviate the summer reading loss. Kids have an opportunity to have some enrichment to keep their brains energized over the summer. Without good nutrition, good education would be impossible," said Cynthia Ervin, summer nutrition programs manager. She hopes that other hospitals and organizations will join Atrium Health in the fight to end childhood hunger in our state.
Get Connected
The United States Department of Agriculture's Food and Nutrition Services provides a location map for all Summer Nutrition Program sites. Families can use the map to find the locations near them and to learn more about each location. They can also call 866-348-6479 (English) or 877-842-6273 (Spanish) to access this information.
No Kid Hungry North Carolina, a Kids Eat Free program partner, sponsors a text message resource. Mobile phone users may text "Food NC" to 877-877 and receive the most up-to-date information on all USDA's Summer Food Service Program locations. (Standard text messaging rates apply.)