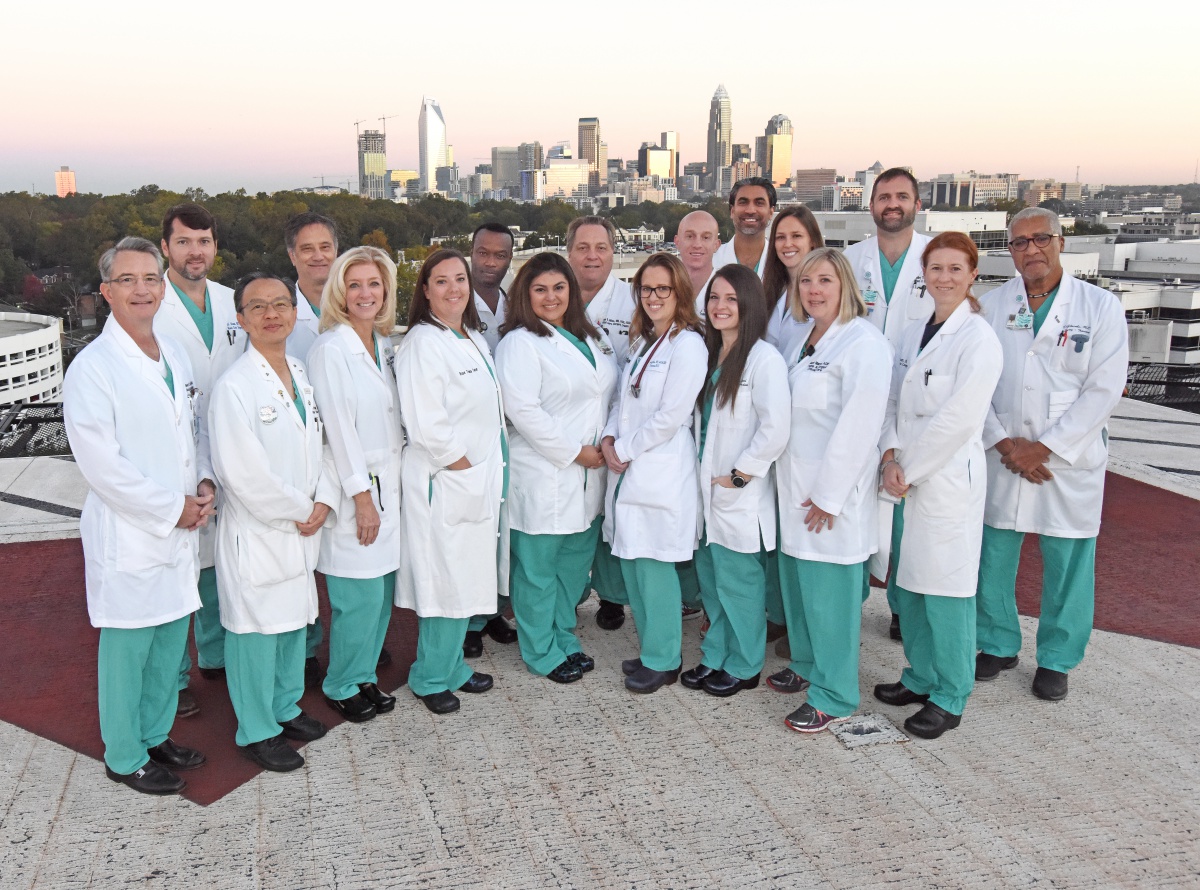 In a trauma center, time is of the essence. Patients are sometimes on the operating table within minutes of sustaining their injury. Treating these patients on a 24/7 basis — as Atrium Health's Level I and Level III trauma centers do — requires a massive amount of organization, dedication and teamwork.
"The decisions you make have an immediate impact," says David Jacobs, MD, Trauma Medical Director at Carolinas Medical Center's F. H. "Sammy" Ross, Jr. Trauma Center – the area's only Level I trauma center. Few have made more of these crucial decisions than Dr. Jacobs, who has spent decades providing comprehensive care to critically injured patients.
"The opportunity to make sick but treatable people better is what drew many of us here," adds his colleague, Addison May, MD, Chief of Acute Care Surgery. Providing in-house acute care surgery is one of the hallmarks of a Level I trauma center — and is something Dr. May and his team perform on a daily basis.
A Level I trauma center must meet specific benchmarks to earn such a designation. "It's the highest level status in trauma nationally," explains Dr. May. "A Level I trauma center must provide prompt 24/7 care, surgical options, vast patient resources, such as a large blood bank, as well as trauma prevention programs, community outreach, and research and education programs."
In addition to the region's only Level I trauma center, Atrium Health has Level III trauma centers at Atrium Health Cleveland and Carolinas HealthCare System NorthEast. They're also equipped to treat traumatic injuries 24/7, and may transfer patients with the most severe injuries to the Level I trauma center. These trauma centers form a robust network of care and are in close communication so that patients can be transported to and from these hospitals smoothly given the severity of their injury. Sometimes patients will have their initial treatment at a Level III trauma center, then move to a Level I center if their injuries warrant more advanced treatment
"You wake up in the morning and have no idea what to expect"
No two days are the same in trauma. "Every day and every case is different. You wake up in the morning and have no idea how many patients you will receive, and what types of injuries they will sustain," explains Dr. Jacobs. "That's why we can't take a 'cookbook approach' when caring for our patients."
Despite the variability, these trauma centers follow a daily routine that starts at 7:00 a.m. when staffs meet to discuss the patients admitted the previous day. They assess how each patient is progressing and determine next steps. It usually wraps up around 8:30 a.m.
"Then you wait," says Dr. Jacobs. It's hard to predict how many patients will need care on a given day or when they'll arrive. But once a call comes in from the EMTs — usually sent via a pager — it's all systems go.
"Responding to patients requires an amazing collaborative system, beginning with the Emergency Medical Services (EMS) crew," explains Dr. May. The EMS crew is responsible for stabilizing the patient and getting them to a trauma center. Once they arrive, the trauma team handles care right away. Using an algorithm known as "ABCDE," the team checks the patient's airway, breathing, circulation, disability, and exposure. These are the areas where life-threatening injuries can be identified.
Those crucial first moments of care are often referred to as the "golden hour." Once the trauma team evaluates the patient, they may head to radiology for more tests, to the operating room for immediate surgery or to the Intensive Care Unit (ICU). On a busy day, there may be as many as 20 to 25 new patients admitted to the trauma center, and there may be as many as 90 or 100 trauma patients at CMC at any given time. Once admitted, these patients may require more surgery or be connected with respiratory, speech, physical or occupational therapists as they begin their recovery. Most patients will eventually be discharged directly home, but some will require additional treatment at a rehabilitation center or a skilled nursing facility.
Evolving their process over the years
"Trauma is unpredictable, unscheduled, and fast-paced," says Dr. Jacobs. "We frequently have to make decisions with less than complete information." To ensure the best patient care, trauma teams constantly rehearse and review their process. "We review our workflow on a monthly basis," explains Dr. May. "We'll review film of resuscitations and of those first moments of care to make sure our plan is optimized."
These gradual adjustments have made trauma a different field compared to decades ago when Dr. Jacobs started. "Trauma has become more interdisciplinary," he says. "New technologies mean we need to perform fewer surgical procedures than we once did. Nowadays, we have many more ways that we can stop bleeding, including new medications, more refined blood transfusion strategies, and novel x-ray procedures. All of these options have resulted in improved outcomes for our patients.
Technological advances have also changed the ways trauma doctors work. For instance, advances in diagnostic imaging over the years have provided doctors with more information at their disposal as they decide on treatment. "There are many days where I spend more time in the radiology department than I do in the operating room," says Dr. Jacobs. "Years ago, it was the other way around."
Seeing patients make strides
After developing and optimizing a system for treating patients, the reward of working in trauma comes from seeing patients recover after a serious injury.
"We try to set up systems for patients who have recovered, so that they can come back to the hospital and tell their stories," says Dr. May. "Hearing stories helps your team and your patients stay motivated. You begin to see the patient as more than just an injury and remember that you're dealing with people just like you."
Dr. Jacobs believes it's important to understand how a trauma network functions within a community. "People can sometimes take this level of care for granted," says Dr. Jacobs. "But understanding how we operate will help people know the impact a trauma network can have on the community."
"At the end of the day, you're there to help families," says Dr. May. "No matter what our team at the trauma center is going through in terms of stress, you know the family of the patient is going through so much more."
Patients also have the opportunity to become peer visitors through the Trauma Survivors Network at Atrium Health. Learn more about Atrium Health's trauma care.