When you spend nearly every day with the person with whom you have committed your life, the world could be a lonely place when they're not there.
So it didn't come as a surprise to those who knew Leona and Atwood Cool that after being married for more than 68 years, the loving couple passed away on the same day – Dec. 8, 2018. They simply could not – and would not – be without each other, in life or in death.
"It was their dream and desire to go together," says Tim Cool, the second youngest of Leona and Atwood's four children.
A Life of Family and Faith
The Cools began their married journey together out west. Atwood took his first pastoral assignment at a church in Oregon. Over the next several decades, the Cools crisscrossed the country spreading the Gospel – Michigan, New York, Pennsylvania and Ohio were just some of his longer stops. Later, he would branch out into assisted living facility administration as a second career.
In the 1990s, Atwood was recruited to help build a Christian retirement village in Florida – and eventually he and Leona would retire there. But being the helpful and supportive parents that they were, Atwood and Leona spent much of their time in the Charlotte area after Tim and his wife, Lisa, were blessed with triplets.
"I appreciated that," Tim says of the extra support his parents provided in helping to raise triplets. Most new parents would welcome an extra set of hands when bringing home a newborn – and with triplets, there was always a diaper to change and mouth to feed.
Over the next two decades, Atwood and Leona would split time between the Carolinas and Florida. Leona had overcome a battle with bladder cancer about a decade ago but was diagnosed again with cancer in 2017. Given Leona's health concerns, the couple decided to stay in the Carolinas where Leona could be treated at Atrium Health's Levine Cancer Institute. Following months of treatment and weakened by other health conditions, Leona and her family decided to stop treatment in October of 2018.
Tim says that because of his parents' deep Christian conviction and strong faith, the decision to stop treatment wasn't a difficult one to make. The family was at the point where they felt comfortable calling Atrium Health's Hospice of Union County and continuing down the path of palliative care – the multifaceted approach of caring for those with terminal or advanced illnesses.
Together, Forever
At the time, Tim didn't know much about hospice care and wasn't sure what to expect. But he was incredibly grateful for the case worker, Martha Plane, and the team from Hospice of Union County who carefully and thoughtfully explained everything about the organization and the type of care that they could provide for his parents.
"They were the most compassionate people to my folks," Tim says. "They were able to explain things the best – and talked about all of our options. They really came in and took charge."
Martha recalls her time spent with the family as one of the moments that stands out in her long career.
"I have been a hospice nurse for more than 20 years and have been blessed to meet some of the most wonderful people," Martha says. "Mr. and Mrs. Cool were very special. The love and faith that these two had was palpable when you were in their home."
Tim then helped make preparations for his mother. He was able to locate a hospital bed and have it delivered into his parents' living room where his mother would be the most comfortable. The family also retained 24-hour nurse care for her.
During this time, Tim's father was getting around with the help of a walker. But one day, when Tim was on business in Tennessee, he received a call that his father had taken a bad fall. He was rushed to Atrium Health Union where he was placed in the intensive care unit. He steadily improved over the next few days and was transferred to a rehabilitation center unaffiliated with Atrium Health. However, shortly after he arrived, Atwood's health began to decline rapidly.
Tim – who had been made his parents' healthcare power of attorney – had previously had the conversation with his family about what to do in these situations. They discussed their options and followed their father's wishes – that he join his wife at their home. Within hours, Atwood was home, alongside his beloved, where his family knew he belonged.
"They couldn't imagine life without each other," Tim says.
On the morning of Dec. 8, 2018, Tim received an early morning call. It was his sister. She had been staying at his parents' home with them to oversee their care. At about 5:30 a.m., a nurse informed his sister that his father had passed away in his sleep. Tim rushed over.
"We sat by mom's bed the rest of the morning," Tim says.
And then – by what Tim says could only be God's divine plan – Leona's health also began to decline. Not more than 5 hours after her husband was called home, Leona also passed away. He was 90. She was 87.
'Incredible Life'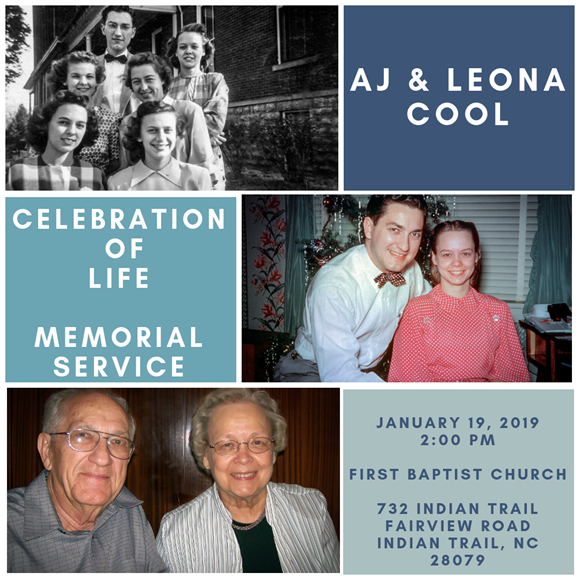 At their memorial service at First Baptist Church of Indian Trail, Tim met people from all over the country who had been touched by his parents – including a couple that were only 5 or 6 years old when a new, young youth pastor named Atwood joined the clergy at a small church in Oregon. They were so touched by the Cools that they flew across the country to be able to honor them for the impact they had on their lives.
"They led quite an incredible life," Tim says. "It was amazing to see how many lives they touched and how many people came to honor them."
For Martha, the Cool family definitively made their mark.
"That love and strong faith (that Leona and Atwood possessed) was passed down to their whole family, some of whom I also was blessed to meet," says Martha. "Their passing within hours of each other was certainly evidence to me of divine intervention. To me it was an honor to have known them and to have witnessed their bond. I believe that is why hospice work is so rewarding and why I am a hospice nurse."