When Kellie Andrew brought her 20-month-old daughter Brinn to the pediatrician to look at the bulge in her stomach, she never expected to be blindsided with the news no parent wants to hear: Brinn tested positive for stage 3 neuroblastoma – a rare form of cancer affecting the adrenal gland that was localized in her abdomen. "We took it really hard," she says. "I couldn't go back to work – it was a full-time job to care for her."
Andrew, a former third grade teacher from Stanly County, N.C. wanted to know as much as possible about her daughter's diagnosis and treatment. But she never could have known that their paths would cross with another family facing a crisis of their own.
Kayla Plummer, from Rowan County, N.C. is the mother of 2-year-old Merritt. After Plummer discovered that Merritt had a grape-looking mass in her vaginal region, Merritt was referred to Levine Children's Hospital – where she was diagnosed with vaginal rhabdomyosarcoma, a type of soft tissue cancer.
"Their cancers and illnesses are extremely different, but their situations are similar," says Andrew. Both Brinn and Merritt are inspiring 2-year-olds. And despite being dealt a tough hand so early in life, their vibrant and courageous personalities have touched the hearts of those around them, from their families to their multidisciplinary care team.
Brave Brinn
Both families face a long road ahead of them. "It was really difficult in the beginning," Andrew says. "I want to know everything. Every term, why it is happening. The more info, the better." Brinn's treatment entails an autologous stem cell transplant, multiple radiation treatments over the next year and a half and six rounds of immunotherapy.
According to Javier Oesterheld, MD, Brinn and Merritt's primary oncologist at LCH, Brinn has tolerated her treatments well — and has the greatest smile in the universe. "She's just a cutie," he says. "And her parents are really good about distracting her and making sure she's got an iPad present."
Andrew says that Brinn doesn't know that she is sick, so she has largely adjusted to her new routine and hospital stays. Brinn even helps the nurses take her blood pressure. Things aren't always easy – when Brinn first started receiving treatment, she was scared and didn't understand what was happening to her. That's where her parents stepped in. "Whether it was a shot or a line, we would consistently say, 'This is to make you feel better,'" Andrew says. "I would never have imagined that a kid could be so good in a situation like that. She carries her iPad, her bunnies and her lovies, and she is ready to go."
Fighting with Merritt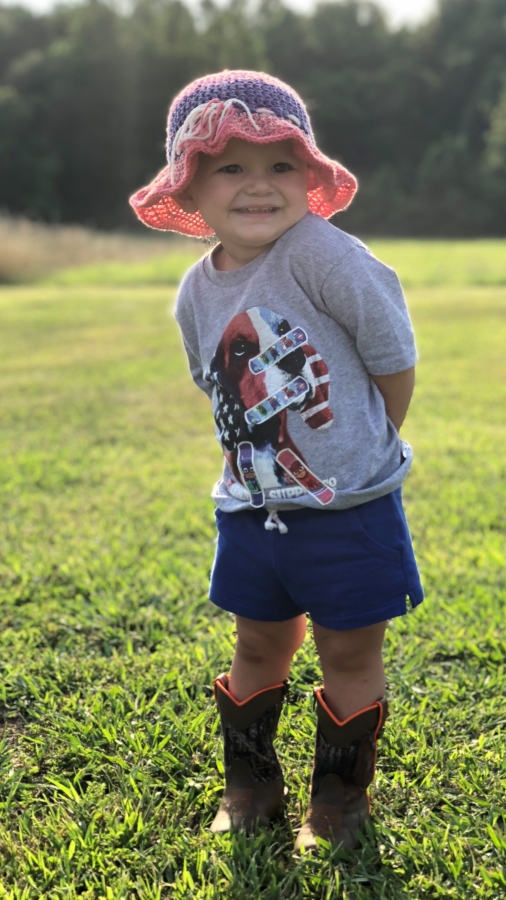 In Merritt's case, she also has a long way to go. "It's definitely hard. She's doing way better than I thought," says Plummer. "She wants to be involved, get the band-aid, cap her tube." The general approach to treating the various types of sarcoma involves removing the tumor, then using chemotherapy to make sure it does not come back. But Merritt's care team had to adjust their treatment plan to maintain her quality of life. "If we had operated in the beginning, it would have affected her vagina and would be difficult to reconstruct," Dr. Oesterheld says. "We decided to do chemotherapy first to try and shrink it, and then through surgery, to remove it fully."
Merritt received a form of therapy called brachytherapy. At LCH, this was the first-time brachytherapy was used in the vagina on a patient this young. "It involves the insertion of a probe," says Plummer. "The probe is a cylinder that looks like a tampon that they insert after she's under." The result: minimal radiation. After four surgeries, Merritt's tumor is 99% gone, and she has six more months of chemotherapy to go. Her ongoing care will include monitoring her thyroid function, heart health and overall growth to mitigate any effects from the radiation. And because of the location of her tumor, Merritt will need reconstructive surgery when she's older.
However, Merritt's fighting spirit lights up the room. "She's just really spunky and vibrant, and kind of rolls with the punches," Dr. Oesterheld says. "She sits in the bed and smiles at you, looks down, looks back up, catches your eye and smiles that big toothless smile."
Like Brinn, Merritt's fighting spirit is buoyed by the rallying force of her family. "They're inspiring, period," Dr. Oesterheld says. "They're inspiring because they're strong and amazing." The families knew each other before the girls were diagnosed – Plummer's husband's brother works Andrew's husband at a bank. But having a child with cancer is a uniquely difficult situation, and Plummer says Andrew reached out to her right away to let her know that she wasn't alone. They walked together in the 12th annual Isabella Santos Foundation's 5K/10K & Fun Run for Kids Cancer this past September. "You don't realize how many kids are affected," Plummer says.
Finding a second family at LCH
Brinn and Merritt's families are also supported by the dynamic, multidisciplinary care team at LCH. Plummer says that from their visit, they were blown away. "It's like a second home. They're so personal. They know exactly what she needs," she says. For instance, Merritt hated having her height checked, but Plummer says the nurses figured it out quickly – and Dr. Oesterheld always remembers Merritt's favorite toys. "You aren't just another face that walks in," Plummer says.
The families are also in constant communication with Julie Chasnis, RN, their dedicated oncology patient navigator. During a time filled with questions and confusion, Chasnis' job is to help families navigate their treatment plans and find answers. "One of the things I'm proud of here [at LCH] is that we had patient navigators before it was 'cool'," says Dr. Oesterheld, describing Chasnis as the person who helps families navigate the healthcare system, making sure they know what's happening in the upcoming weeks and handling all the prior authorization for their medication.
Chasnis is a key part of LCH's larger team-based approach to care. Dr. Oesterheld says, "We have licensed social workers who serve as therapists and help parents through bills, Make-a-Wish and just being an open ear for families who need someone to talk to. We have multiple psychologists on staff for the parents and the children. We offer integrative therapies here, so we offer Reiki, massage and art therapy for the families, not just for the child."
Why cover so many bases? Dr. Oesterheld says that the team at LCH wants to take care of everybody, not just treat the disease. "We're family," he says. "It's not the family you wanted, but it's still family."
That family approach to care is significant because, as Andrew says, it's difficult to find people who can truly relate to what her family is going through. "It's definitely a community once you get started," says Plummer. "Community of kids and parents, all fighting for the same thing – fighting for our child's life."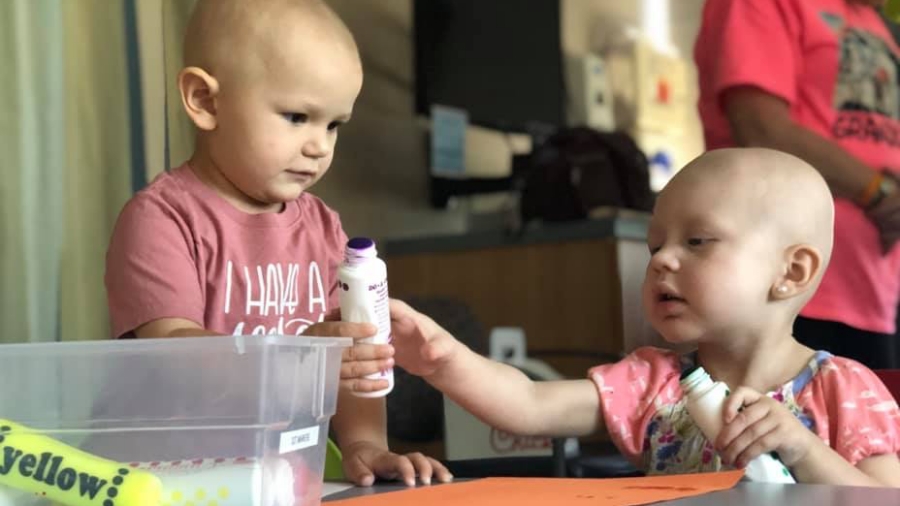 When Brinn was first diagnosed, they received an outpouring of support and phone calls – but they tapered off after time. "It's really important to remember it wasn't a one-time-thing," Andrew says. "The families are still going through things, and just reaching out for a second can make a big impact, especially if it is a hard day for Mom or her child."
If you'd like to follow Brinn and Merritt's stories, you can find them on social media: BraveBrinn on Instagram and Fighting with Merritt on Facebook.