As the novel coronavirus – known as coronavirus disease 2019 or COVID-19 – spreads across the United States, we understand that many people are feeling scared, uncertain and overwhelmed. At Atrium Health, we're always here to care for our community and we want to assure you that we're well prepared for this outbreak.
As one of the largest healthcare organizations in the region, we have a comprehensive Emergency Management program in place to respond to many types of situations, including pandemics. Our highly skilled team of infectious disease specialists are trained and equipped to care for patients with complex diseases such as COVID-19. And, we have rigorous protocols in place to ensure we protect the health and safety of all of our patients, as well as the healthcare workers who provide care for them.
We're all in this together – and we're working diligently to keep our communities safe and informed. Here are the top 10 things to know about our response to COVID-19 so far.
1. Virtual care from home, 24/7
Virtual care is key to preventing the spread of COVID-19. Whether you have the flu, a cold or something else, we encourage you to keep yourself and others safe by getting medical care from the comfort of your home.
With Virtual Visit, you can have a live, face-to-face video discussion with a healthcare provider from home, 24/7. The healthcare provider can give a diagnosis, answer your questions and prescribe medication, if needed.
Virtual Visit is available to patients of all ages in North Carolina and South Carolina. To learn more or start a Virtual Visit, visit AtriumHealth.org/VirtualVisit.
2. 24/7 care hotline: 704-512-5700
With all of the news about COVID-19, we know feeling sick can be scary, and it can be difficult to know the best way to safely get care.
If you're not sure how to get care for cough, cold, flu, fever or other respiratory symptoms, please call 704-512-5700. We're here to help connect you with the care you need, all day, every day.
3. Infographic: Get the facts about COVID-19
Education and awareness are essential to preventing the spread of COVID-19. For a quick overview of what you need to know, check out this infographic with information about prevention, symptoms and where to find care. Please feel free to share this within your social media circles to help others.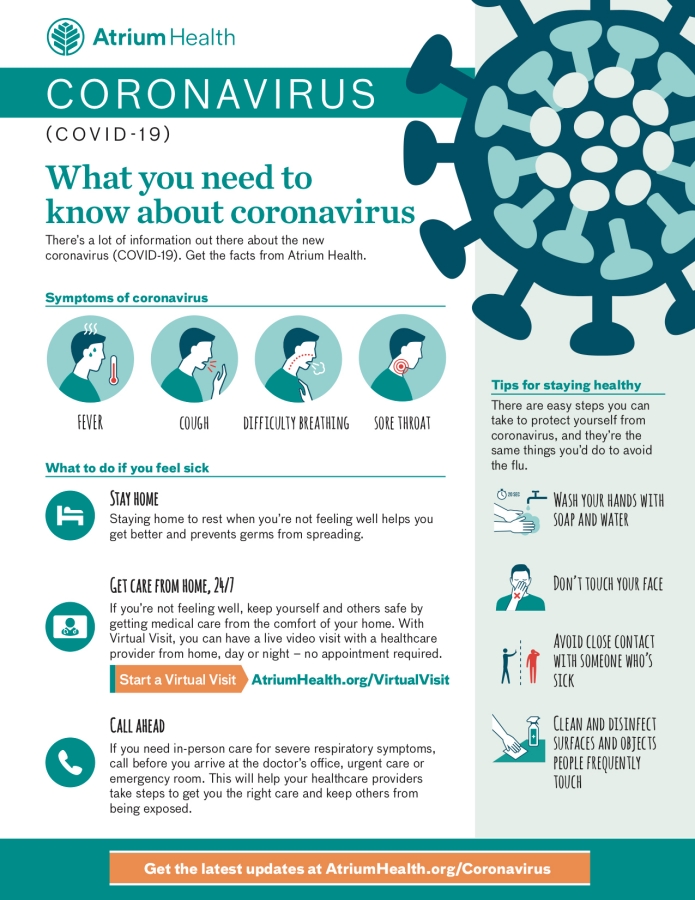 4. Q&A sessions with Atrium Health experts
Do you have questions about COVID-19? On Friday, March 13, we hosted two Facebook Live panels at Atrium Health's Carolinas Medical Center to address some of the concerns we've heard most frequently. To learn more, watch the videos below.
One panel focused on the adult population and featured experts from multiple specialties within Atrium Health.
The second panel focused on child-specific questions, which were answered by our team members from Atrium Health Levine Children's Hospital.
5. Guidance on masks
We've had a lot of interest in masks as a tool to prevent the spread of COVID-19. We asked Carmen Teague, MD, specialty medical director of Internal Medicine at Atrium Health, to explain when masks are appropriate to use.
According to Dr. Teague, face masks aren't necessary for people who are healthy – but they're essential for people suspected to have COVID-19 and those providing care for someone who's sick.
"The new coronavirus spreads when someone infected with the virus coughs or sneezes, releasing droplets into the air that may be inhaled by people nearby, or land on surfaces that others then touch," Dr. Teague explains. "If you're healthy, wearing a mask in your everyday life probably won't do much to protect you. But when a sick person wears a mask, it can help reduce the chances that their germs will be passed on to others."
To hear more from Dr. Teague, check out our Facebook Live. Our discussion of disease prevention starts at 4:42.
6. Expanded visitor restrictions
To help protect our patients who may be more vulnerable to illnesses like COVID-19, we expanded our visitor restrictions at all Atrium Health inpatient locations. Nursing staff and the attending physician will work with families who have special circumstances, such as a critically ill or injured family member, on a case-by-case basis.
Find out more about our current visitor restrictions here.
7. Canceled community events
Out of an abundance of caution, we've made the decision to cancel all in-person, large group events and meetings across our organization. We've also temporarily stopped all non-essential hospital visits, such as hospital volunteers, babysitting workshops, supportive oncology groups and classes and prenatal education classes.
Whenever possible, we're working to provide a virtual alternative. While we know the change may be disappointing in the short term, this temporary cancellation will help minimize the risk to our teammates, patients and the communities we serve during the COVID-19 outbreak.
8. Travel restrictions for teammates
We take our role in preventing the spread of COVID-19 seriously and have implemented new travel restrictions for all teammates working across our organization.
We've discontinued all business travel both domestically and internationally. We're also strongly discouraging personal travel to high-risk areas based on guidelines from the Centers of Disease Control and Prevention (CDC). Teammates who travel to these areas will be quarantined for 14 days before returning to work at any Atrium Health location.
We'll continue to modify our restrictions as needed to help minimize the risk to our teammates and the patients and communities we serve.
9. Testing in our labs
We started testing for COVID-19 in our labs as soon as we received approval from the CDC. Our providers are evaluating patients and, if a patient meets the established criteria and needs to be tested, our Infection Prevention team coordinates it. We're continuing to expand our testing capabilities and will increase the availability of tests as soon as we can.
10. Online information hub
This situation is evolving rapidly, and we're committed to helping you stay informed. For regular updates from Atrium Health experts and national sources, plus a list of helpful resources, visit Daily Dose.
For more information about where to get care, visit AtriumHealth.org/Coronavirus.