Two Charlotte breweries have served up a new concoction to help flatten the curve of the coronavirus disease 2019 (COVID-19).
Resident Culture Brewing Co. and The Unknown Brewing Co. powered up their respective brewing tanks and stills to mix and donate more than 1,000 bottles of hand sanitizer for distribution across Atrium Health's facilities. The hand sanitizers, which adhere to World Health Organization and Centers for Disease Control guidelines, contain pure ethanol, sterile water, hydrogen peroxide, glycerin and lemon essential oil.
While Atrium Health's Pharmacy Department has the supplies to make hand sanitizer, we do not have the facilities to mix the product due to the fumes and flammability. So, Atrium Health teammate Ron Turner, senior manager of community engagement and corporate responsibility, reached out to Resident Culture — which had recently hosted an Atrium Health International Women's Day event at the brewery — and asked if they could help out.
The brewery's co-owners, Amanda and Phillip McLamb, and Chris Tropeano, partnered with Atrium Health, then connected with our pharmacy to work out logistics and began mixing the ingredients.
"When this opportunity presented itself there was no hesitation to help out the local community, which has been so kind to us in supporting our business," says Tropeano, who serves as the head brewer at Resident Culture.
The situation hits particularly close to home for the McLamb's, who have a family friend that currently lives in Italy, where COVID-19 has made a devastating impact.
"It seemed incredibly real pretty early on," says Amanda McLamb.
Resident Culture employees mixed 195 gallons of hand sanitizer using one of their stainless steel, sanitary beer brewing tanks. They packaged the sanitizer into more than 1,200 individual, 20-ounce bottles, which Atrium Health picked up for distribution to our healthcare facilities. Atrium Health is taking care of the labeling.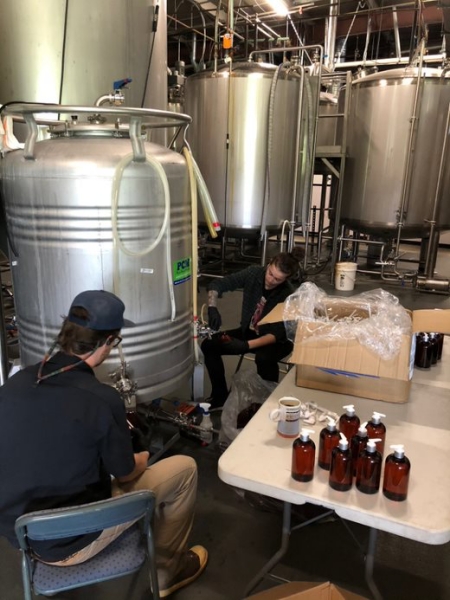 "We see a lot of folks who do a lot of heroic jobs on a regular basis in our healthcare system and we're very grateful for that," says Amanda McLamb. "Mixing the hand sanitizer is hands down something that we feel very honored and privileged to have the ability to do."
Over at The Unknown Brewing Co., owner Brad Shell sourced their hand sanitizer ingredients and materials from area distributors. For several days, Shell and his employees mixed the hand sanitizer using their 80-gallon, in-house still, which is normally used to produce their own lines of whiskey, gin, vodka and rum. They packaged and labeled the hand sanitizer in 4-ounce bottles, which they chose to brand under the name "Good Hands."
The Unknown Brewing Co. has already donated 130 bottles to Atrium Health. They've packaged more than 7,000 bottles for distribution around the Charlotte area and to their distributors in the past week-and-a-half, with plans to keep production going so long as they can obtain the necessary supplies.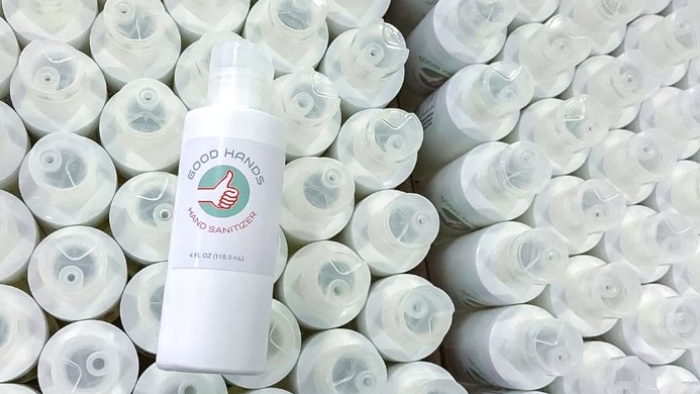 "The community has always supported us and so, we just wanted to give back," says Tyler Powell, marketing director of The Unknown Brewing. "We love our community and we love the city of Charlotte, so, we're just happy that we were able to figure something out and make an impact during this crisis."
Thank you to these breweries and other businesses that are making a difference in our healthcare facilities and local communities.