Our teammates at facilities across Atrium Health are now using baby monitors in certain clinical areas to reduce potential spread of COVID-19, cut down on PPE use, and give nursing staff a better way to connect with patients. 
These easy-to-use, radio frequency devices feature one-way, color video and two-way audio functions that allow patients to talk directly with the nursing staff, without pushing a button, and allow nurses to check in on patients and make assessments without having to enter the room.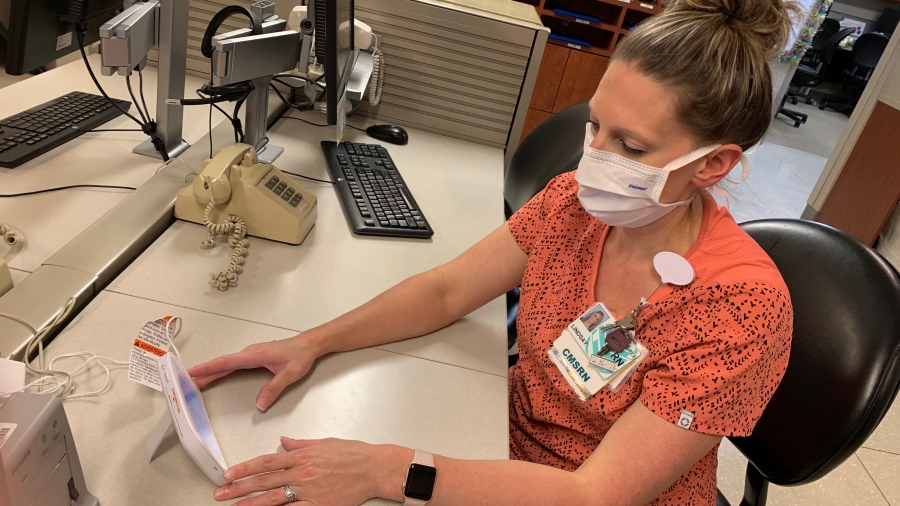 Clinicians are able to evaluate the patient surroundings, such as seeing how much the patient ate for breakfast or what supplies might be needed before putting on PPE and entering the room. Being able to get a visual look at a patient before entering the room can be particularly useful for patients who are not fully alert, such as post-surgical patients. 
"It's great because every hour, I can check on our patients, see how they are breathing, and help remind them to do their breathing exercises and incentive spirometry, a device that helps patients take deep breaths and prevent lung problems," says Krystal Blayton, BSN, RN, clinical supervisor at Atrium Health Pineville. "I feel like I can connect better with the patients, being able to see them, rather than just calling on the call bell system." 
I

nnovati

ve opportunity
Atrium Health's clinical informatics coordinators put the idea into action after garnering input from other nurses and hospitals across the country that have used baby monitors for this purpose. Friends and family donated an initial 10 baby monitors to test the concept; clinicians narrowed the selection and information technology leaders ensured the monitors did not interfere with Wi-Fi or other medical equipment; and 17 devices were purchased to trial on nursing units.  
Like many organizations, Atrium Health has been focused on meeting the needs of clinicians and patients in short order due to the impact of the coronavirus disease 2019 (COVID-19). While normally, this process may have taken months to establish and evaluate, Atrium Health was able to evaluate the effectiveness of the baby monitors and take action in a few days.  
Since the initial evaluation, the Atrium Health Foundation and the Navicent Health Foundation purchased and began to distribute more than 200 baby monitors to units with the highest need in the Charlotte and Macon, Ga., markets. Atrium Health has developed a standardized policy to help facilities use baby monitors as a communication tool between teammates and patients.  
"What I've been impressed with is the quick innovation of our nursing staff," says Becky Fox, chief nursing informatics officer. "Within minutes of implementing on one of our units, our nurses realized that we can use this simple technology in ways that are meaningful to our patients. These stories resonate with me – because it's the true caring spirit of nursing that shines through, even in a pandemic."   
Fox particularly remembers how Atrium Health teammates helped a longtime married couple, both admitted to the hospital with COVID-19, stay in touch with each other. The patients had been married for several decades and had not been apart in many years. 
When the baby monitors were brought to the unit, the nursing staff quickly realized they could connect the two patients by placing a video monitor in each of their rooms.    
"When the husband got to see his wife on the monitor, he got a bit teary-eyed," says David Hodson, clinical informatics coordinator for Atrium Health Pineville. "We all had a few happy tears, knowing that we found a way to allow them to connect and see each other. It was really special knowing this technology and our clinicians helped."
Other clinicians have innovated ways to use the baby monitors in situations in which the patient can't hold the phone. Since the baby monitors have two-way audio, the nurse is able to take a phone call from family or friends, and then port it into the patient's room through the baby monitor's speaker.   
"I really hope it gives family members a little peace of mind that we're doing everything that we can to make sure that we have eyes on these patients at all times, and to make sure that they're not alone during this situation, especially while we're restricting visitors and everything with the COVID-19 response," says Blayton.