Heart disease remains the number one cause of death in the United States, which is one of many reasons why we're encouraging people to take better care of their heart through preventative measures. One of the best ways to do that is by paying closer attention to your diet and understanding what's in the food you eat, says Elaine Jones, RDN, LDN, community engagement manager at Atrium Health Sanger Heart & Vascular Institute.
Elaine is a passionate advocate for food as a tool for keeping your body healthy. "My lifelong goal has been to help people choose foods that nurture the body over those that can harm it." She shares these easy healthy eating tips for lowering your blood pressure, blood cholesterol and blood sugar in order to reduce your risk of developing cardiovascular issues or to help manage a heart disease diagnosis.
Tip 1:

Section Your Plate

For an easy start, adopt the plate method at mealtime:
Divide your plate into two halves.
Fill the top half with non-starchy vegetables, such as spinach, broccoli, cauliflower, carrots, greens and peppers.
Reserve one quarter of the bottom of your plate for starchy vegetables like potatoes, beans and corn.
Measure out about three ounces—approximately the size of a deck of cards—for your portion of lean meat or other protein on the remaining quarter of your plate.
Tip 2:

Shoot for Five a Day

Try to eat five servings of fruits and vegetables a day. When possible, choose the actual fruit or vegetable rather than a juice. "Your body absorbs juice as a simple sugar, causing more of a blood sugar spike," explains Elaine. "Plus, juice can lack many of the vitamins, minerals and fiber contained in whole fruits and vegetables."
Tip 3:

Eat Colorfully

Over the course of a week, Elaine also suggests eating your way through all the colors of the rainbow with fruits and vegetables. For example, your seven-day meal plan might include tomatoes, watermelon, carrots, corn, yellow squash, zucchini, green peppers, blueberries, grapes, eggplant and blackberries.
Tip 4:

Adopt a Low-Sodium Diet

"Salt has a love affair with water, causing your body to retain fluid, which can increase your blood pressure and put you at risk of cardiovascular issues," says Elaine.

A low-sodium diet reduces this risk, which is why it's important to read food nutritional labels, in particular noting the serving size and the sodium content per serving size. For any individual food you plan to eat or ingredient you're putting into a recipe, shoot for 140 milligrams or less of sodium per serving size. Avoid prepackaged meals with more than 600 milligrams of sodium for the entire meal.

Elaine admits that this can be an adjustment to your taste buds at first, so she suggests using alternative flavor enhancers, such as pepper, herbs, spices and garlic.
Tip 5:

Make Good Fat Choices

Instead of cooking with a lot of butter or eating too many fried foods, opt for healthier fats, which include things like:
Olive oil
Olives
Avocados
Nuts
Seeds
---
Try Heart Healthy Recipes
Elaine recently tested the following recipes in Sanger's demonstration kitchen and gives them a dietician's thumbs up along with some suggestions for how to make them even heart healthier.
Momma's Healthy Meatloaf from Allrecipes: This healthy take on a favorite comfort food helps you add colorful vegetables (green pepper, carrots and zucchini) to your meal plan.
To make it even healthier, Elaine recommends substituting one half of the pound of lean ground beef with a half a pound of ground turkey for a 50/50 mix. This is also a good way to start converting to leaner protein options. Additionally, you can substitute four egg whites for the two whole eggs for a lower fat version of this recipe.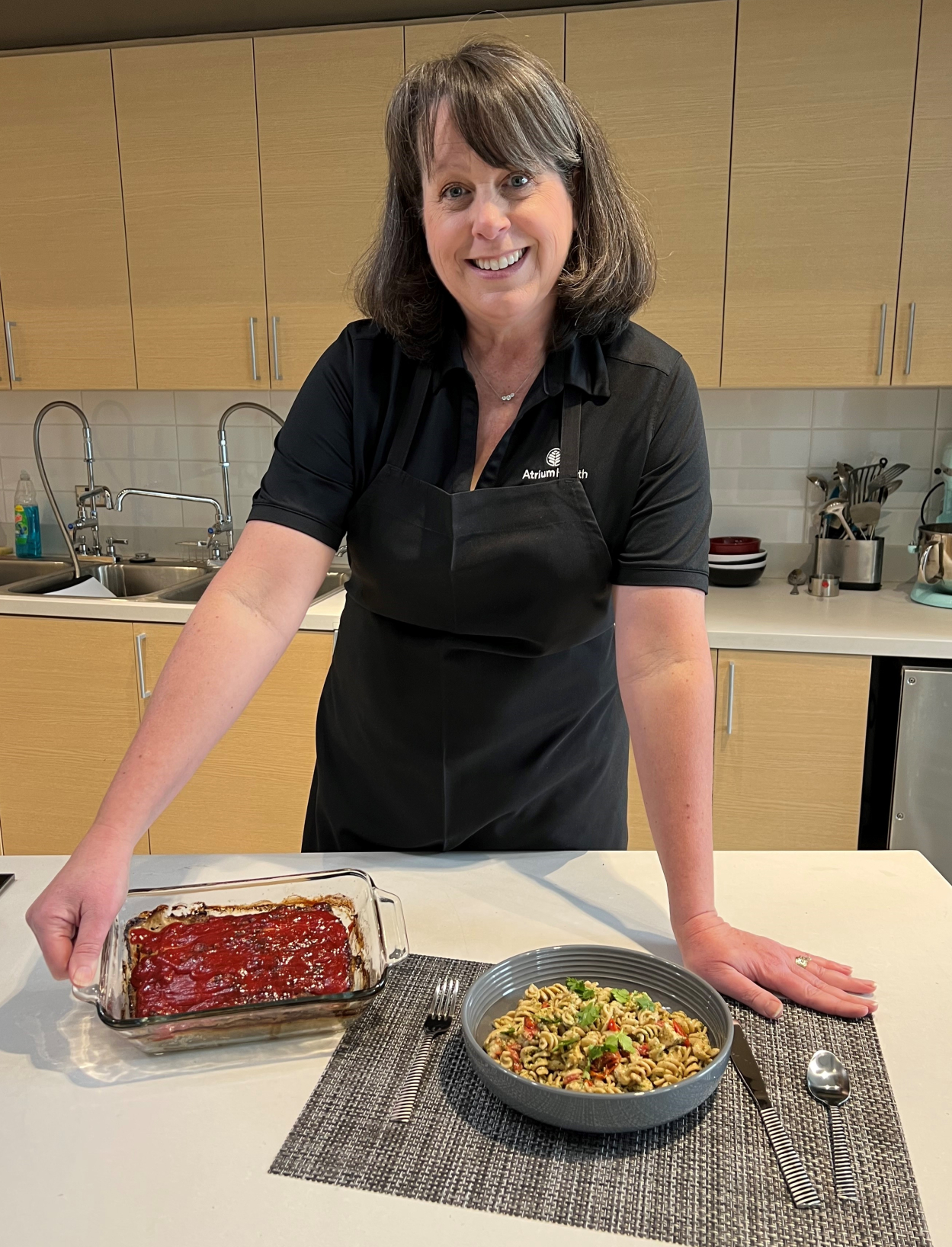 Honey Garlic Salmon from Rasa Malaysia: When you add a side of steamed or roasted broccoli to this recipe and glaze both the salmon and the broccoli with the honey garlic sauce, this is a delicious and healthy meal.
Elaine says don't worry if you can't find fresh salmon. Just use pre-packaged frozen salmon filets that are available at most grocery stores. Her other pro tip: If you don't have the cayenne pepper the recipe calls for, red chili flakes will do the trick.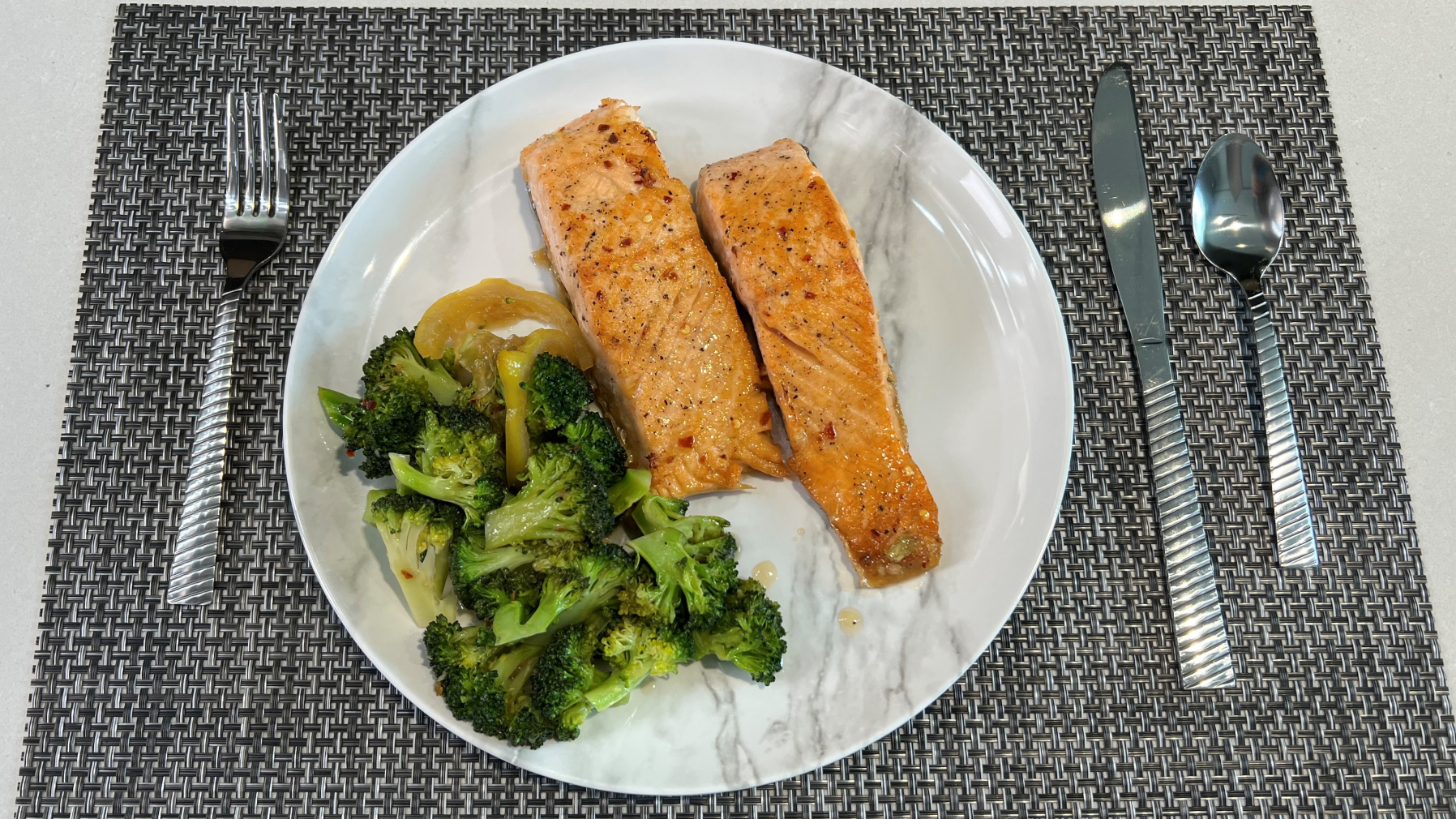 By substituting coconut aminos for the soy sauce, you can reduce the overall sodium content of this recipe without sacrificing the flavor. And don't worry if you don't have a rice cooker. Elaine explains how to make brown rice without one:
Fill a pot of water about three-quarters full and bring it to a boil.
Add a cup or two of brown rice.
Reduce the heat to medium and let the rice simmer uncovered for about 30 minutes.
Strain the rice, return it to the pot, put the lid on and let it rest for 10 minutes before adding it to your meal.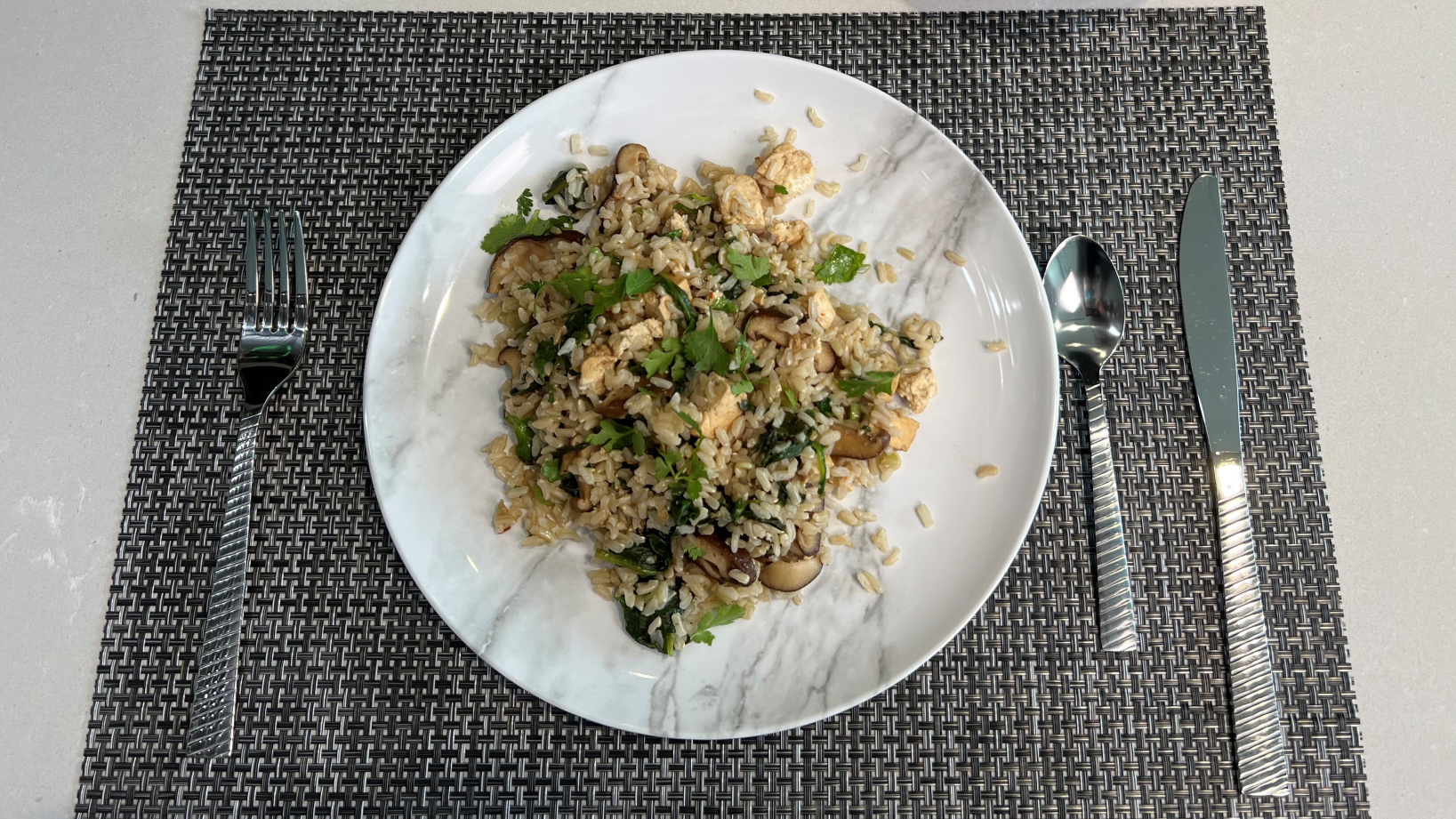 Cilantro Pesto Pasta Salad from Marcela Valladolid for the Food Network: For pasta lovers, this is a healthy take on your favorite food that combines whole wheat pasta, chicken as your lean protein source and a cilantro-based pesto sauce for a flavorful meal that can be eaten hot or cold.
Elaine notes that if you're not a fan of cilantro, you can stick with a more traditional basil pesto. She also says that you can switch the pine nuts for less expensive walnuts, which come with the added benefit of heart healthy omega-3 fatty acids.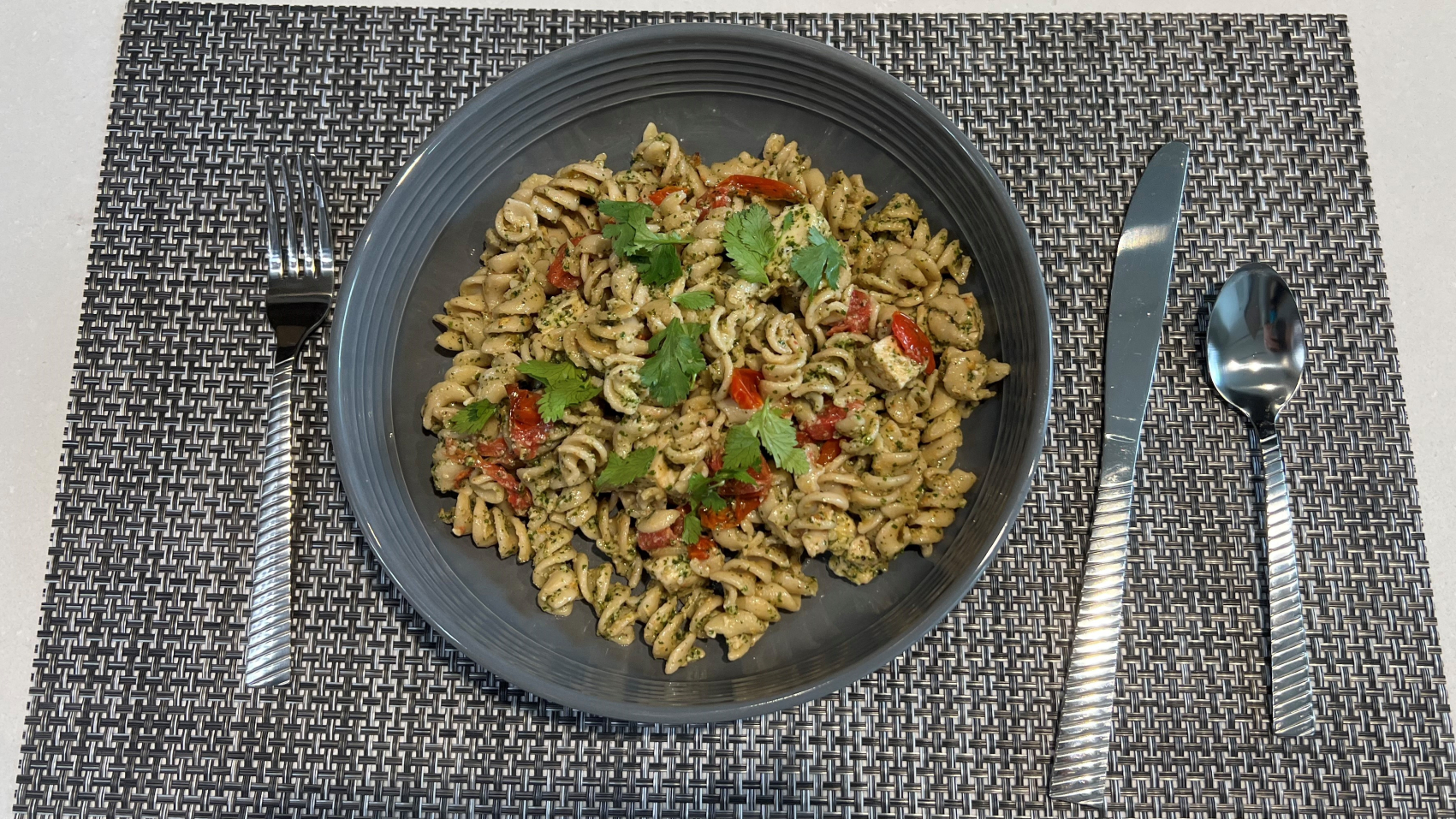 General Tso's Tofu from Simple Vegan Blog: This is a homemade, healthier version of a Chinese take-out favorite.
For the best results, Elaine recommends using extra firm tofu. On top of that, these substitutions make it even healthier:
Coconut aminos for soy sauce or tamari.
Low sodium vegetable stock for regular stock
Brown rice for white rice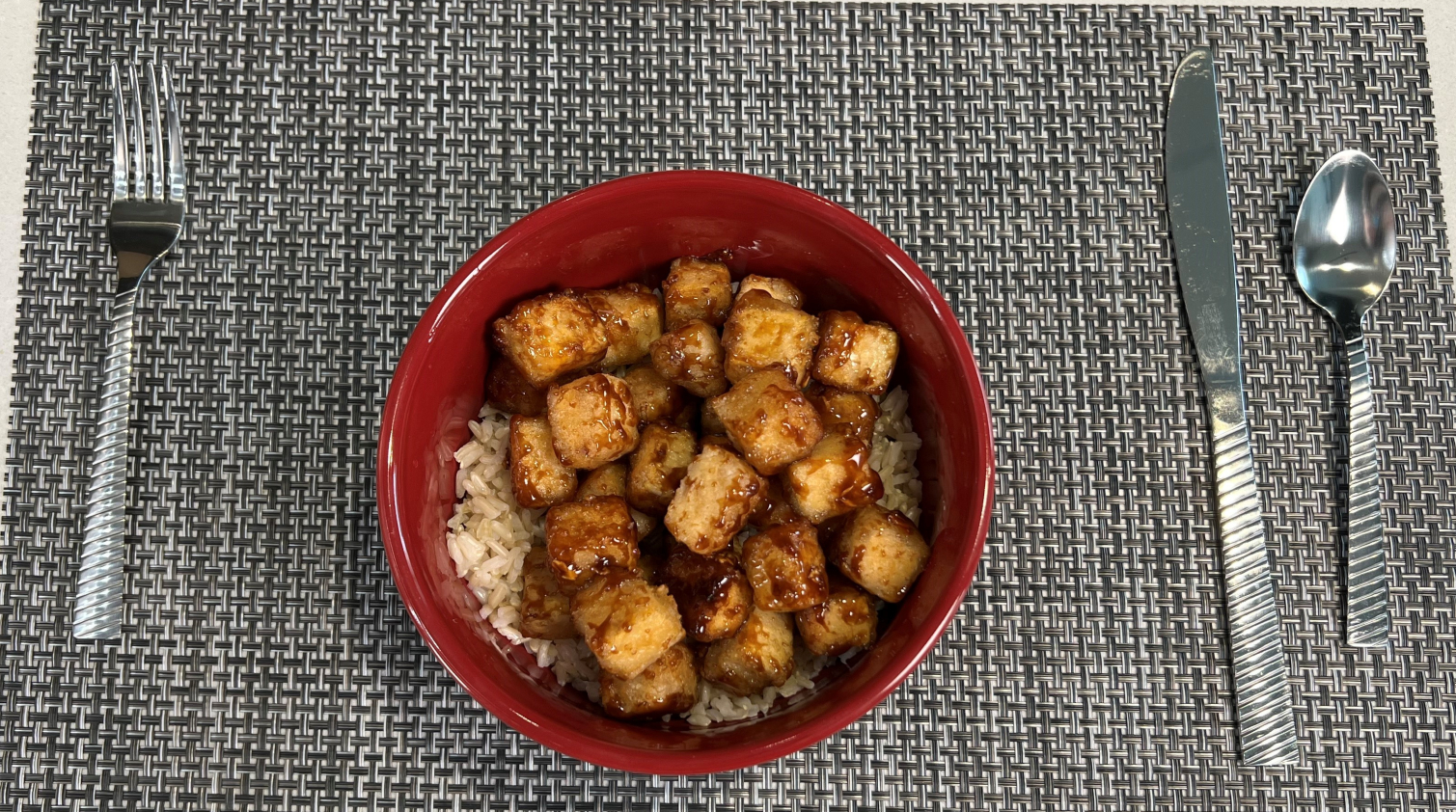 These recipes introduce you to leaner protein options and lower-sodium flavor enhancers. As you try them and Elaine's healthy eating tips, she reminds everyone that it takes time to change your taste perspective. But she also notes that you'll start feeling better within days, making the changes well worth it.
Learn more about the heart care available at Sanger Heart & Vascular Institute or find a cardiologist.