Just a few years ago, women with gynecologic cancers, including those affecting the cervix, uterus, ovaries and vagina, had limited treatment options. Even worse, if their cancer came back, many had little hope of finding a cure.
Leading-edge research and personalized treatments have completely changed the outlook for these patients. For example, immunotherapy is being used to help patients with cervical cancer by boosting their body's own ability to fight cancer.
With a large portfolio of clinical trials, Atrium Health Levine Cancer Institute's gynecologic oncology division is leading the way in superior cancer care and research. The team also works with doctors and faculty from around the world to help grow topnotch international programs for women with gynecologic cancer.
The division's physician leaders are focused on using education and research to provide outstanding patient care. "Each of us has varying interests that align well, so we can provide a full complement of clinical care and research across the board," explained Dr. Jubilee Brown, professor and director of the gynecologic oncology division.
Five out of six of the faculty members in the division are women, with a seventh female physician, Dr. Rykoff Delara, has just joined the division as the inaugural gynecologic oncology fellow. These strong female physician leaders have many opportunities to form powerful bonds with patients and provide outstanding role models for students, faculty and fellows.
Dr. Robert Wendel Naumann, the most senior member of the gynecologic oncology division, has been instrumental in growing many of the residents and faculty – not just in clinical trials but also in resident research projects. "Our teamwork and the diversity of our individual skills have allowed us to grow and shine both nationally and internationally," said Brown.
Dr. Yovanni Casablanca, the newest member of the team, comes to Atrium Health following a two-decades plus career in the U.S. Air Force, where she served as an obstetrician-gynecologist. While in this role, Dr. Casablanca felt a drive to go into cancer care, so she underwent additional training to specialize in gynecologic oncology. She brings with her a wealth of national leadership roles, research experience, clinical trials expertise and a passion for helping women.
Innovative research and treatments
Because Levine Cancer Institute is involved in so many clinical trials, patients have access to new drugs and combinations of drugs they wouldn't have access to anywhere else. For example, these researchers have been involved in getting FDA approval for dostarlimab, an immunotherapy drug used to treat uterine cancer.
"It's very exciting to see the FDA approve so many of the drugs we've worked with in these trials," Brown explained. "These new drugs are winners because they work, even for patients with certain types of ovarian cancer. We hesitate to say 'cure,' but many times, they equate to a cure and allow our patients to live longer, healthier lives."
The gynecologic oncology division has pioneered the use of minimally invasive surgery for multiple types of cancer, including uterine and ovarian. Compared with traditional methods, these techniques allow patients to return to their normal lives much faster after surgery.
In addition to surgery and clinical research, the team works with Dr. Donald Durden and colleagues to use translational science (research results that benefit public health) to improve cancer treatment. For example, through small molecule design, they engineer new medications in the lab by focusing on specific targets for gynecologic cancer.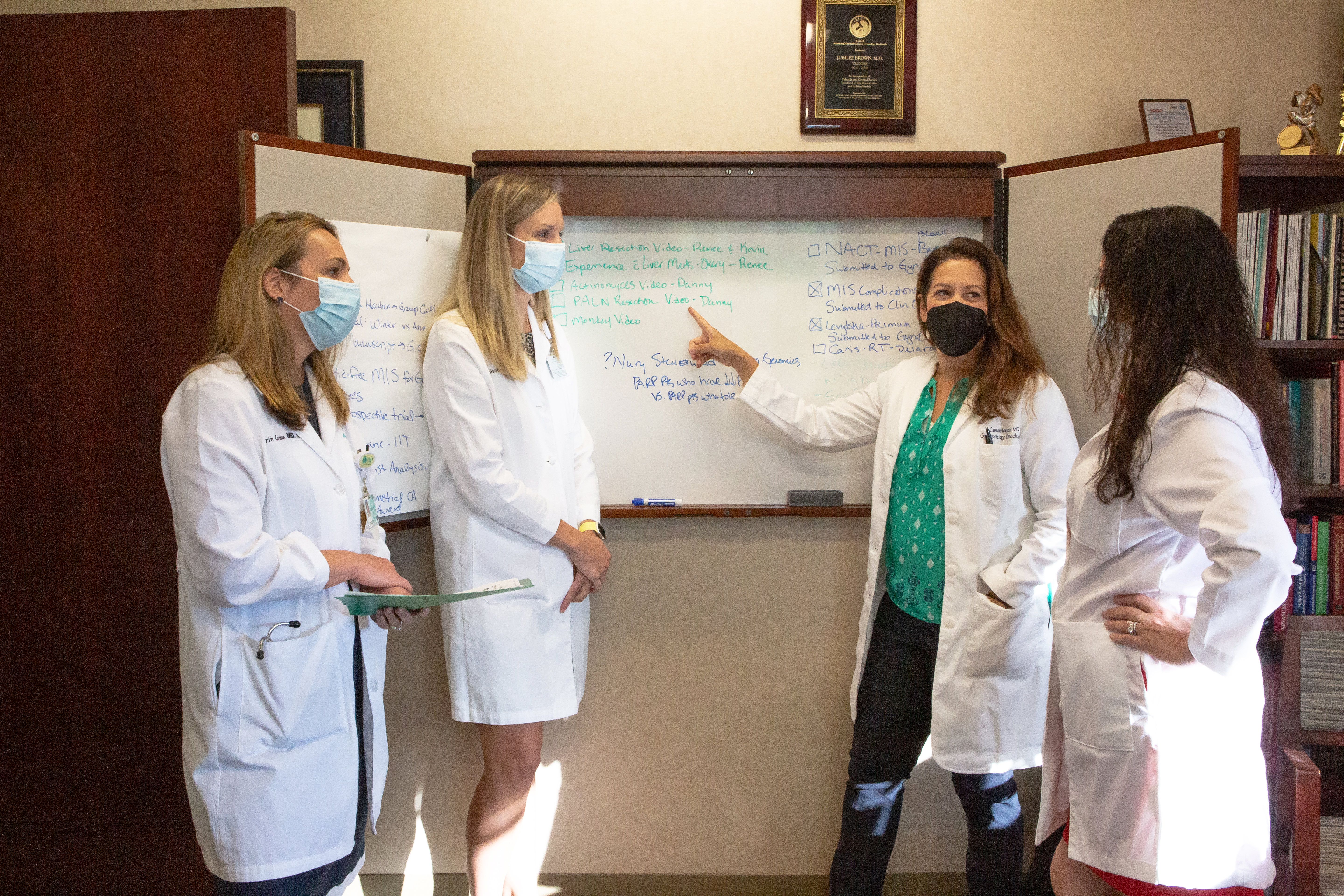 Atrium Health Levine Cancer Institute's gynecologic oncology division team
Guiding global programs and faculty
Through international partnerships in Eastern Europe, the gynecologic oncology division has collaborated with doctors and mentored faculty to share innovative research and best practices for cancer care.
Five years ago, Brown and Naumann were invited to go with representatives from the National Cancer Institute to Kazakhstan and Belarus. They have been working with doctors in those countries to develop their gynecologic oncology programs at a regional and multinational level.
While working in Belarus, Brown and Naumann met Dr. Alexander Shushkevich, a Ukrainian gynecologic oncologist. Shushkevich went on to spend three months at Levine Cancer Institute as its first global scholar. He now leads the European Society of Gynecological Oncology's multidisciplinary tumor board. Shushkevich recently fled from Belarus to Ukraine, where he was hunkered down on the western border in Kyiv. Amazingly, he was able to run medical conferences and webinars from this location. He's currently organizing a uterine cancer webinar that Brown and her colleagues plan to participate in.
Naumann leads the Kazakhstan tumor board and invites other members of the division to join and present findings from time to time. In fact, many of the division's younger attending doctors have presented in this tumor board.
On April 26, 2022, Brown presented at the 13th Congress of Oncologists and Radiologists of Commonwealth of Independent States and Eurasia. Her presentation focused on using immunotherapy to treat cervical cancer and how treatment methods have changed in recent years.
At the event, Brown shared success stories that showed how immunotherapy has improved outcomes for cervical cancer patients. For example:
Several years ago, a patient came to Levine Cancer Institute with cervical cancer who was bound to a wheelchair and in horrific pain. After receiving immunotherapy as part of a clinical trial, the patient is now disease free with no evidence of cancer.

Another patient with recurrent cervical cancer, a condition that had no treatment options a few years ago, was able to shrink her tumor with immunotherapy. Following treatment, she got married with the prospect of many years of healthy living ahead of her.
Partnering with women's health experts
Delivering high-quality cancer care to women requires a diverse team of experts. Levine Cancer Institute provides patients access to surgical and clinical care along with a robust clinical trial portfolio. Dr. Allison Puechl, an APGO scholar, leads the resident clerkship in gynecologic oncology at Atrium Health, helping them become an integral part of the care team. Dr. Erin Crane leads the newly ACGME-accredited fellowship in gynecologic oncology, the only fellowship training program in the region.
"We also partner with experts from other areas of the hospital to provide holistic, personalized care," Brown explained. "For example, if a patient has urinary stress incontinence, we work with our teammates in urogynecology (a subspecialty of urology and gynecology) and experts from Atrium Health Women's Care to improve the patient's bladder function and preserve their fertility."
Levine Cancer Institute's Sexual Health Clinic is another example of multidisciplinary care. Once a patient is seen at the clinic, they are referred to experts in urology and supportive oncology to ensure the best possible care. Dr. Brittany Lees leads this effort with gynecologic oncology. She has led the quality metric this year by ensuring that every patient has the opportunity to see a specialist in sexual health. Lees and Naumann have also received funding to investigate the benefits of breathing and meditation in cancer care.
"We brought everyone together to create a coordinated, thoughtful program for promoting sexual health and wellness," said Brown. "Rather than being competitive, we're collaborative. This provides a very unique environment for holistic cancer care, allowing us to deliver superior care across the board."
Making a lasting impact
What keeps Brown and her teammates motivated to give their best? "It all comes down to our commitment to helping women with gynecologic cancer and how we feel about them," she said. "Every person on our team is talented, kind and motivated, and we are so fortunate to care for our courageous and resilient patients – and we truly love them."
Brown continued, "It's really incredible when you sit next to someone who has entrusted their life to you. When we get to offer something that can help them feel better or achieve a big milestone, like taking a trip or getting married, it's so rewarding to give them a piece of their lives. Thinking about the impact we can have almost leaves me speechless."
As a caregiver, Brown sees this as a phenomenal time to be working in her field. With personalized medicine and targeted therapies, she's seeing improvements happening every day. "We offer many new treatments and drugs that were unheard of 10 years ago. Since many of these treatments are nontoxic, patients are living longer, more robust lives."
Looking ahead, she said, "Whether it's through surgery, research or science, we can change the world over the next decade."
Learn more
Learn more about gynecologic cancer care at Levine Cancer Institute.