A delegation of emergency medicine physicians from Ukraine recently visited Atrium Health Wake Forest Baptist Medical Center. They spent the day taking part in real life simulations, learning and sharing best practices in trauma medicine and building professional relationships.
"We are a Level 1 Trauma Center and Regional Burn Center, so it's a natural fit for the delegation to come here," said Dr. Stephen Powell, assistant professor, emergency medicine, who is also medical director, Forsyth County EMS.
The day began at the Command Center, where medical center and emergency management leaders greeted the group of five physicians, one interpreter and one facilitator.
"We look forward to exchanging ideas, sharing ways we train future doctors and starting a lifelong friendship," said Dr. Andrea Fernandez, regional chief medical officer.
Managing Trauma Care
A trauma care demonstration began at the helipad, where the AirCare crew managed a simulated patient with life-threatening injuries. The group discussed treatments and capabilities they could bring to the patient at the scene and while on the way to the medical center on the helicopter.
The delegation continued to care for the simulated patient as they moved to the emergency room.
"This mimicked how we would care for an actual trauma patient arriving at the medical center," Powell said. "This also
demonstrated how we train our physician learners, such as medical students, residents and fellows. Many of the physicians from Ukraine work with simulation and train their doctors with simulation methods, so they were very interested in our approach."
The physicians from Ukraine were meticulous with all aspects of trauma care, given some of their limited resources, Powell said. "For example, they have incredible focus on hypothermia prevention as a cornerstone of trauma resuscitation. They focus on the fundamentals because they may not have other capabilities for resuscitating the patient, such as blood to transfuse."
Comparing Best Practices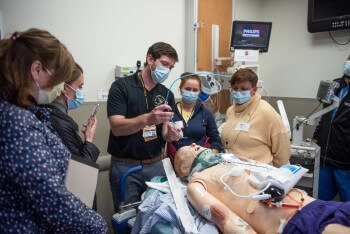 After the trauma scenario, there was a debrief session with Powell, Dr. Bret Nicks, Dr. Jacob Schoeneck and Dr. Martin Avery. The group discussed and compared best practices for resuscitating a trauma patient to learn from one another.
Next, the delegation observed and discussed operations in the children's emergency room. "They were very eager to learn as much as they could," said Dr. Michael S. Mitchell, medical director, pediatric emergency department at Brenner Children's Hospital, and associate professor of emergency medicine. "It was an honor to host them."
Later in the day, the delegation participated in hands-on skills training with simulation expert Dr. Jim Johnson from the Wake Forest Center for Experiential and Applied Learning. Dr. Chris Davis, other experts in trauma and trauma fellows also provided training, along with a member of the U.S. Special Forces.
Building a Friendship
During their visit, the delegation stayed in the homes of Friendship Force members and their families in the Piedmont Triad. The Friendship Force is a nonprofit cultural organization under the Open World program of the Congressional Office for Internal Leadership. It promotes understanding, cultural education and citizen diplomacy.
"Perhaps one of the greatest aspects of this exchange was for our colleagues to recognize that they are not alone," Nicks said. "And while their care scenario is greatly impacted by the civil and economic effect of war, providing exceptional patient care remains their primary focus."
"Our goal was to create a network for them as a resource," Powell said. "This is an international friendship to allow them to have resources they can take home."