Considering Another Spine Surgery
Kay Roberts, 67, suffered from debilitating back pain for years because of degenerative disc disease and severe scoliosis. Three years ago, she underwent her first spine surgery to begin to address her pain. She had positive outcomes from the surgery and had confidence in her doctor at Carolina NeuroSurgery & Spine Associates (CNSA), Dr. Craig VanDerVeer, well-respected leader in neurosurgery at Atrium Health and CNSA, who retired several years ago.
"I knew it was a matter of time before the discs and scoliosis would get worse again and that there was a good chance that something was going to herniate, fragment or fail," she says. "My pain was also increasing. I thought about it, talked to my family and decided maybe this is the time to do another surgery before it becomes an emergency."
As she started to consider another spine surgery, she met with VanDerVeer, who referred her to Dr. Paul Kim a SpineFirst neurosurgeon at Carolina NeuroSurgery & Spine Associates.
SpineFirst is a partnership between Atrium Health and Carolina NeuroSurgery & Spine Associates. SpineFirst's team of spine specialists provide nonsurgical and surgical treatment options to reduce pain and improve quality of life. Kim specializes in treating complex spine diseases like Kay's.
Kay's Care Pathway
"Ms. Roberts came to me with debilitating back and leg pain," says Kim. "She led an active lifestyle and had developed worsening pain that interfered with her daily activities and quality of life."
After reviewing her imaging studies, Kim determined that Kay's lumbar spine condition had deteriorated to the point where minimally invasive surgery wasn't a viable option and a more extensive spinal procedure would be necessary.
Spinal degeneration like Kay's can lead to instability and worsening stenosis, a narrowing of the spinal column that causes spinal cord compression.
"We look for opportunities to treat patients with minimally invasive surgery to address these problems, but when problems become fairly complicated, we have the experience, knowledge, skill set and innovative technology to treat these patients with the right procedure," says Kim. "It's truly a case-by-case basis. We look at each individual patient and determine what would be best for them. Patients, their families, their primary care providers and other specialists play a huge role, and it's a team approach to make the best decision for each individual."
Complex spine surgery has become more common over the years.
"Twenty years ago, patients like Ms. Roberts were off-limits for surgical consideration," he says. "Now, we're looking at a demographic of patients who are able to undergo an operation and benefit from extensive surgery and recover well."
"Dr. Kim encouraged me not to make a decision that day, so I scheduled a follow-up appointment two months later," says Kay. Ultimately, she decided complex spine surgery would be the best option for her.
"This isn't a quick recovery process," says Kim. "We really try to help patients and their loved ones understand all that is involved with the surgery and recovery process, and we make it a point to have patients and their families on board with the plan because it's a tough road. Patients with strong support systems generally tend to do better. In addition, Ms. Roberts had an excellent primary care provider. Working with primary care providers and subspecialists help us provide comprehensive care for these individuals, which makes a big difference in their outcomes."
Undergoing Complex Spine Surgery
Kim performed an extensive reconstructive spine fusion that consisted of two stages:
Stage I was a lateral approach with interbody fusion to help with deformity correction. This type of approach has been made possible by recent technological advances and gives the surgeon the ability to do surgery from the side rather than the front or the back, which can be much less invasive for the patient.

Stage II provided a multilevel lumbar decompression and instrumental fusion, which helped to correct her scoliosis, a sideways curvature of the spine and straighten her spine to ensure optimal alignment.
"Over the years we've been performing these two-stage procedures and we've seen patients respond better with a significant reduction in ICU (intensive care unit) length of stay and hospital length of stay for patients around Kay's age," says Kim.
Kim performed surgery at Atrium Health Carolinas Medical Center, one of two Atrium Health facilities to earn The Joint Commission's Gold Seal of Approval® for Advanced Certification in Spine Surgery by demonstrating continuous compliance with its performance standards. The Gold Seal is a symbol of quality that reflects a health care organization's commitment to providing safe and quality patient care. All SpineFirst facilities work together to provide high quality care for patients.
Rehabilitation for Complex Spine Surgery
After her initial recovery process, the next step in Kay's recovery was rehabilitation. Appropriate rehabilitation by a specialty trained therapist is a crucial element of spine surgery recovery. Kay completed inpatient rehabilitation, including occupational and physical therapy, at Atrium Health Carolinas Rehabilitation.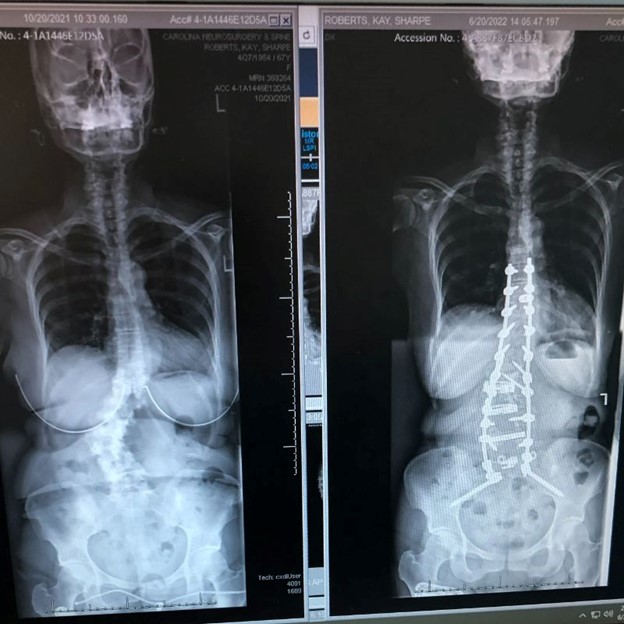 "When you first arrive at inpatient rehabilitation, they ask what your goal is and write it on a whiteboard," says Kay. "My goal was to walk unassisted, which was a big goal because I was in a wheelchair at the time. By the last day of therapy, I managed to shuffle over to ring the bell to celebrate completing inpatient rehabilitation. It was a big deal to make that goal. I looked over at my husband and burst into tears."
Kay then began outpatient rehabilitation with Jim D'Amico, a physical therapist and orthopedic spine specialist at Atrium Health Carolinas Rehabilitation Huntersville.
"We feel strongly about the quality of rehabilitation care for spinal patients at Atrium Health's acute rehab facilities," says Kim. "These locations offer top-notch rehabilitation and therapy that can't be matched in this region." Carolinas Rehabilitation is named a Best Rehabilitation Hospital by US News & World Report as well as a top hospital by Newsweek.
When Kay arrived for her first day of outpatient rehabilitation, Jim said she relied on a rolling walker and had a back brace from her chest to her sacrum, which is the base of the spine and the center of the pelvis.
"She was very deconditioned, had weakness in her legs and was glued to her walker when we started," he says. "We began at a pretty low level and I tried to create ways to make her feel more comfortable on her feet without assistance."
Jim led Kay through exercises twice a week for six months to build her confidence, function and strength. She progressed fairly quickly to walking only with a cane.
"I'm very dedicated to my home exercises," says Kay. "I made a spreadsheet of what Jim told me to do and I'd check it off. Nearly four months later, I'm walking 1.5 miles every morning unassisted. I think I've done well and better than expected."
"She slowly gained confidence and is nearing a full recovery," says D'Amico. "Kay is an incredibly hard worker. She's diligent about her program and tracks everything. She has some restrictions because of the nature of her surgery, so she's not able to bend and twist much. But she's functioning pretty well and doing more every day. The fact that Kay is doing so well is a testament to Dr. Kim's skill and Kay's hard work."
Recovery and Hope for the Future
Kim recently saw Kay for a checkup and says she's recovering nicely.
"She no longer requires any assistance when walking," he says. "We're pleased with how she's healing thus far."
Kay is also happy with her progress and she's doing well.
"I do have pain and I'm still on nerve medication and muscle relaxers, but I'm taking fewer prescriptions than I did before surgery," she says. "The best part is knowing that when I lean over, the discs and scoliosis have been taken care of and aren't going to fragment and cause more damage and pain. I have that confidence and security."
Kay is grateful for her experience with SpineFirst.
"Dr. Kim and his physician assistant, Elton, were fantastic," she says. "Dr. Kim explains everything in detail, never seems hurried and spends time with you. I didn't expect to be where I am now. If anyone asks me, I'd recommend SpineFirst and Dr. Kim for complex spine surgery. My inpatient and outpatient care has been great."
Learn more about spine care at SpineFirst.
Article updated on 2/9/23