At the May meeting of the Atrium Health Board of Commissioners, Mary Beth Kingston, chief nursing officer for Advocate Health, of which Atrium Health is a part, highlighted the many ways nurses are making a difference and efforts the organization is making to ensure its nursing workforce remains vibrant.
Across the nation, Nurses Week is celebrated annually May 6-12. Kingston shared the many ways throughout the week that Advocate Health is honoring its nurses throughout the enterprise and reminding us that "everyone has a nurse to thank."
"We appreciate our nurses every day, of course, but this week is when we really shout it from the rooftops," Kingston said.
In addition to sharing her appreciation for all nurses, Kingston celebrated a handful of individual nurses from Atrium Health, including Nancy Ladd, a nurse with more than five decades of experience who previously retired but couldn't stay away; Vanessa McCrea, a behavioral health nurse with 37 years of experience; Carolyn Lehman, a nurse who brings her experience from the U.S. Navy to her work as a Hospital at Home nurse; and Jessica Earhart, a nurse at Atrium Health Levine Children's Hospital, who is now working alongside her two daughters.

Nurses Nancy Ladd (far left photo, on the right), Vanessa McCrea (photo second from the left), Carolyn Lehman (second from the right) and Jessica Earhart (far right photo, in the center), were recognized for their work at the May meeting of the Atrium Health board.
Atrium Health is innovating new care models and recently expanded its virtual nursing research study through a pilot program, in which nurses are rotating through virtual nursing observation shifts for one of their three 12-hour shifts each week.
"We think this is going to have a major impact on retention, reduction in burnout, job satisfaction and decreasing unit vacancy rates," Kingston said.
Developing a Strong Nursing Workforce
At Atrium Health, the development of a strong, excellent nursing team begins with new nurse graduates and continues throughout a nurses' career. At the board's first quarter meeting in February, Kingston shared how Atrium Health has created a nursing pipeline through partnerships with educational organizations. At the May board meeting, Kingston highlighted the recent nurse preceptor summit, which provided education to more than 170 nurse preceptors who supervise nursing students and new nursing teammates. Topics included how to encourage critical thinking, effective communication and practicing empathy, instead of compassion, to better engage with patients.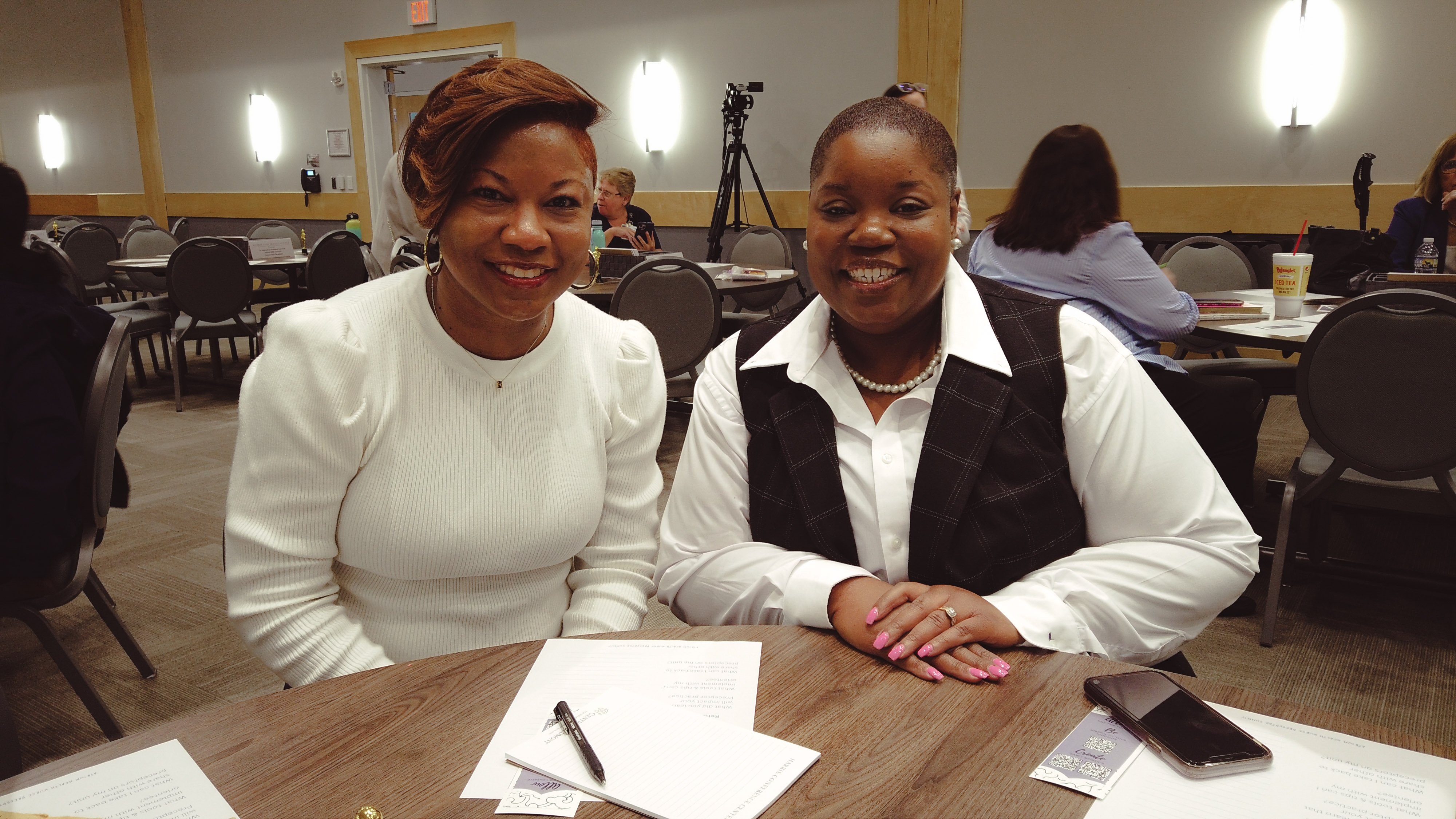 More than 170 Atrium Health nurse preceptors participated in a professional development summit to help them enhance their work supervising nursing students and new nursing teammates.
The week-long celebration of nurses throughout Advocate Health will culminate with a virtual nursing summit, during which speakers will share information on trauma informed care, wellness and the brain science involved in how acquiring emotional and intellectual vulnerability impacts resilience.
Advocate Health Southeast Region President Ken D. Haynes joined in the celebration of nurses, saying, "I know you join me in offering our gratitude to the nurses across Atrium Health who are making a difference in the lives of our patients and communities every day."
It's all part of efforts that make Atrium Health a place nurses want to work, helping the organization recruit and retain a strong nursing workforce, in the midst of a nursing labor shortage that is impacting the staffing and finances of health care organizations across the country.
In fact, Atrium Health reported at the meeting that, while its first quarter net operating revenue was 4.3%– higher than budgeted – its operating expenses were 3.9% higher than anticipated, largely driven by personnel costs.
Community Support and Collaboration Yielding Results
In addition to thanking nurses, Haynes also acknowledged the impact recent announcements are having on our communities.
Atrium Health and Best Buy Health have combined their respective strengths to develop new hospital at home offerings that will enhance the patient experience of receiving hospital-level care in the home. The new offering will allow our providers to deliver high-quality care to our patients in the comfort of their own homes, while helping reduce emotional and financial burdens on patients and caregivers.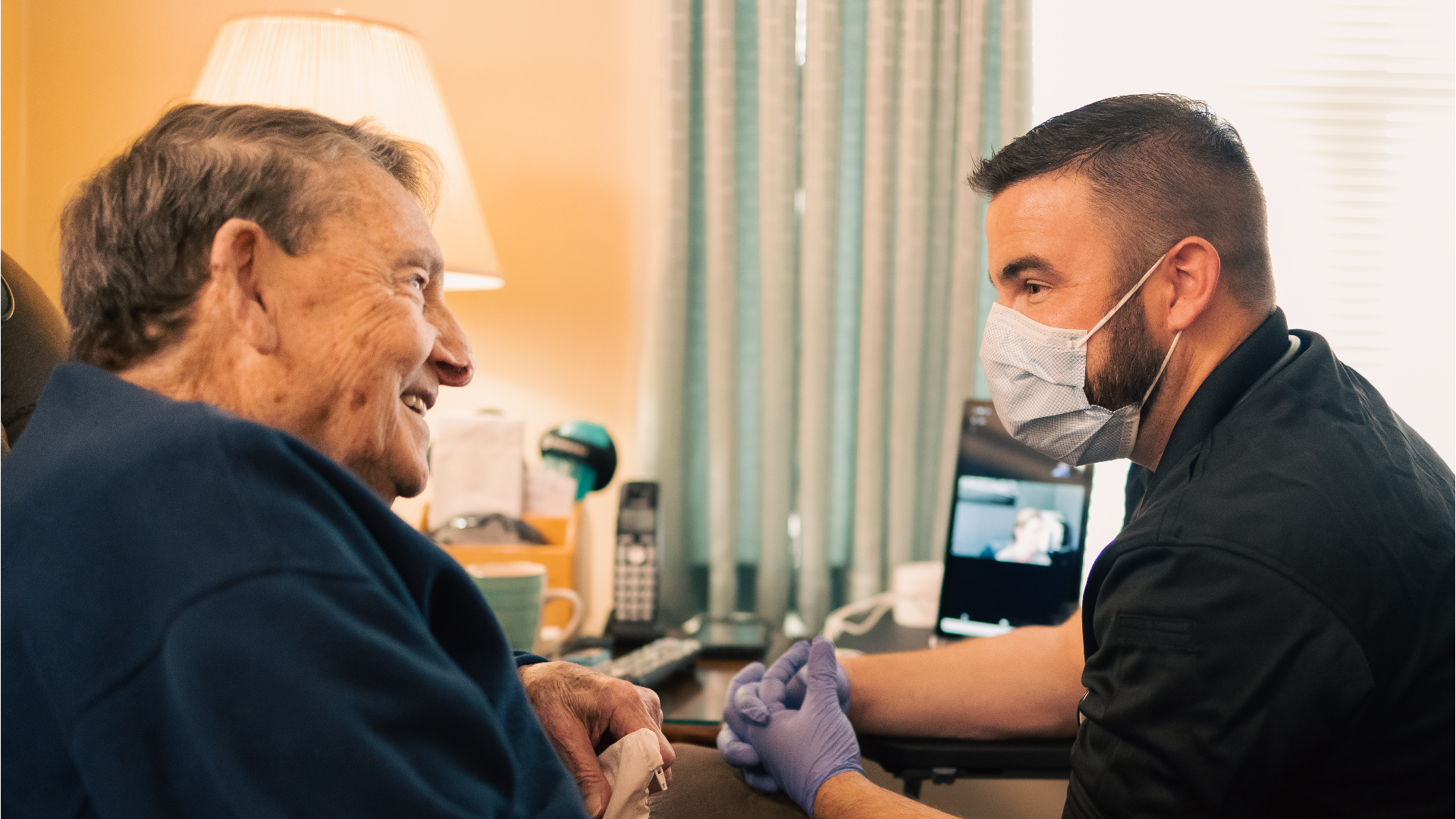 Atrium Health and Best Buy are working together to offer hospital-level care in the comfort of patients' own homes.
He also expressed appreciation for the difference that will be made by a $5.05 million gift to the Atrium Health Foundation "Giving Hope" campaign, from Truist, via the Truist Charitable Fund and Truist Foundation, which will advance several community-driven programs aimed at improving health outcomes and economic mobility for vulnerable community members in the Charlotte area.
Haynes got in on the community-building spirit, literally, by participating with other community leaders, in the recent Habitat Charlotte's annual CEO Build to champion affordable housing and improve the health of our businesses and community.
"It is about making affordable housing a reality," Haynes said. "We want to be a leader in affordable housing because it's one of the social determinants of health."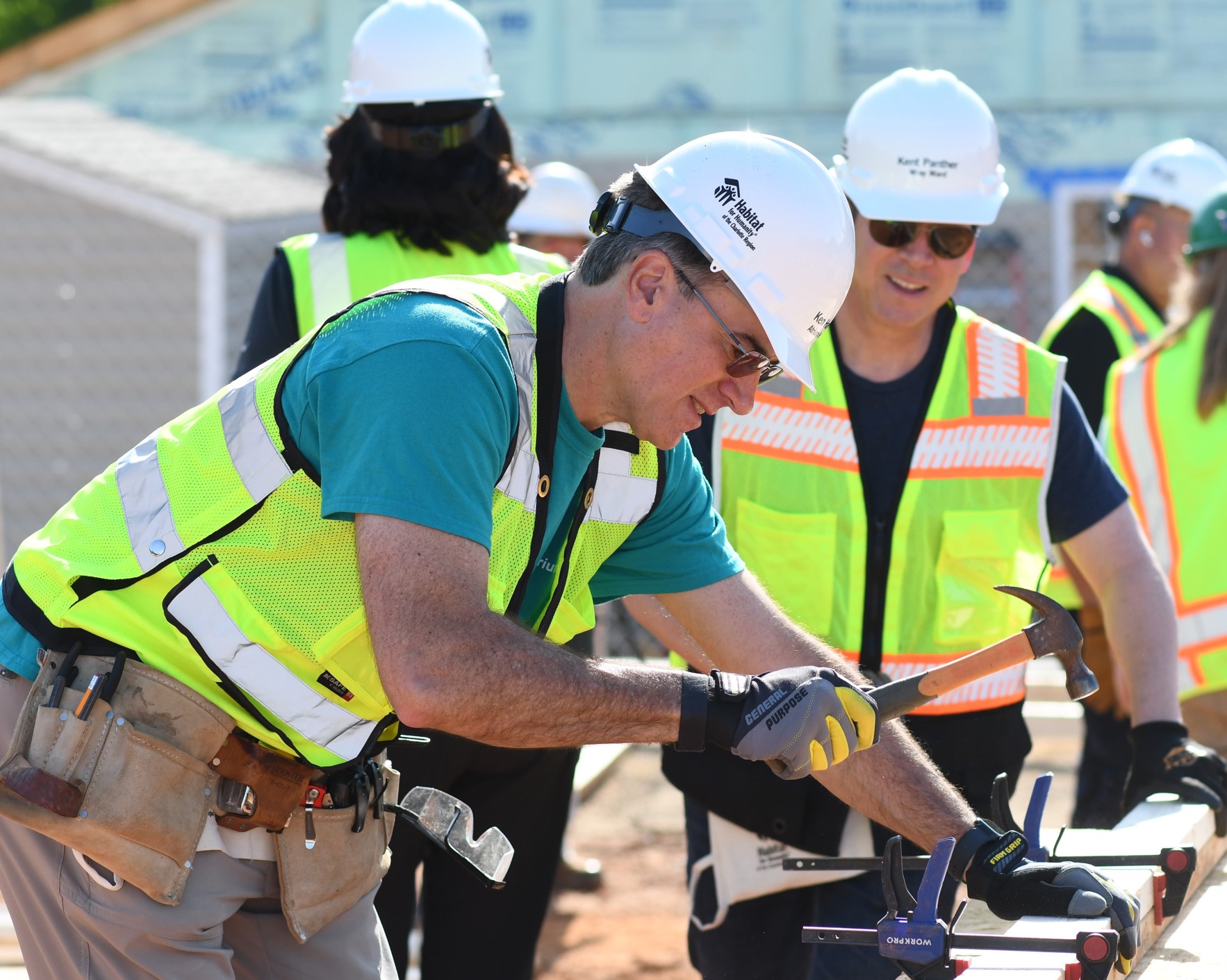 Advocate Health Southeast Region President Ken Haynes participated in Habitat Charlotte's annual CEO Build, reflecting Atrium Health's commitment to addressing social determinants of health, including affordable housing.
Haynes reported that, in Georgia, Atrium Health Navicent's "Healthy Communities Food as Medicine Market" celebrated one year in operation, having provided meals to more than 1,800 central Georgians facing food insecurity and distributing 29,000 pounds of food to the community.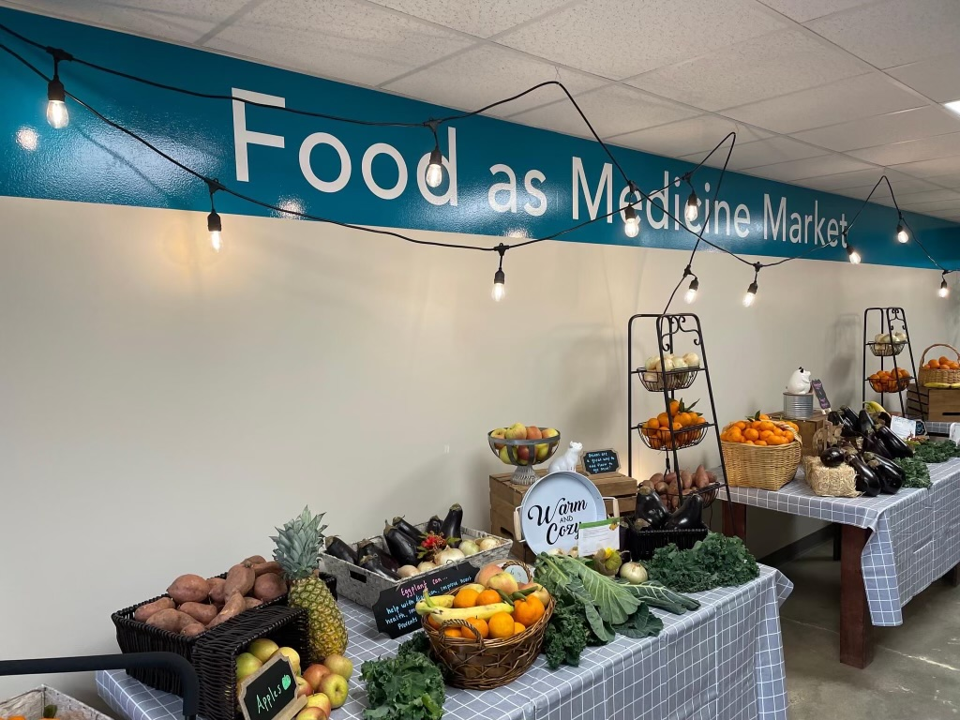 Atrium Health Navicent's Food as Medicine Market celebrated one year in operation in February 2023.
By the end of the meeting, it was clear that between its nurses and it's impact on the community, Atrium Health has a lot to celebrate in the first 6 months of 2023, including being named to Becker's Top 150 Places to Work in Healthcare, Fortune's America's Most Innovative Companies and Forbes Best Employers for Diversity.