Emergencies and disasters happen. While we don't always know when they will strike or how much disruption they might cause, at Atrium Health we see it as our responsibility to anticipate and plan for them in order to limit their impact.
As the largest healthcare system in the Carolinas with the area's only Level 1 trauma center, Atrium Health's Emergency Management program stands ready and equipped to respond to any and all hazards that pose a threat to our patients, hospitals or communities. Our disaster and emergency preparedness operations allow us to quickly pull together resources and activate emergency responses to maintain access to essential medical care. We are also able to deploy our mobile hospital unit and emergency teams to support communities when services and resources become limited.
Potential Hazards/Emergencies
Atrium Health has coordinated plans in place to help prevent or respond to a host of potential emergencies, including:
Partial or complete loss of a utility system (water, electric, etc.)
Fire or smoke
Building evacuation
Mass casualties/influx of patients
Bomb threat or suspicious package
Hazardous materials
Infectious disease outbreaks
Damaging or severe weather-related events (tornado, flooding, hurricane)
Terrorist attack or other purposeful violence
Missing child or patient
Active shooter
Our Focus Areas
Our program operates around the four phases of emergency management: prevention and mitigation, preparedness, response and recovery. The goal is to swiftly and effectively step in and control the situation to minimize further impact, allowing our clinicians to focus on our patients and communities.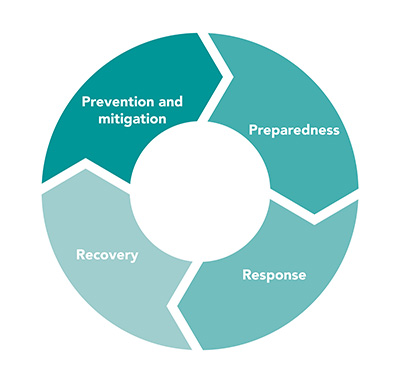 Prevention and mitigation are actions to help reduce the risk of certain events occurring within the environment or limit the damaging effects of unavoidable emergencies.
Preparedness involves protocols that promote our readiness to respond to emergencies; this includes education and training, stockpiling resources, performing exercises and drills to test and refine response procedures, as well as building partnerships with community partners, such as law enforcement, medical services, public health, fire services and mental health services.
Response includes an initiation of plans and an incident command center to reduce further impact, save lives and protect our facilities and communities.
Recovery is an ongoing process to restore and resume normal operations and depends on the nature of the emergency.
Each phase informs the other and flows into or initiates the next phase. As part of our drive for excellence, we have a continuous process improvement plan to apply lessons learned and further define best practices.
Our Services
Our services include, but are not limited to:
Comprehensive emergency planning and education, including risk evaluations, trainings and preparedness exercises.
Continuity of Operations Plan (COOP) provides policies and guidance to ensure the execution of essential functions in the event that Atrium Health's operations are threatened.
Carolinas MED-1 a unique mobile hospital unit that can be deployed across the Carolinas to provide comprehensive patient care at the site of a disaster or in response to mass casualties, especially if local hospital resources are stretched beyond their capacity.
Community engagement and education offers valuable information and resources to help our communities prepare for and stay safe in an emergency. Our Emergency Management program provides assurance to the community that we are going to continue – one way or another – to deliver healthcare to the communities we serve regardless of the circumstances that arise.
Collaborations with community, regional, state and national partners, including the National Disaster Medical System and Metrolina Healthcare Preparedness Coalition, to extend emergency services and activate a multi-agency coordinated command if needed.
Our Team
Our team is comprised of dedicated individuals who oversee the Emergency Program at all levels of Atrium Health. The goal is to share best practices and knowledge so that we can better prepare ourselves for the future's unknown.