Severe sepsis is the body's overwhelming reaction to a severe infection. Sepsis is more common than heart attack and more harmful than stroke, killing one person every two minutes. Sepsis is dangerous because symptoms are often difficult to understand and diagnose.
Atrium Health recognizes the complexities surrounding sepsis and made caring for patients with severe sepsis a priority. For this work, it was the only healthcare system named a 2015 Sepsis Hero by the Sepsis Alliance. Our integration and standardization of best practices through Code Sepsis have meant fewer deaths and quicker recovery times.
Howard Hoover talks about his life-changing experience as a patient with Sepsis.
Learn about sepsis, its symptoms and how we make caring for this disease a priority with emergency response plans.
Fewer Deaths and Quicker Recoveries
Atrium Health hospitals participating in the LEAPT contract have seen fewer deaths and faster recovery times for patients with severe sepsis or septic shock within the first year of our program. These results are even better among patients who received treatment, through "activation," under Code Sepsis protocols in our emergency departments (EDs).
Code Sepsis activations began in October 2013. Since then the percentage of deaths among patients with severe sepsis or septic shock has decreased, from nearly 35 percent to less than 15 percent as shown in the figure below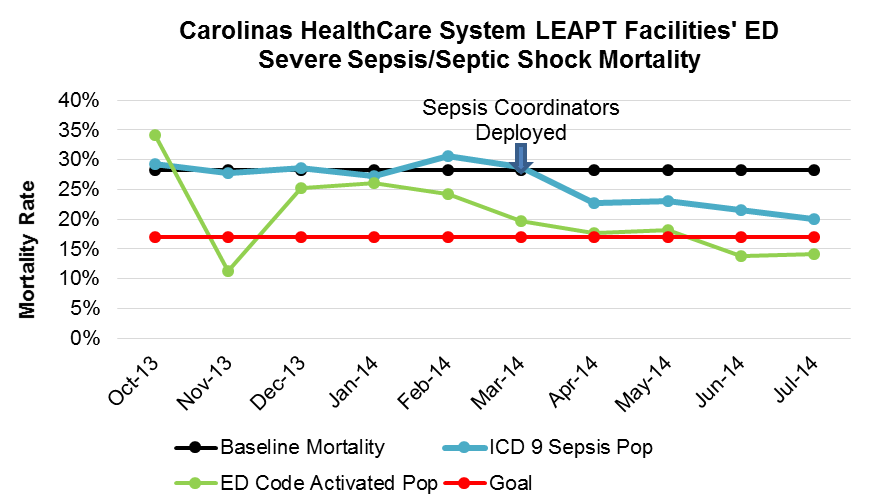 Note: "ICD 9 Sepsis Population" includes patients diagnosed with severe sepsis or with septic shock but who did not receive Code Sepsis protocols.
Mortality rates have steadily decreased with the support of sepsis coordinators, who help physicians and families navigate the protocols of code sepsis. During June and July 2014, providers in our facilities saved 40 percent more lives through Code Sepsis than the average before the program. Patients activated with Code Sepsis have been able to return to their normal activities of daily living 1.5 days faster as shown below.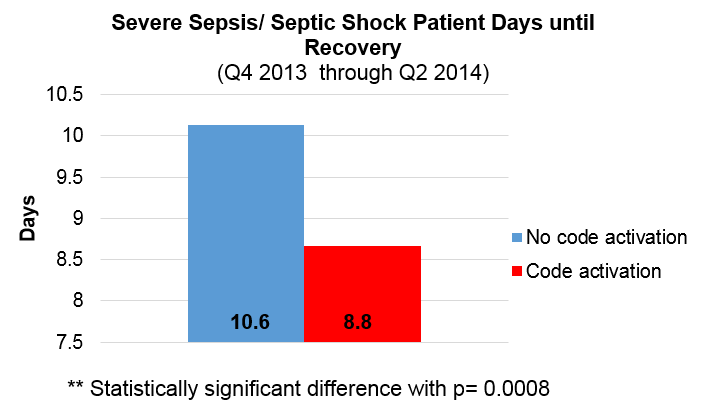 Code Sepsis continues to spread across Atrium Health. More than 1,500 patients have been treated, both in LEAPT and non-LEAPT facilities, and the number of patients treated through Code Sepsis continues to expand. The goal is for every patient diagnosed with severe sepsis or septic shock to be treated with Code Sepsis.
The figure below brings to life the progress we have made with awareness of our code sepsis program by showing the number of activations. Our facilities are showing an increase in recognition of sepsis and activating code sepsis, this is especially evident in the total number of activations (grey shading). Increased awareness and code activation means that our hospitals are doing a better job at recognizing the signs of sepsis early and are providing better treatment to those patients.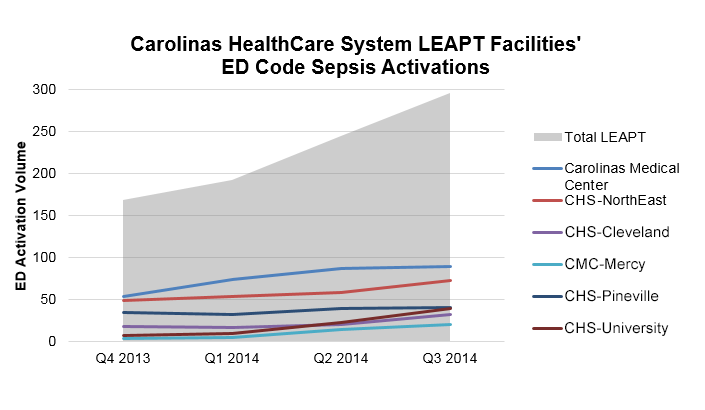 Note: The number of activations per facility varies, in part because they treat a different number of patients with severe sepsis or septic shock.
Evidence-based guidelines indicate that patients should receive fluids and antibiotics rapidly upon being diagnosed with severe sepsis or septic shock. The tables below highlight our patient fluid administration within three hours of ED triage and antibiotic administration within one hour of triage for patients who were treated under Code Sepsis. We are continuing to make progress towards our goal of 100 percent compliance.
ED Fluid Administration within 3 Hours of Triage, Overall Performance
| LEAPT Facility | 30 ml/kg Fluid Compliance |
| --- | --- |
| Atrium Health's Carolinas Medical Center | 69% |
| Atrium Health's Carolinas Medical Center-Mercy | 60% |
| CHS-NorthEast | 50% |
| Atrium Health-Pineville | 54% |
| Atrium Health University City | 67% |
| Atrium Health-Cleveland | 50% |
First Antibiotic Given within 3 Hours of Triage, Overall Performance
| LEAPT Facility | Antibiotic Given within 3 Hours Compliance |
| --- | --- |
| Atrium Health's Carolinas Medical Center | 81% |
| Atrium Health's Carolinas Medical Center-Mercy | 80% |
| CHS-NorthEast | 82% |
| Atrium Health-Pineville | 67% |
| Atrium Health-Union | 100% |