Presented by Tricia Azra, RD, LDN
America loves football! One of the best parts about football season is enjoying the pre-game parties and delicious foods. But if you're worried about scoring too many calories, try some of these healthier updates to game day favorites. With a little planning, there's no reason a tailgate picnic has to sideline your weight loss efforts. Whether you're taking your game day party on the road or hosting your own game day fest, these healthier recipes are certain to have you cheering!
Don't forget these food safety tips when tailgating:
Don't use a cooler that's too large. A full cooler will keep foods cold longer.
Seal properly and place raw meat at the bottom of the cooler to avoid drips and cross-contamination
Pack coolers just before you leave for the game, and use ice packs to maintain temperatures.
Use a thermometer in your cooler to be sure foods stay at or below 40 degrees Fahrenheit.
Keep coolers out of the sun.
Bring waterless hand sanitizer or moistened towelettes to keep hands clean.
Bring a meat thermometer to ensure that burgers and brats are cooked to 160 degrees and chicken breasts to 170 degrees.
Throw away perishable foods that are left from your pre-game picnic so no one will be tempted to eat them after the game.
Do not leave food unrefrigerated for more than two hours. In hot weather (90 degrees or above), the time limit is one hour.
Southwestern Chicken Pile Up

Ingredients: (1 serving)
1/4 tsp. garlic powder 1/4 tsp. cumin powder 1 small (1/4-pound) boneless, skinless chicken breast, trimmed of visible fat 1 whole-wheat pita (6 1/2" diameter) 2 Tbsp. hummus 2 Tbsp. canned black beans, drained 2 Tbsp. green onion, chopped Slices of red bell pepper, chopped 2 Tbsp. chopped tomato 2 Tbsp. chopped fresh cilantro leaves 2 Tbsp. shredded 2% Cheddar cheese 4 tsp. guacamole
Instructions:
Preheat a grill to high heat. Sprinkle the cumin and garlic powder evenly over the chicken. Place the chicken on the grill rack. Reduce the heat to medium. Grill for 3 to 5 minutes per side. Transfer to a cutting board and let stand for 5 minutes. Chop the chicken into bite-sized pieces.
Pita Prep:
Spread a layer of hummus over the pita, then top in layers with beans, chicken, green onion, red pepper, tomatoes, cilantro and cheese. Place the pita on the grill rack. Cook for 2 minutes, or until lightly toasted and cheese is melted. Slice into 4 wedges. Top each wedge with a teaspoon of guacamole.
Grilled Steak and Vegetable Skewers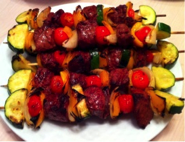 Ingredients: (8 skewers)
For the skewers:
1 lb. top sirloin steak, cut into 1-inch cubes 1 large bell pepper 24 whole cherry tomatoes 1 zucchini 1 sweet onion 8 skewers
For the marinade:
1/4 cup olive oil 1/4 cup balsamic vinegar 1/4 cup Worcestershire sauce 1/4 cup low-sodium soy sauce 2 tsp honey mustard 2 cloves garlic, minced 1/2 tsp. onion powder 1/4 tsp. pepper
Instructions:
In a large bowl or zip lock bag, mix marinade ingredients and steak together, cover, and refrigerate for 30 minutes. Chop vegetables into bite-size pieces. Stack meat and vegetables onto each skewer, leaving about 3 inches at the bottom of the skewers. Place skewers onto a heated grill and cook for about 2 minutes per side, rotating a quarter-turn each time until steak is cooked through. Allow to cool for 5 minutes before serving.
Slow Chicken Chili

Ingredients: (Servings 10)
16 oz. boneless and skinless chicken, diced 1 pkg. low sodium chili seasoning 1 quart canned tomatoes 15 oz. canned corn, un-drained 15 oz. canned black beans, drained 15 oz. canned white cannellini beans, drained 1 green bell pepper, chopped 1 red onion, chopped (reserve 2 Tbsp. for garnish optional) ½ cup salsa 3 garlic cloves, crushed ½ cup cilantro for garnish, optional
Instructions:
Coat a large nonstick skillet with nonstick spray. Add chicken and cook over medium-high heat until lightly browned, about 3 minutes. Add chicken to slow cooker along with remaining ingredients. Toss to mix. Cover and cook on LOW 6 to 8 hours. Garnish with cilantro and red onion, optional.
BBQ Chicken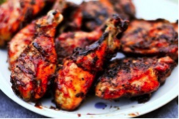 Ingredients (servings 6)
12 chicken legs, skin removed 1/2 cup olive oil 1 teaspoon sea salt 1/2 teaspoon ground black pepper 1/2 teaspoon paprika 1/2 teaspoon cumin 1/4 teaspoon cayenne pepper 2 cloves garlic, chopped 3 tablespoons chopped onion 1/2 cup chopped fresh parsley 1 1/2 cups beer
Instructions:
Into a large zip lock bag; place chicken legs, olive oil, salt, pepper, paprika, cumin, and cayenne pepper, garlic, onions, parsley and beer. Seal bag well and turn bag from side to side to coat ingredients evenly. Remove as much air as possible from the bag and seal. Place the bag flat on a small, rimmed kitchen sheet pan and into the refrigerator. Allow to sit up to 1 hour or overnight for best results, turning the bag over every few hours to keep the chicken coated.
To Grill:
Brush the grill grate with olive oil to coat. Heat the grill to medium high. Place chicken onto the grill and cook up to 30-40 minutes, turning as needed to cook both sides. Cook until meat is no longer pink in the center and juices run clear.
| | |
| --- | --- |
| Chipotle Avocado Turkey Burgers | |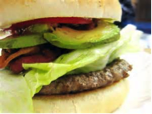 | | |
| --- | --- |
| Ingredients (servings 4): 1 pound ground leanturkey1/2 cup finely chopped onion2 tablespoons chopped fresh cilantro 1 chipotle chile in adobo sauce, finely chopped 1 teaspoon garlic powder 1 teaspoon onion powder 1 teaspoon seasoned salt 1/4 teaspoon black pepper 4 slices mozzarella cheese 1 avocado, peeled, pitted, sliced 4 hamburger buns, split and toasted Lettuce and tomato to garnish  Instructions: Preheat an outdoor grill to medium heat. Place the ground turkey, onion, cilantro, chipotle chile pepper, minced garlic, onion powder, seasoned salt, and black pepper in a mixing bowl; mix well. Form into 4 patties. Cook the hamburgers on the preheated grill until the turkey is no longer pink in the center, about 4 minutes on each side. Place the mozzarella slices on the patties 2 minutes before they are ready. Top with sliced avocado, garnish with lettuce and tomato, serve on toasted buns. | |
Zesty Guacamole Dip
Ingredients: (servings 4)
3 avocados - mashed 1 lime, juiced 1/2 teaspoon salt 1/2 cup diced onion 3 tablespoons chopped fresh cilantro 2 Plum tomatoes, diced 1 teaspoon minced fresh garlic 1 teaspoon cumin powder 1 pinch ground cayenne pepper, optional
Instructions:
In a medium bowl, mash together the avocados, lime juice, and salt. Mix in onion, cilantro, tomatoes, and garlic. Stir in cayenne pepper and cumin powder. Refrigerate 1 hour for best flavor.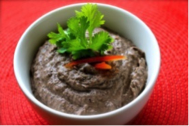 Ingredients: (serves 8)
| | |
| --- | --- |
| 1 clove garlic,minced1 (15 ounce) can black beans; drain and reserveliquid2 tablespoons lemonjuice1 1/2 tablespoonstahini3/4 teaspoon groundcumin1/2 teaspoonsalt1/4 teaspoon cayennepepper1/4 teaspoon paprika2 tablespoons fresh chopped cilantro | |
Instructions:
Add to the food processor; 2 tablespoons reserved liquid, minced garlic, black beans, lemon juice, tahini, cumin, salt, and cayenne pepper; process until smooth. Add additional seasoning and liquid to taste. Garnish with cilantro and paprika.
Mango, Corn and Black Bean Salsa
Ingredients: (servings 6)
1/3 cup fresh lime juice 1/3 cup olive oil 1 clove garlic, minced 1/4 teaspoon salt 1/8 teaspoon cayenne pepper 2 (15oz) cans black beans, rinsed, drained 1 1/2 cups frozen corn kernels 1 avocado, mashed 1 small mango, diced 1 red bell pepper, chopped 2 tomatoes, chopped 6 green onions, thinly sliced 1/2 cup chopped cilantro, optional
Instructions:
Mix lime juice, olive oil, garlic, salt and cayenne pepper in a small bowl. In a salad bowl, combine beans, corn, avocado, bell pepper, tomatoes, green onions, and cilantro. Whisk lime dressing, and pour it over the salad, toss well.
Grilled Zucchini Vegetable Medley

Ingredients: (serves 8) 3 zucchini, thickly sliced 3 yellow squash, thickly sliced 1/2 cup sliced red bell pepper 1/2 cup sliced red onion 16 large fresh button mushrooms 16 cherry tomatoes 1/2 cup olive oil 1/3 cup soy sauce 1/2 cup lemon juice 1/2 clove garlic, crushed Instructions: Place the zucchini, red bell pepper, squash, red onion, mushrooms, and tomatoes in a large bowl. In a small bowl, whisk together olive oil, soy sauce, lemon juice, and garlic. Pour over the vegetables. Cover bowl, and marinate in the refrigerator for 30 minutes. Preheat grill for medium heat. Remove vegetables from marinade, and place on preheated grill. Place vegetables in grill basket or place vegetables on lightly oiled grill grate. Cook for 12 to 15 minutes, or until tender.

Berry Healthy Smoothie

Ingredients: (servings 4) 1.5 cups pineapple or orange juice 1/2 cup water 1 banana 1 1/2 cup frozen berries such as raspberries, blackberries, blueberries and/or strawberries Instructions: Combine juice, water, banana, berries in a blender; cover and blend until creamy. Serve immediately.  

Greek Pumpkin Brownies

Ingredients: (servings 18) 6oz semi-sweet chocolate chips 3/4 cup cocoa powder 1 cup whole wheat flour, 1 cup all-purpose flour 1 teaspoon baking powder ¼ teaspoon cayenne pepper ½ teaspoon salt 1 1/2 cups sugar 4 large eggs 1 tablespoon pure vanilla extract 1 1/4 cups canned pumpkin puree 1/2 cup greek yogurt, thick style 1 teaspoon ground cinnamon 1/4 teaspoon ground nutmeg Instructions: Preheat oven to 350 degrees. Whisk together flours, cocoa powder, baking powder, cayenne, cinnamon, nutmeg, and salt in a large bowl; set aside. Mix sugar, eggs, yogurt, pumpkin puree and vanilla in another bowl and use electric mixer to beat until fluffy. Beat in flour mixture and mix in chocolate chips. Place in a prepared 9" x 13" baking pan. Bake for about 25 minutes. Cool in pan.