Care team at Levine Cancer Institute helps make woman's dream come true.
In July 2013, Becky Yonker was diagnosed with a stage-four brain tumor. After months of treatment her chemotherapy stopped being effective, causing her care team to take action with new treatments. While her future is still uncertain, the care team at
Levine Cancer Institute
strives to make the most of the time she has. When they found out she would turn 33 on September 22, doctors, nurses and staff planned a surprise that would fulfill one of Becky's dreams: marrying the love of her life, fiancé Jarrod Bradley.
An Unexpected Surprise
Becky had a routine appointment at Levine Cancer Institute that day. While it was probably the last thing she wanted to do on her birthday, her care team eagerly waited for her to arrive. They had spent the past two weeks secretly planning a surprise wedding for a woman they describe as "simply amazing." "One afternoon, I shared some bad news with Becky, and she just looked in my eyes and told me she wanted to live," recalls
Ashley Sumrall, MD, FACP
, Becky's neuro-oncologist at Levine Cancer Institute. "Then she whispered that she wanted to have a wedding, and I knew we had to make it happen – and fast. My team quickly got behind the cause." Psychosocial Oncology Clinical Social Worker
LeKeesha Miller Jackson, MSW, LCSW
, jumped on board right away. "We see her strength every time we see Becky," says Miller Jackson. "She is a strong-willed woman, a true fighter with a strong spirit and even stronger faith."
A Birthday to Remember
When Yonker arrived at the clinic on her birthday with her fiancé, the team handed her a card with a wedding invitation inside. While they were legally married in April 2016, the couple hadn't had a chance yet to plan a formal ceremony. "I was so happy and I couldn't believe we were actually going to get a real wedding," says Becky. "We never thought our wedding would be anything more than a dream with all our setbacks and medical issues." Dr. Sumrall recalls talking to Becky about the dismal prognosis usually associated with her disease. "We often quote an average survival of 14 to 22 months," she says. "But we also explain that there are miracles, too, every day – and we treat each patient as if he or she will be the one to have a miracle. Thankfully, throughout her journey, Becky has maintained the perspective of her life being worthy of a miracle through her faith, hope and fighting spirit."
Couple Weds Despite Brain Tumor
The wedding took place October 9, at St. Mary's Chapel in Charlotte, NC. Everything for the wedding was donated, from the venue and the music, to the food, decorations, and the photographer.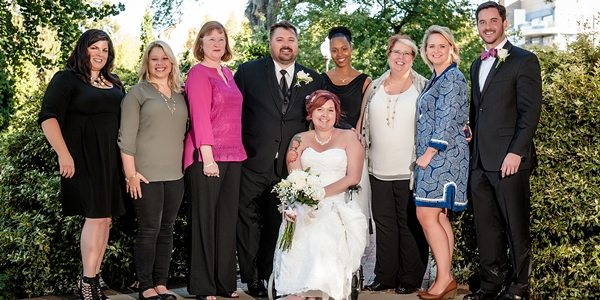 Becky Yonker, (in front) , and her fiance', Jarrod Bradley (standing behind her) were surprised with a beautiful October wedding helped planned by her care team at Levine Cancer Institute (from left) Ashley Sumrall, MD, FACP, Serena Perera, Ann Elrod, LeKeesha Miller Jackson, MSW, LCSW, Ann Marie Pauly Melissa Waller and David Jennings.
"The wedding planning restored my faith in humanity," says Miller Jackson. "To see this community come together for Becky proved to me how great it really is. Everyone we asked said, 'whatever you need, count us in.'" It was a touching gesture that honored a couple whose relationship began in the Queen City. They met at a mutual friend's party and later had their first date at
Alexander Michael's
restaurant in Charlotte. From there, they were inseparable. Jarrod continues to support his wife every step of the way, in any way he possibly can. He truly is Becky's partner in life.
A Wish Comes True
Like most people on their wedding day, Yonker felt a mix of nerves and excitement. "I had an infusion just two days before the wedding, so I was fighting off exhaustion, but I pulled myself together knowing I was getting married!" Becky says. What she didn't know was Dr. Sumrall and her team timed her chemotherapy to help optimize her quality of life that day. "I was so relieved that she was feeling well enough to experience that moment," says Dr. Sumrall. "That morning, we adjusted medicines to ensure that she was alert and minimally symptomatic for the ceremony. It was challenging to think with my 'doctor hat' and not get too emotional."
Couple Shares First Dance
Becky wore a white, sequin-covered floor-length gown with a sweetheart neckline and a pair of rhinestone-covered white shoes. She completed the ensemble with sparkly accessories, including a gorgeous headband. The couple exchanged vows in front of 50 guests, including the Yonker and Bradley families, and dear friends, many who traveled from Michigan, New York, and Nevada, all while Hurricane Matthew made its way through the Southeast. No one was going to miss the couple's big day! Another special touch was a life-sized cutout of Becky's brother, Dan, who is currently serving in Afghanistan. The photographer also streamed the wedding live on Facebook so he could watch from afar. "There was not a dry eye in the house," says Miller Jackson. "Becky is a patient who has changed our lives forever." After the ceremony, the group went to a reception at a local brewery, where the couple shared their first dance together, cut the cake, and threw the bouquet. It was a night that will not be forgotten by the newlyweds, their friends and family, and the entire care team. "What this wedding did for us as a team was tremendous," says Miller Jackson. "It has helped us appreciate and realize that our work has a bigger purpose than ourselves, and that what we do truly makes a difference."
See more photos from the wedding