Going veggie-strong one day a week can improve the health of you and your family – here's how.
Trying to get your family to rally around supper? Sometimes, throwing a theme their way can do the trick. Taco Tuesday. Pancake Sunday. Fish Friday. Why not Meatless Monday? Experimenting with vegetable-focused meals is a great way to increase fiber, up your vitamin intake and maybe even find a new favorite food on the fresh veggie aisle. The global campaign
Meatless Monday
 was created with help from the
Johns Hopkins' Bloomberg School of Public Health
. It has one simple message: Once a week, cut the meat. Similar to "clean eating," it encourages families to eat more fruits, vegetables, whole grains and legumes. There's growing support for clean eating and adopting a plant-based diet, according to research published in the
Academy of Nutrition and Dietetics
. Not only is a plant-based, vegetarian diet healthful and nutritionally adequate for people throughout all stages of life, it also can help lower blood pressure and cholesterol levels and lower risk of heart disease, hypertension and Type 2 diabetes. Clean eating showcases fresh, unprocessed, seasonal foods loaded with nutrients. And, like Meatless Mondays, it's more of a lifestyle change than a fleeting nutrition fad. Let us help you wow your hungry family with tasty meatless meals and even the most carnivorous of your tribe will ask, "What's for dinner next Monday?" Here are four recipes to try this month.
---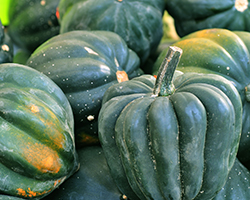 Baked Acorn Squash with Chestnuts, Apples and Leeks
Serves 8
INGREDIENTS
4 acorn squash, halved lengthwise and seeded
3 tablespoons extra-virgin olive oil, plus more for brushing
Kosher salt and freshly ground pepper
3 tablespoons unsalted butter
1 ½ cups diced celery
2 leeks, halved lengthwise and sliced crosswise ¼-inch thick
2 Granny Smith apples, peeled and diced
2 teaspoons finely chopped thyme
10 ounces day-old rustic rye bread–crusts removed, bread cut into ½-inch cubes (about 6 cups)
7 ounces vacuum-packed cooked chestnuts
½ cup chopped parsley
⅓ cup heavy cream
⅓ cup vegetable stock or low-sodium broth
INSTRUCTIONS
Preheat the oven to 350°.
Brush the cut sides of the squash with olive oil and season the cavities with salt and pepper. Place the squash cut side down on two baking sheets and roast for about 25 minutes, until just tender.
Meanwhile, in a large skillet, melt the butter in the 3 tablespoons of olive oil. Add the celery, leeks and a generous pinch each of salt and pepper and cook over moderate heat, stirring occasionally, until softened, about 8 minutes.
Add the apples and thyme to celery and leaks, and cook over moderately high heat until the apples just start to soften, about 5 minutes.
Scrape the mixture into a large bowl. Add the bread, chestnuts, parsley, cream, and stock and toss well. Season with salt and pepper.
Turn the squash cut side up. Spoon the stuffing into the cavities and bake until the squash are tender and the stuffing is golden brown, about 20 minutes.
Transfer to plates and serve.
Source:
FoodandWine.com
---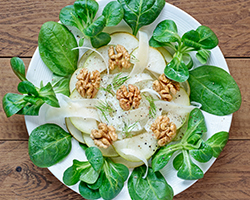 Baby Greens Salad with Pears, Honey-Roasted Nuts and Shaved Parmesan
Serves 6
INGREDIENTS
½ cup canned cranberry sauce (whole berry or jellied)
2 tablespoons red wine vinegar
2 tablespoons water
1 tablespoon olive oil
1 teaspoon Dijon mustard
⅛ teaspoon salt (or to taste)
8 cups baby mixed greens
3 medium ripe pears, cored and thinly sliced (about 1 ½ cups)
6 tablespoons Parmesan cheese, shaved (use a vegetable peeler)
6 tablespoons almonds, walnuts or pecans, toasted
INSTRUCTIONS
In medium bowl, whisk together cranberry sauce, vinegar, water, oil and mustard; season to taste with salt and pepper.
Place greens in large serving bowl. Add dressing, pears, cheese and nuts; toss to coat greens.
Scatter shaved Parmesan on top and serve.
Source: Food for Thought, Eating for a Healthier You – Carolinas HealthCare System
Recipe Book
---
Cuban Black Beans and Rice
Note: Start this meal the night before! Serves: 4
INGREDIENTS
8 oz. dry black beans
1 medium green bell pepper, seeded and diced
1 large sweet onion, finely diced
6 cloves garlic, minced
1 ½ tablespoons olive oil
2 teaspoons vinegar (red wine, apple cider or white)
1 ½ teaspoons salt, divided (plus more to taste)
1 dry bay leaf
¼ teaspoon cumin
water or broth
INSTRUCTIONS
Two hours before cooking, preferably the night before, place the beans in a bowl and cover with water to soak.
When you are ready to cook, drain the beans, place them in a pot with new water (you may also use broth) and cover the beans by 1 inch. Add the vinegar and bay leaf. Turn the heat to medium high to bring the water to a boil.
While the water is coming to a boil, heat the olive oil in a skillet over medium heat and sauté the garlic, onions and bell peppers with ½ tsp salt until the onions are soft and slightly translucent. Pour this combo (called a sofrito) into the pot with the beans, which should have come to a boil by now.
Cover the beans, reduce the heat to medium/medium-low, enough to maintain a simmer, and cook 30 to 40 minutes until the beans are soft and cooked through. Stir occasionally, add more water if necessary.
When the beans are soft, add the cumin and adjust salt to taste. Remove the bay leaf.
Serve with white rice.
Source:
GoodieGodmother.com
---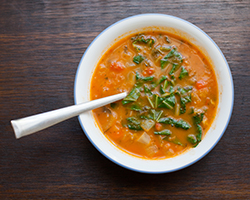 Thai Curry Vegetable Soup
Serves: 4
INGREDIENTS
2 tablespoons vegetable oil
2 cloves garlic
1 tablespoon grated fresh ginger
2 tablespoons Thai red curry paste
1 small sweet potato
1 bunch baby bok choy
4 cups vegetable or chicken broth
13 oz. can coconut milk
½ tablespoon fish sauce
½ tablespoon brown sugar
3 ½ oz. rice vermicelli noodles
GARNISHES (optional)
½ red onion
1 lime
Handful fresh cilantro
Sriracha to taste
INSTRUCTIONS
Prepare the vegetables for the soup and garnishes first, so they're ready to go when needed: thinly slice the red onion and roughly chop the cilantro. Cut the lime into small wedges.
Mince the garlic and grate the ginger using a small-holed cheese grater.
Peel and dice the sweet potato into one-inch cubes.
Wash the bok choy well, then chop into one-inch strips, separating the fibrous stalks from the delicate green ends. Add the cooking oil to a large soup pot along with the minced garlic, grated ginger and Thai red curry paste. Sauté over medium heat for 1 to 2 minutes.
Add the diced sweet potato and chopped bok choy stalks to the pot (save the leafy green ends for later) along with the chicken or vegetable broth. Bring the pot to a boil over medium-high heat, then reduce the heat to low and let simmer for 5 to 7 minutes, or until the sweet potatoes are tender.
While the soup is simmering, bring a small pot of water to a boil for the vermicelli. Once boiling, add the vermicelli and boil for 2 to 3 minutes, or just until tender. Drain the rice noodles and set aside.
Once the sweet potatoes are tender, add the coconut milk, fish sauce and brown sugar to the soup. Stir, taste and adjust the fish sauce or brown sugar if needed. Finally, add the bok choy greens and let them wilt in the hot soup.
To serve, divide the rice vermicelli among four bowls. Ladle the soup and vegetables over the noodles, then top with red onion, cilantro, a wedge or two of lime, and a drizzle of Sriracha.
Source:
BudgetBytes.com
---
Do you wish you had a community to inspire you and support the choices you make to improve your family's nutrition habits? Now you do. Join the conversation, or start your own, using #TasteOfHealth