When MedFest rolls around every year, don't worry about filling a cooler, packing a chair or bringing your camera to this "festival." Instead, MedFest participants had to brush up on their bowling form; practice their badminton serves and remember how to keep a hula hoop going.
In partnership with the Special Olympics of North Carolina, clinical residents from Carolinas Rehabilitation as well as dental students and Carolinas HealthCare System nursing students volunteered to help provide free health screenings, dental care and physicals to student-athletes wishing to participate in the Special Olympics.
Medfest is never just about health though. It's about having fun and fostering a sense of community (hence the "fest" part of the name). For some attendees, physical activity and interaction with peers is difficult. That's why MedFest includes an entire room full of fun activities from yoga and bowling to badminton and hula hoops.
Filling the Gap
In its third year, Carolina Rehabilitation's MedFest event expanded to not only include new services, like dental care, but has also become the largest event of its kind in North Carolina.
Often, individuals with physical and intellectual disabilities have poor access to healthcare. MedFest, however, provides these health services to more than 180 Charlotte-Mecklenburg Schools' students who otherwise would not be eligible to participate in the games.
"Thanks to the physicals and screenings provided by Carolinas Rehabilitation, children can not only compete as part of a team, but also benefit from the community and friendships fostered through the Special Olympics," said Jordan Sestak,, MD, Physical Medicine and Rehabilitation resident at Carolinas Rehabilitation.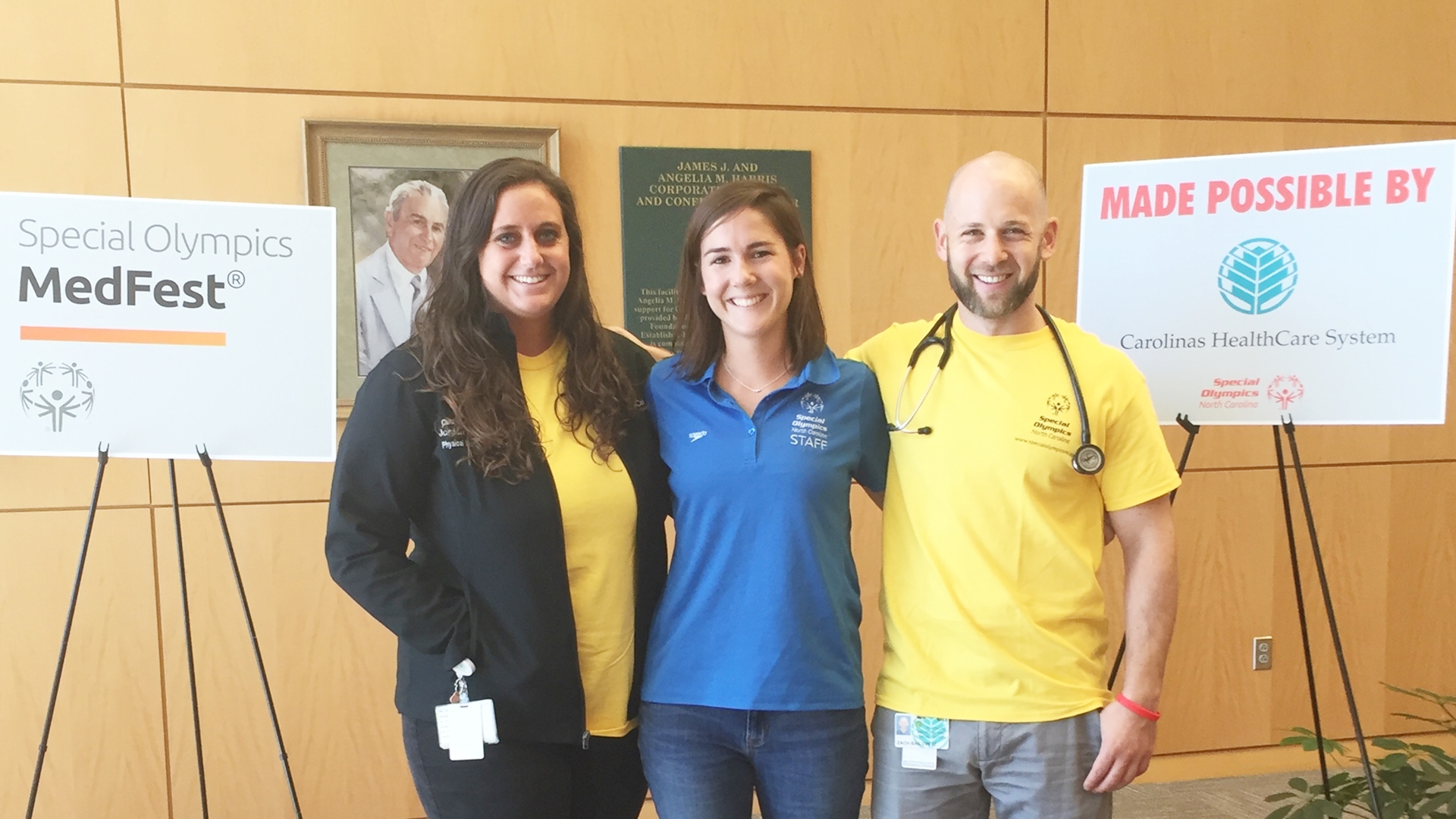 Jordan Sestak, MD, (left) and Zach Bailowitz, MD, (right), Physical Medicine and Rehabilitation residents at Carolinas Rehabilitation, and Ellen Fahey, Health Director of the Special Olympics of North Carolina, organized the event to help serve over 180 students.
Gaining more Experience
The student-athletes aren't the only ones to benefit from their participation in MedFest. Clinicians get a chance to provide their skills to a new population.
"This event not only allows us to meet the needs of the athletes, but also provides an opportunity for us, as doctors, to learn more about some of the challenges this population faces," Dr. Sestak said. "Engaging and treating this population is a crucial part of becoming better physician."
Fourteen residents and dozens of nursing and dental students took part in the learning opportunity, logging more than 240 volunteer hours.